Back to top
Horsemanship Summer Camps for Kids in Marin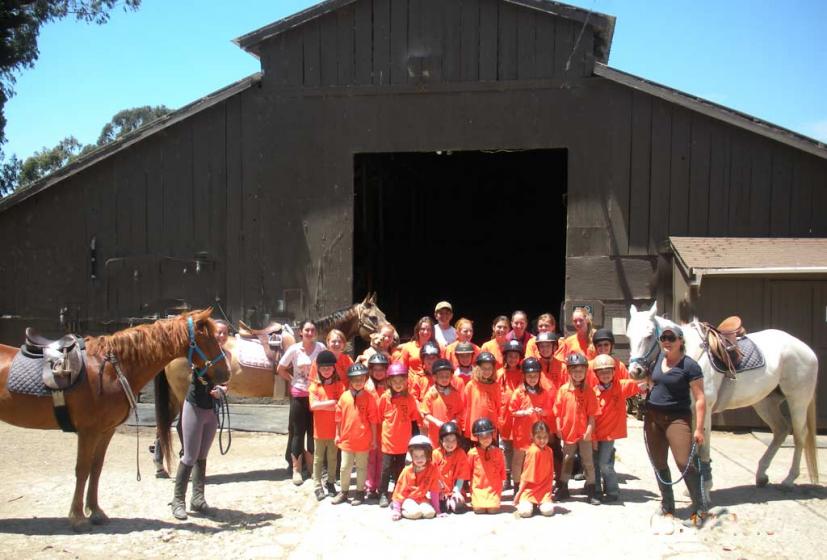 Photo: Miwok Livery Stables
Is your child fascinated by horses? Has she always wanted to learn how to ride a horse, or if she already rides, would she like to improve her skills? Horseback riding is always a popular summer activity, and a number of horsemanship camps throughout Marin for horse lovers to choose from.
Miwok Livery Stables, Mill Valley
This equestrian center on Tennessee Valley Road in Mill Valley is open for registration. All-day camp hours are 9 am to 3:30 pm, and after care is available until 5 pm. Cost is $850 per week. Registration opens February 14, 2018. These camps always sell out early! Visit www.miwokstables.com for more information and to fill out an online application, or call (415) 389-9414 for more information.
Morning Star Farm, Novato
Morning Star Farm in Novato offers both half- and full-day camps for kids 8 and up. Camps run from June 4–August 24. Activities include daily riding lessons, grooming, saddling, games on horseback, trail rides, and bareback riding. The certified instructors and assistants will guide your child through the process of learning about horses. Half-day camps are $365 and full-day camps are $595 per week. Registration is open now! For more information or to sign up for a camp check out the Morning Star Farm website.
San Domenico School, San Anselmo
San Domenico School, located at 1500 Buttterfield Road in San Anselmo offers horseback riding camps from 9 am–1 pm. Campers ride, groom, saddle, and bridle a horse, and learn about horse anatomy and health, as well as proper hoof care with the San Domenico blacksmith. For ages 7–13. Check website for prices. For more info, call (415) 258-1944 or www.sandomenico.org.
Kilham Farm, Nicasio
Nicasio's Kilham Farm offers a Summer Pony Camp for kids ages 5-12. Campers can learn to ride English style, and more experienced riders can hone their technique with any of Kilham Farm's selection of Grand Prix-winning ponies and horses. Older kids can take riding lessons scheduled throughout the summer, too. The camps are led by trainers Holly Charlebois and her mother Elizabeth "Lumpy" Kilham, who is a former Olympic team member. They will share their expertise and love of horses with campers in a safe and friendly environment. Cost is $450 per session. Camps take place from 10 am–2 pm, June 19–22 and July 10–13, 2018. More information: (415) 662-2232 or www.kilhamfarm.com.
Longview Stables, Nicasio
Summer Horsemanship Camps at Longview Stables in Nicasio are geared for beginners ages 6 and up, and include riding lessons and equestrian-themed games and crafts. Campers will learn proper riding position and techniques, safety, horse grooming and care, and more. Advanced camps and Jr. Counselor camps are available too. Visit www.longviewstables.com or call (415) 272-2690 for more info.
Dickson Ranch, Woodacre
Dickson Ranch in Woodacre offers four summer camps that include learning safety around horses, horseback riding and horse handling, learning to care for horses and equipment, as well as swimming, art and other fun activities. Dates for 2018 will be available soon. Call (415) 488-0454 or visit www.dicksonranch.net for more information.