Back to top
Horsemanship Summer Camps for Kids in Marin and Petaluma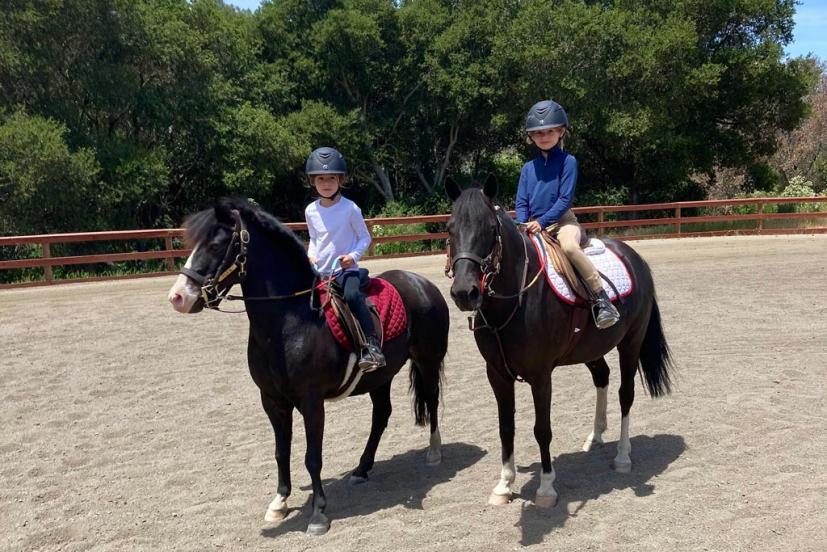 Photo: Marshall Hall Riding Academy, Petaluma
Is your child fascinated by horses? Has she always wanted to learn how to ride a horse, or if she already rides, would she like to improve her skills? Horseback riding is always a popular summer activity, and a number of horsemanship camps throughout Marin for horse lovers to choose from.
Marshall Hall Riding Academy, Petaluma
At Marshall Hall Riding Academy, young campers will learn the basics of safe horse handling, grooming and tacking of mounts, comprehensive instruction for beginning and returning riders with plenty of daily saddle time. 11 one-week sessions will be offered in 2023. Camps take place at San Antonio Stables in Petaluma. For more information or to register, visit www.marshallhallridingacademy.com/summer-camps.
Morning Star Farm, Novato
Morning Star Farm in Novato offers both half- and full-day camps for kids 8 and up. Activities include daily riding lessons, grooming, saddling, games on horseback, trail rides, and bareback riding. The certified instructors and assistants will guide your child through the process of learning about horses. For more information or to sign up for a camp check out the Morning Star Farm website.
Halleck Creek Ranch, Nicasio
Halleck Creek Ranch in Nicasio offers inclusive summer horsemanship clinics for youth with special needs and their typically-developing siblings and peers. At Halleck Creek Ranch, children learn tolerance, compassion and respect for differences while improving their horsemanship skills. Campers will experience grooming and tacking horses, daily riding in a covered arena and on the trail, vaulting, arts and crafts and team-building games. www.halleckcreekranch.org
Dickson Ranch, Woodacre
Dickson Ranch in Woodacre offers summer camps that include learning safety around horses, horseback riding and horse handling, learning to care for horses and equipment, as well as swimming, art and other fun activities. Camp status for 2023 will be announced in the spring. Call (415) 488-0454 or visit www.dicksonranch.net for more information.
Strides Riding Academy, Petaluma
Strides Riding Academy offers of equestrian camps with activities that include horse care, handling and grooming horses, outdoor games, crafts, painting, coloring, sewing, and more. Extra activities this year include archery, line dancing, and more. A counselor-in-training program is available for children ages 12 and up. Visit their website at summeratstrides.com for more information and to register.
Miwok Equestrian Center, Mill Valley
Miwok Equestrian Center (formerly Miwok Livery Stables) offers summer camps at their historic location in Tennessee Valley near Mill Valley. 2023 summer camp information will be available in March. For more info, visit www.miwokequestrianctr.com.
Sign up for tips & news for Marin families!