Back to top
Insider's Guide to the 2018 Mountain Play: Mamma Mia!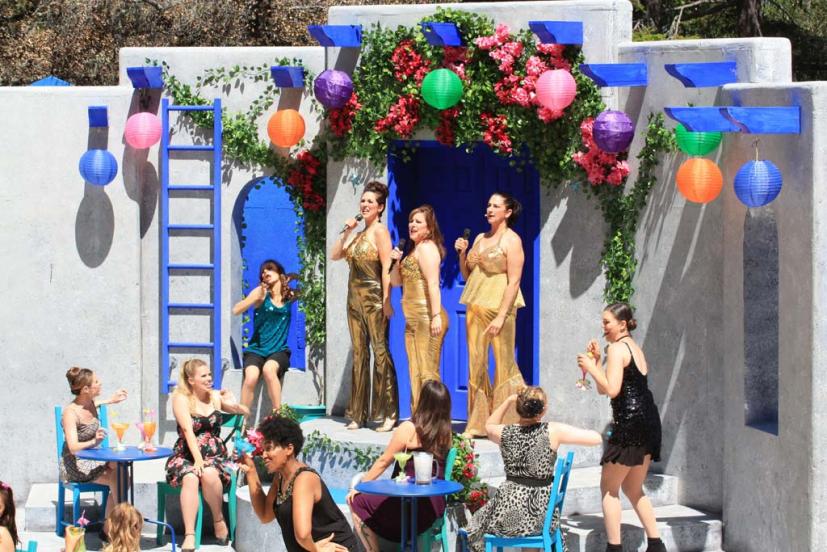 One of Marin County's most beloved and unique events is the famous Mountain Play—an outdoor theatre experience high on the slopes of Mt. Tamalpais that's been going strong for over a century! This year's 105th Mountain Play production is the Broadway musical Mamma Mia!
Inspired by the music of ABBA, Mamma Mia! is a non-stop, energetic romp rich with laughs, life, love, and the buoyant music and lyrics of Benny Andersson, Bjorn Ulvaeus, and Stig Anderson. Set on a magical Greek island, Mamma Mia! tells the story of Sophie, a young girl about to get married and create her dream life … but there is just one hitch: she has never met her father. She invites all three potential dads to the wedding so she can finally solve the mystery and have him walk her down the aisle.
Performances take place at 2 pm at Mt. Tam's Cushing Memorial Amphitheater on Sunday May 20 and 27 and June 3, 9, 10, and 17. General seating ticket prices range from $20–$45, and children 3 and under are free. Reserved seating packages start at $60. Order tickets online here or by phone at (415) 383-1100. Reserved seating tickets are also available; call the Mountain Play office to order at (415) 383-1100.
This year, the Mountain Play will host its first-ever sing-along at the Saturday, June 9 performance. Come join the cast in singing jubilant ABBA songs like "Dancing Queen," "Take a Chance," "Honey Honey," "Does Your Mother Know," and of course the title tune, "Mamma Mia!"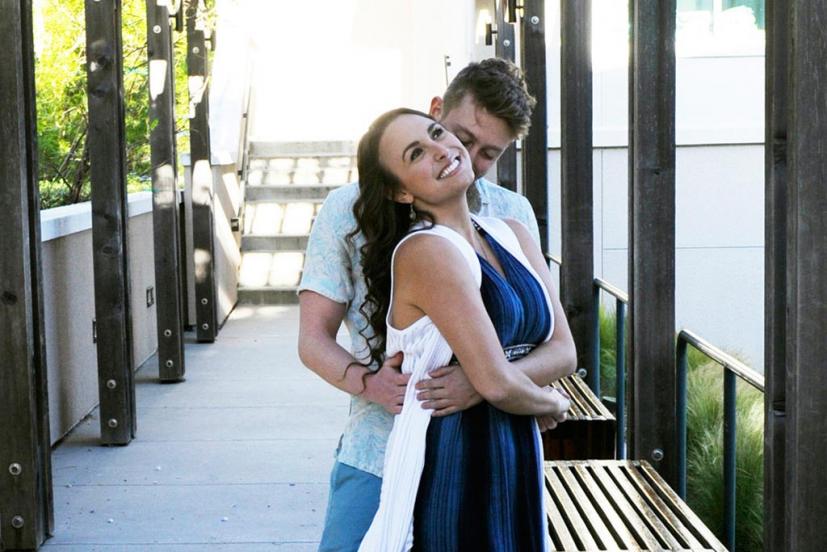 Carrie Lyn Brandon (Sophie Sheridan) and Jake Gale (Sky). Photo: Cindy Lang, the Mountain Play
Make a day of it
Of course the Mountain Play isn't just about the play—it's about the complete Mountain Play experience. This includes enjoying fantastic preshow entertainment, face painting, a raffle with amazing prizes, and more. You can even take advantage of the Mountain Play's unique location and take a hike before the show. Check the Mountain Play's website for details on related activities and events.
Each day has its own special theme with preshow entertainment starting at 12:30 pm:
Opening Day (May 20) – preshow entertainment by the Marin Girls Chorus
Arts Appreciation Day (May 27) – preshow entertainment by 'Til Dawn
OUTdoors at the Theatre LGBT Day (June 3) – preshow entertainment by Shelley Doty
Sing-along Saturday (June 9) – the audience is encouraged to sing along!
Mount Tamalpais Appreciation Day (June 10) – preshow entertainment by Natalia Betzler
Father's Day Picnic Contest (June 17) – with Celebrity Judge Chef Roland Passot
Another Mountain Play tradition is to bring your picnic lunch, and playgoers can get pretty elaborate with their gourmet picnic meals. Just checking out the gourmet fare that people bring is half the fun! There will even be a picnic contest at the last performance on Sunday, June 17. If you think your picnic spread is a contender, make sure you check in at the Raffle Booth between 11 am and noon when you arrive to enter the contest.
Don't want to pack your lunch? Don't worry, you can buy a wide range of food at the Mountain Play, including sandwiches, hot dogs, hamburgers, salads, ice cream, hot and cold drinks, and even beer from Lagunitas Brewing Company and Barefoot wines from the Tamalpais Tavern.
If you go
The Mountain Play box office opens at 9 am on performance days. Very limited parking is available on the mountain, and lots usually fill up by 11 am; advance reservations are highly recommended. Lots closest to the theatre are reserved for members and patrons with disabilities who have reserved spots in advance. Parking is available at the old Air Force base ($15 advance, $25 at the gate; cash olny). A shuttle bus will take playgoers to and from the amphitheater from the Air Force base parking lots. Carpooling is encouraged!
The traditional way to get to the mountain play, however, is to take one of the shuttle buses—otherwise known as the Mountain Play Express—up onto the mountain. The Mountain Play's fleet of eco-friendly yellow bueses will whisk you up to the Cushing Memorial Amphitheater from two locations in Mill Valley—the Manzanita Park-and-Ride Lot at the Highway 101 and Shoreline Highway junction (near the Buckeye restaurant) and at Tamalpais High School on Miller Avenue. The Mountain Play Express runs approximately every 15 minutes from 10 am to 12:45 pm, and will be there to take you back down the mountain after the play. Shuttle bus fare up the mountain in the morning is $5 per person (payable when you order your tickets); the return trip is free. Cars may be parked at both locations all day free of charge.
When you go, make sure you're prepared for any kind of weather. Even if it's foggy in Mill Valley, the Rock Spring area and the amphitheater can be sunny and hot. There are some areas of shade in the theater, but they're available on a first-come, first-served basis or part of the reserved seating area. Hats, sunscreen, and layered clothing are a must at the Mountain Play. Make sure you bring plenty of drinking water, too. Amphitheater seats are all stone blocks, so stadium cushions, pillows, blankets, and other forms of padding are a good idea, too. Reserved seats have pads in place already, and you can rent them when you get there.
For the true Mountain Play experience, take the Mountain Play Express shuttle bus up the mountain, and then hike down after the show. The route down the Mt. Tamalpais is seven miles and takes about two to three hours to complete, so if you plan on hiking bring plenty of water and wear appropriate clothing and footwear. You can get a route map and hiking directions on the Mountain Play's website.
If you choose to hike down from the theater, the Mountain Play will transport your ice chests, blankets, picnic baskets, and other bulky items down the mountain for you; pick them up at the Depot in downtown Mill Valley, and then hop a shuttle bus for the ride back to your car. Other transportation options include biking or hiking up to the amphitheater.
To order tickets or for more information on this year's production and the Mountain Play experience, visit www.mountainplay.org or call (415) 383-1100.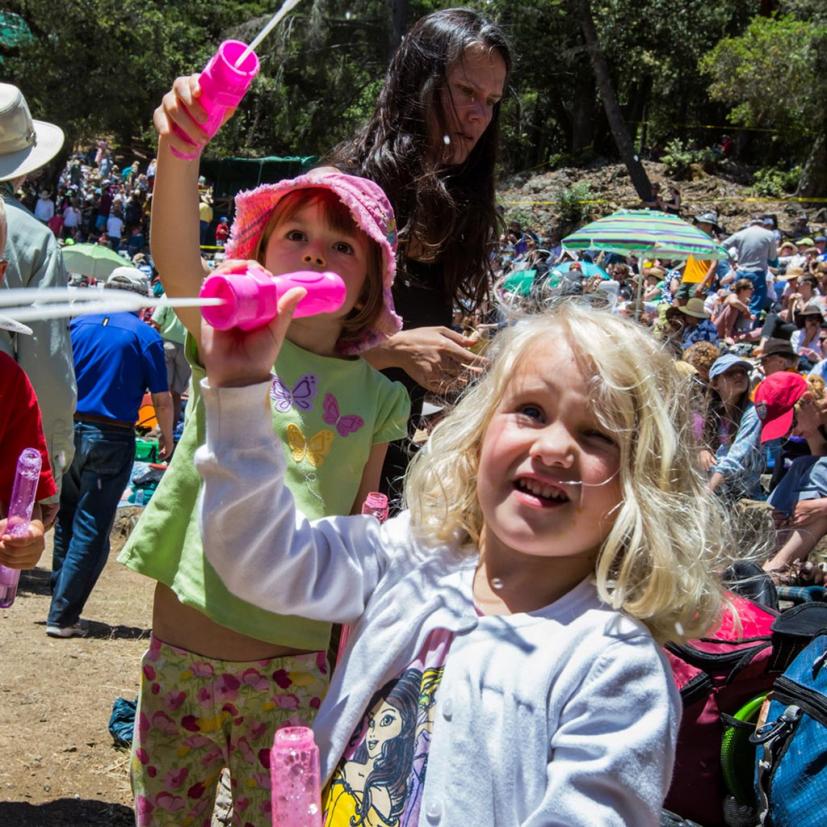 Sign up for tips & news for Marin families!