Back to top
Keeping Your Little Ghosts and Goblins Safe on Halloween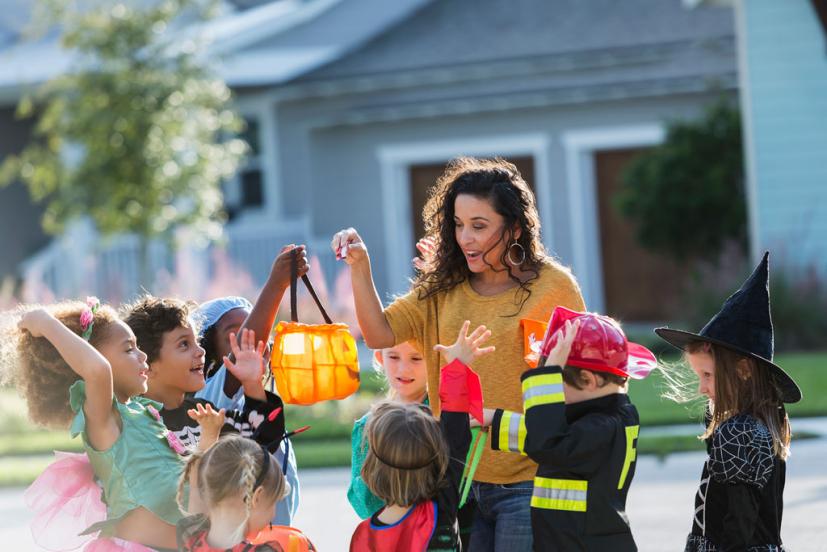 Marin Mommies presents a sponsored article from MarinHealth Medical Center in Greenbrae.
Good news from CDC Director Rochelle Walensky: trick or treating is back — with a couple of caveats. The key is to stay outdoors and avoid crowded indoor parties and haunted houses. Here are a few tips from MarinHealth® to make sure your children's Halloween is as safe as it is fun:
Costumes
Choose bright, reflective costumes. Add reflective tape to darker costumes and trick or treat bags. Avoid costumes with a lot of fabric. These can be a tripping hazard or catch fire if they come in contact with a pumpkin candle. If you're buying costumes, make sure they are flame-retardant. Check to see that masks don't impair visibility, or better yet, have your children use makeup instead. Avoid costumes with small parts or strings that can be choking hazards for little ones. Children who are trick or treating without an adult should bring a phone and have emergency identification somewhere on their costume.
Pumpkin Carving
Have small children draw on their pumpkin and you or an older sibling can do the carving. Purchase pumpkin cutters with safety bars for children 5-10 years old. Light your jack-o'-lanterns with a flameless LED candle.
Decorating
Rid your front yard of tripping hazards such as garden hoses or stray toys. Sweep away leaves. Replace burned out bulbs so kids can see their way to your door. If you're using electric decorations, be sure not to overload outlets.
Treats
Go through your children's loot when they get home and toss out anything unwrapped or homemade. If you have small children, also throw away hard candies that could cause choking. Try to ration the treats over the following weeks.
Trick or Treating by Themselves
If your kids are old enough to trick or treat without a grownup, it's essential to set some ground rules. Children need to be in groups of three or more and stay in a familiar neighborhood, either yours or one of their friend's. Equip your children with flashlights and be sure to check the batteries. Youngsters should stay on the sidewalk on well-lit streets — no cutting across yards or using alleys and no jaywalking! Make your children promise to cross the street with their group, at the crosswalk.
Tips for Teens
Lecture time! Teens can get into all kinds of trouble on Halloween. Sit them down and remind them about laws regarding private property, vandalism, and underage drinking. Set a curfew, make sure their phones are charged, and tell them you'll be checking in periodically. Haunted houses and parties are normally fun options, but unfortunately we are still in a pandemic so it's best to stick to outdoor festivities. Halloween is a bad time to be on the road, especially if you are an inexperienced driver. If your teen is going to drive, remind them that little kids will be out on the street. Emphasize safety: no cell phones while driving, no speeding, no alcohol, and seatbelts for everybody.
For additional Halloween COVID-19 safety tips, please view Marin County's official guidance. Have a fun, safe, happy Halloween — and go easy on the candy!
Sign up for tips & news for Marin families!