Back to top
Marin and Sonoma Pumpkin Patches 2021
Fall is almost here, and for those seeking that true Halloween pumpkin patch experience, here's our annual guide to pumpkin patches in Marin and southern Sonoma counties. This year, things may still be a little different than usual due to the COVID-19 resurgence; expect precautions like social distancing and mandatory mask wearing to be in place and some attractions and amenities to be unavailable or limited.
Some favorite pumpkin patches, like the Tolay Fall Festival, have even been canceled again this year. (We've listed the canceled pumpkin patches at the end of the article.) We'll keep this page updated with any news or changes.
Marin County Pumpkin Patches

5300 Nicasio Valley Road (1/4 mile north of Nicasio square)
Nicasio 94946
(415) 662-9100
www.nicasiovalleypumpkinpatch.net
Open daily September 25–October 31, 10 am–6 pm weekends, 10 am–4 pm weekdays
The Nicasio Valley Pumpkin Patch (formerly called the Nicasio Valley Farms Pumpkin Patch) offers certified organic pumpkins, farm animals, hay mazes, hay pit, hay rides on weekends, Big Jim's BBQ and more. Come in costume! Winners of their "secret costume contest" will get a free pumpkin. Read our review of Nicasio Valley Pumpkin Patch.
3666 Novato Boulevard
Novato 94947
(707) 888-5607
grossifamilyfarm.com
Open daily October 2–31, 10 am–5 pm weekends, 11 am–4 pm weekdays
Grossi Family Farm Pumpkin Patch offers a farm experience for the whole family. Pick your own pumpkins and gourds, have a picnic. make friends at the petting zoo, explore the toddler hay maze, climb the hay pyramid, and try out the mini pumpkin slingshot (3 for $10). Food truck available on weekends. Free admission and parking.
2257 Larkspur Landing Circle
Larkspur 94939
(415) 461-5715
marincountrymart.com
Open in October, all day every day
A variety of locally grown pumpkins are available at the Marin Country Mart Pumpkin Patch, in small, medium, and large sizes. This is an honor system pumpkin patch: there is a payment box at the patch, and prices are set as a flat rate by size.
Sonoma County Pumpkin Patches

3795 Adobe Road,
Petaluma 94952
(707) 778-3871
www.pronzinifarms.com
September 25–October 31
Monday–Thursday, 11 am–6 pm; Friday–Sunday, 10 am–6:30 pm; Halloween (Saturday, October 31), 11 am–4 pm
The Pronzini Pumpkin Patch in Petaluma offers acres of fun in the fall. Pick pumpkins, play games, visit farm animals, tour the Haunted Village, and more. Choose from a wide variety of pumpkins in their u-pick field. Enjoy BBQ from the Cowgirl Cafe, and fresh popped kettle corn. It's run by the same Pronzini family that operates Christmas tree lots in Marin during the holidays. Read about our visit to Pronzini Pumpkin Patch.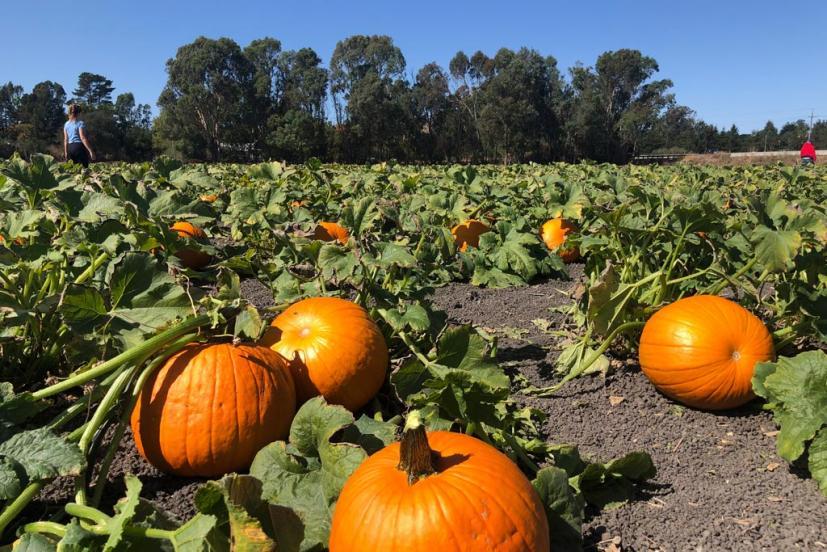 550 Stony Point Rd
Petaluma 94952
www.petalumapumpkinpatch.com
Opens Friday, September 24
Sunday–Thursday, 10 am–6 pm
Friday and Saturday, 10 am–10 pm
This is the big pumpkin patch you see off of  Highway 101 on your way out of Petaluma. Over 50 varieties of pumpkins, squash, and gourds, as well as a 4-acre A'Mazing Corn Maze with wider social-distancing paths and second-story viewing platforms ($7 admission; 5 and under free), a little kids' corn maze, farm animals, balloon artist, and pony rides. Read about our visit to Petaluma Pumpkin Patch.
4235 Spring Hill Rd (off Bodega Ave)
Petaluma 94952
(707) 762-3446
www.peterpumpkinpatch.com
October 8–31
Saturday–Sunday, 9 am–6 pm
Another one of our all-time favorite pumpkin patches. Pick your own pumpkin and dig for potatoes on a real working farm. Don't miss the homemade pumpkin ice cream! Read our review of the Great Peter Pumpkin Patch.
7149 Old Lakeville Road No. 3
Petaluma 94954
(707) 338-0220
gamboninifamilyranch.com/the-farmstand
October 1–31, Wednesday–Sunday, noon–6 pm
This no-frills pumpkin patch off Lakeville Highway near Petaluma has a huge pumpkin field and a wide selection of fall decor like squash, gourds, cornstalks, and flowers, as well as farm products like fresh eggs and honey. Pumpkin prices are pretty reasonable here, too, with mini pumpkins going for $1 and the largest ones at $20. They offer delivery of pumpkin and fall decor packages, too, with free delivery in Marin and Sonoma Counties!
5495 Redwood Highway
Petaluma  94952
(707) 490-8088
www.mickelsonpumpkinpatch.com
September 24–October 31, Monday–Thursday, noon–8 pm;  Friday, noon–10 pm; Saturday, 10 am–10 pm; Sunday, 10 am–8 pm
Mickelson Pumpkin Patch, just past the Marin-Sonoma county line off Highway 101, offers a wide variety of pumpkins, squash, and gourds as well as activites like a hay maze and pyramid, tractor rides, paintball gallery, apple cannon, and more. They also have food vendors and even craft beer available. Take exit 472A to get there.

3571 Old Adobe Road
Petaluma 94954
(707) 778-7500
www.greenstringfarm.com
In addition to its awesome organic farmstand, Green String Farm has a small pumpkin patch with tons of pumpkins ($1 per pound) and decorative gourds (2 for $3). While you'e there, you can shop for amazing produce, grass-fed beef, cheese, eggs, olive oil, and much more.
5157 Stony Point Road (at Rohnert Park Expressway)
Santa Rosa
(707) 331-6653
santarosapumpkinpatch.com
Open daily starting Friday, October 8
Monday–Thursday 9 am–7 pm, Friday & Saturday 9 am–10 pm, Sunday 9 am–8 pm, Halloween 9 am–6 pm
Santa Rosa Pumpkin Patch offers 10 acres of pumpkins and their huge 8-acre corn maze this year. Other attractions TBD depending on COVID-19 situation. Read our review of Santa Rosa Pumpkin Patch.
3800 Walker Avenue
Santa Rosa 95407
(707) 228-3085
www.muelrathspumpkins.com
Open daily September 25–October 31, 10 am–6 pm daily
Muelrath Ranches offers 20 varieties of pumpkins and other farm products as well as attractions like hay rides, a pumpkin slingshot, a pumpkin cannon, a toddler corn maze, farm animals, and more.
PaPa's Pumpkin Patch
13110 Occidental Road
Sebastopol 95472
(707) 874-9070
www.farmtrails.org/business/papa-s-pumpkin-patch
Open daily through October 31, 9 am–4 pm
Pick your own pumpkin right off the vine in shade of old-growth redwoods. Choose from seven varieties of pumpkins in the field.
Pumpkin Patches Canceled for 2021
Godmothers of St. Vincent's School for Boys Pumpkin Patch, San Rafael
Tolay Fall Festival, Petaluma
Sign up for tips & news for Marin families!