Back to top
Family Farm Fun at Santa Rosa Pumpkin Patch
Located on a 30-acre farm off of Stony Point Road in Sonoma County, the Santa Rosa Pumpkin Patch is definitely a must-visit attraction for families this fall. While its address is in Santa Rosa, it's actually located in the rural area just outside Rohnert Park, making it an easy trip from Marin.
Santa Rosa Pumpkin Patch is popular, and for good reason — even with restrictions due to COVID-19, there are a ton of fun activities here for the whole family. Of course, don't forget to head out into their giant 10-acre pumpkin patch to look for that perfect pumpkin, too.
We visited the Santa Rosa Pumpkin Patch this weekend and had a great time. We were really impressed with their enormous pumpkin patch, which has wide variety of different pumpkins and gourds growing in it. Many of the pumpkins were still attached to the vine, so come prepared with a pocketknife or clippers!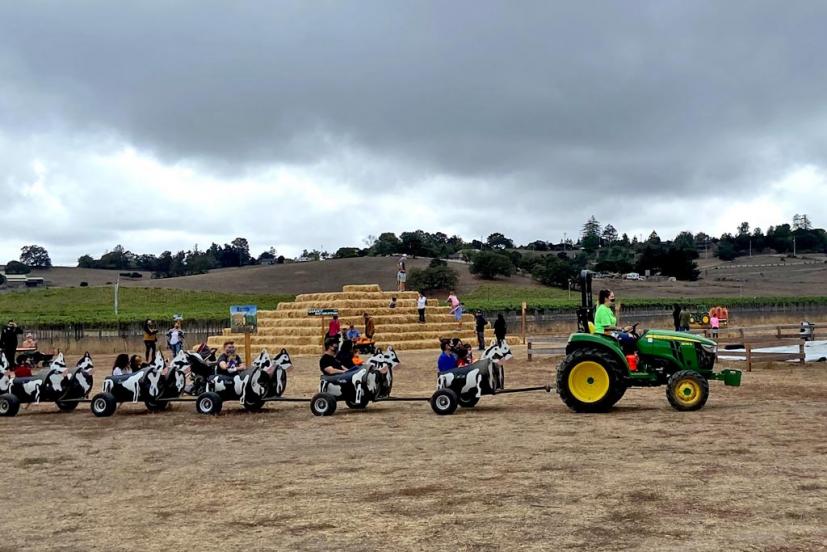 Due to the COVID-19 pandemic, many of the usual attractions are unavailable this year, but visitors can still ride the tractor-drawn cow train ($5), go on a hay ride ($4), visit the animals in the petting zoo ($4), take a pony ride ($10), and get lost in the eight-acre corn maze ($6). A $20 wristband gets you access to all these attractions. There is no general admission fee here like in years past.
Like most pumpkin patches, food—including hot dogs, chili, and nachos—and drinks are available for purchase. You can also get kettle corn, cotton candy, caramel apples, and other sweet treats. All food must be consumed within the covered dining area with socially distanced picnic tables. 
Their vast pumpkin patch has a really wide variety of pumpkins to choose from, ranging from classic orange jack-lantern types to specialty pumpkins, squash, and gourds. There are plenty of carts to use to haul your future jack-o-lanterns back to the checkstand and then to your car. Prices ranges from $5 to $20 and up, depending on size and type. Specialty pumpkins cost $12, gourds are $4 each.
With more than enough activities and attractions to keep everyone occupied and an easy-to-get-to location, the Santa Rosa Pumpkin Patch is a popular choice for fall family fun. 
If You Go
Santa Rosa Pumpkin Patch is open Monday–Thursday from 10 am–6 pm, Friday 10 am–10 pm, Saturday 9 am–10 pm, and Sunday from 9 am–8 pm. The corn maze closes one hour prior. The patch may be closed on rainy days.
Due to COVID-19, masks or other face coverings must be worn at all times, and visitors should stay at least six feet apart from other groups when possible. Portable restrooms with hand-washing stations are available, as are hand sanitizer dispensers.
It's located at 5157 Stony Point Road in Santa Rosa. To get there, take Highway 101 north to the Rohnert Park Expressway exit, and head west over the freeway. Head west until you reach Stony Point Road, then turn left; Santa Rosa Pumpkin Patch will be on your right just after the bridge.
For more information, call (707) 331-6653 or visit www.santarosapumpkinpatch.com.
Sign up for tips & news for Marin families!