Back to top
Halloween Fun at Pronzini Pumpkin Patch in Petaluma
You may know the Pronzini family for their Christmas tree lots that are a fixture in Marin every holiday season, but did you know they have an awesome pumpkin patch as well? Located at their Christmas tree farm in east Petaluma, the Pronzini Pumpkin Patch has a lot to offer families in the fall and it's definitely worth checking out! There's so much to do here, it's almost overwhelming. You could hang out here all day and play.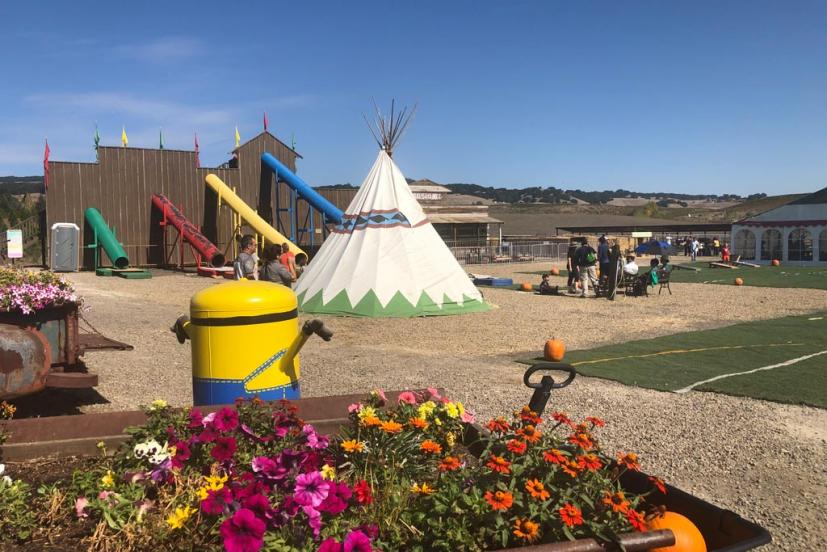 The grounds here are decorated with vintage vehicles, flowers, and colorful decorations. Right away you'll see a whole row of bounce houses and inflatables as well as a pit full of corn kernels for kids to play in. Unlike a lot of other corn pits we've seen at local pumpkin patches, this one has a slide that kids can ride down into the corn. The corn pit and the big picnic area adjacent to it are shaded by large tents, which is great for sunny or rainy days.
Be on the lookout for the colorful Minion characters located throughout the place. They're everywhere and all have different personalities. They're great for a photo op, too!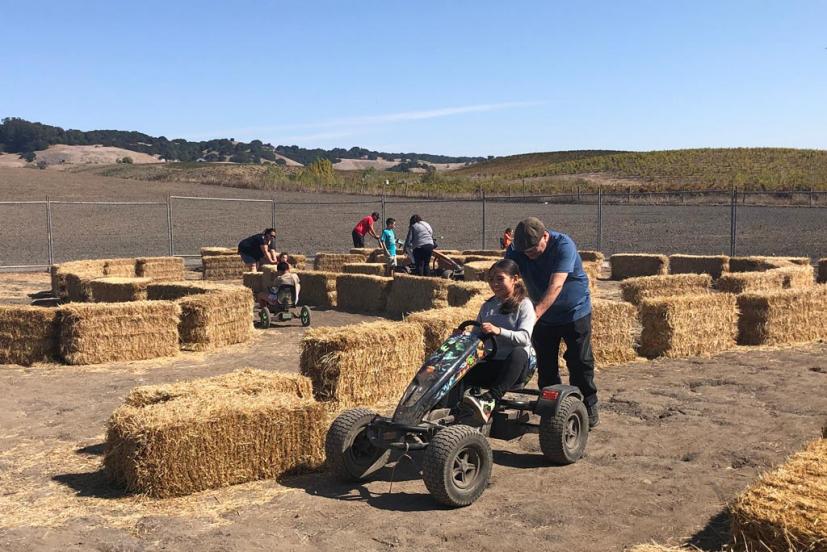 Other fun attractions here include big tubular slides, teepees, a straw bale maze, games like horseshoes and cornhole bean bag toss, pedal cars, a train, pony rides, and farm animals to visit. There's also an outdoors take on a Halloween haunted house—the Haunted Trail—which you can explore … if you dare. (The Haunted Trail is not recommended for children under 10 years old.)
Beyond all the fun activities is Pronzini's pumpkin patch, which features a variety of different pumpkins growing on the vine. You can pick your own pumpkin right off the vine here, and load it up into a wagon to bring back.
Pumpkin prices are really reasonable here, ranging from $3 for the smallest to $15 for the largest. They also offer a variety of gourds and other decorative winter squash.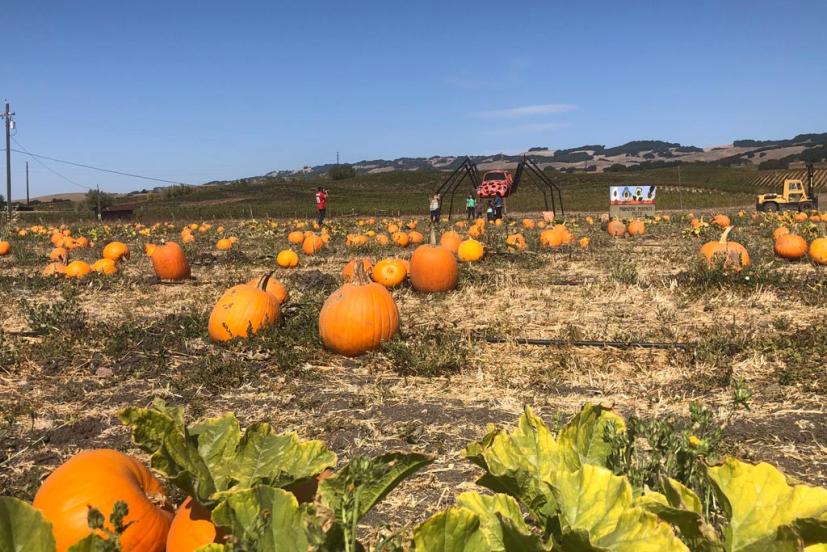 Food is available at the Cowgirl Cafe, which offers family-friendly BBQ fare. You can also buy drinks and snacks at the main checkout stand.
We had a lot of fun on our visit to Pronzini's and it's definitely worth a trip this fall! They're also a fantastic place for an October birthday party or a school field trip. Learn more about what they have to offer at www.pronzinitrees.com/pumpkin_patch.htm.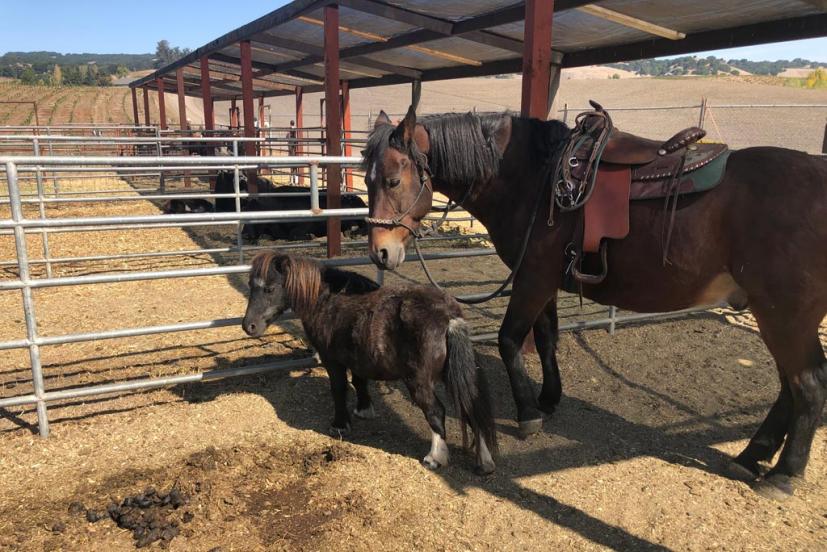 If You Go
Pronizini Pumpkin Patch is located 3795 Adobe Road in Petaluma, right next to Green String Farm (another one of our favorite spots in town) and down the road from Petaluma Adobe State Historic Park. It's open daily, weather permitting, through October 31. Hours: Monday–Thursday, 11 am–6 pm; Friday–Saturday, 10 am–7 pm; and Sunday, 10 am–6 pm; and 11 am–4 pm on Halloween. Admission to the pumpkin patch is free; get a $10 wristband for unlimited access to the play area ($5 after 4 pm). Admission to the Haunted Trail is $10 per person.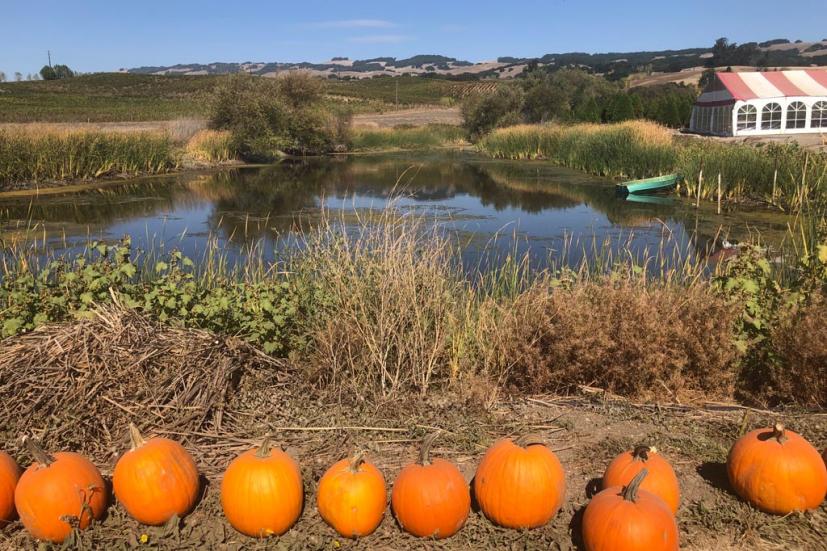 To get there from Marin, take Highway 101 to the East 116 Sonoma/Napa exit (exit 472B) and follow Lakeville Highway east. Turn left at Frates Road and continue until you get to the stop sign at Old Adobe Road. Continue straight onto Adobe Road. Pronzini Pumpkin Patch will be on your left in a little over a mile.
Sign up for tips & news for Marin families!