Back to top
Family Halloween Events in Marin & the Bay Area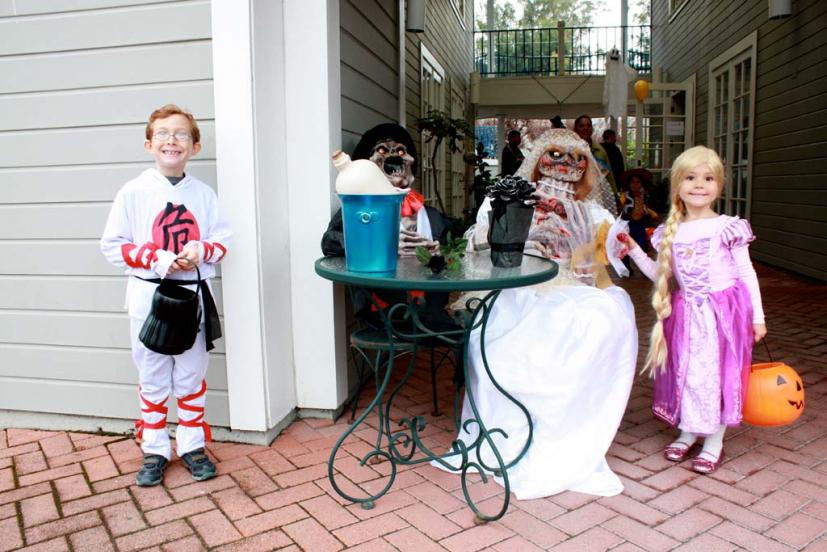 Halloween is one of our favorite holidays of year, and there's so much family fun to be found in Marin and the San Francisco Bay Area. Find a variety of family-friendly Halloween events that's right for you! We'll keep updating our list of events for Marin and beyond as we find more this fall. If you have an event you'd like to see added to the list, please contact us.
Marin and Sonoma Halloween Events
Tolay Fall Festival
Tolay Lake Regional Park
Lakeville Highway at Cannon Lane, Petaluma
Saturday & Sunday, October 19–20, 11 am–5 pm
The Tolay Fall Festival takes place over two long weekends in October at the site of the old Cardoza Ranch off Lakeville Highway. In addition to pumpkins, attractions and activities include a Native American village, the Nighttime Creatures Barn with Creepy Crawly Critters Room, nature hikes, a straw maze, a hands-on children's area and kiddie corral, and hay rides. Admission: $5 adults, $3 children 12 and under. Parking $7. Event website.
Novato Horsemen Haunted House
600 Bugeia Lane, Novato
October 18 & 19, 25 & 26, 7–10 pm
Bring the kids out for a night of scare and fun at the Novato Horseman Haunted House in Novato. Admission is $6 per person. Event details.
Halloween 5K
Sports Basement, Presidio SF
Saturday, October 19, 9 am
Have you heard? We're putting on our very own 5K, and in classic SB fashion, we're going all out! This is no everyday 3.1 mile run; there'll be a costume contest, a kids-only 1 mile run, and a spoooooky after party featuring food trucks, music, games and more! Best of all, 100% of proceeds from this event will go to support Boys & Girls Clubs of San Francisco. Location: 610 Old Mason Street, San Francisco. Tickets: $10 for kids-only 1 mile run, $25

for 5K Run/Walk Youth - Ages 5-18 and $40 for

5K Run/Walk Adult. Register online here. Location: Crissy Field, San Francisco. Event details.
Pumpkins on Pikes
Tara Firma Farm, Petaluma
Saturday, October 19 & 26, 2–10 pm
Come on out to the farm for Halloween fun with pumpkin carving, live music, dancing, BBQ ($15/$10 per plate), and more. Put your jack-o-lantern on a pike in the corn field and at sundown it will be lit along with all the others! Admission is $25 or $20 for farm members and includes a pumpkin. Children 6 and under are admitted free. Event website.
Trick-or-Treat Trail & Boo Bash
Main Street, Tiburon & Belvedere Community Park
Saturday, October 19, 4:30–6:30 pm
Trick or treat down Tiburon's Main Street with downtown merchants. Event details
The Not-So-Scary Halloween Magic Show
Novato City Hall
Saturday, October 19, 6 pm
It's a magic show full of Halloween fun appropriate for all ages! Bring your ghosts and goblins, your superheroes and your fairies as tricks reign over treats in this silly, fun, laughter-filled show from Mike Della Penna. Free. Location: 901 Sherman Avenue, Novato. Event details
Tam Valley Haunted House
Tam Valley Community Center, Mill Valley
Friday–Sunday, October 25–27
TCSD's annual Tam Valley Haunted House celebrates a decade of scary fun! The Haunted House has three different tours: 3:30–4:30 pm: Not Scary, for children under 8 with all the lights on and a fun tour of the different areas; 5-6:30 pm: Scary, for children over 9; closed 6:30–7:30 pm to feed the volunteer monsters then back open 7:30–9 pm for a truly horrifying experience. Cost: $6 per person. Location: 203 Marin Avenue, Mill Valley. Event details

Trunk or Treat at the CenterMill Valley Community Center
Friday, October 25, 4–6 pm

Bring your children to the Community Center Parking Lot for a fun, safe and community Halloween event! Face painting, food truck, treating, games, and more! Free.

Event details

Halloween Scream on the Green
Downtown Novato
Friday, October 25, 5:30–9 pm & Saturday, October 26, 10 am–4 pm

Scream on the Green Fall Faire runs in conjunction with the Downtown Novato Business Association's Safe Trick-or-Treat event. Activities will include haunted house, costume contest, live music and entertainment, artisan booths, children's play area and food and beverages. (Friday evening haunted house only.) Location: Sherman Avenue and the Civic Green and Novato City Hall complex.

Event details.

It's the Great Pumpkin, Charlie Brown!
Snoopy's Home Ice, Santa Rosa
Friday, October 25, 6–8:30 pm
Join us for crafts, a trick-or-treat trail, food and lots of family fun! There will be two movies will be shown on the big outdoor screen. Children of all ages are welcome. Attendance is free.  Location: 1667 West Steele Lane, Santa Rosa. Event details.

Spooky Spaghetti Bingo
Corte Madera Rec Center
Friday, October 25, 6–9 pm

Enjoy a buffet-style spaghetti dinner from 6 to 7, then Bingo for prizes until 9! Fun for the whole family! $15 per person admission includes 3 Bingo cards.

Event details.

Movie and Craft Drop Off Date Night
Little Tree Studios, San Anselmo
Friday, October 25, 6–9 pm
Come drop off your Little Artist for our Movie Night Friday. We will have a small craft, watch the movie Nightmare Before Christmas, and eat pizza and fresh popped popcorn! Little Artists will make a dancing skeleton puppet. Please bring cozy clothes and pillows to curl up with during the show. We will serve pizza and popcorn. Cost: $50. Location: 14 Ross Avenue, San Anselmo. Event details
Halloween Festival–Costume Contest for Kids & Dogs
Marin Country Mart, Larkpur Landing
Saturday, October 26, 11 am
We will be holding our usual costume contest for kids & dogs (meet Hugo, the Mart Mascot!!) at 11 am. plus guess the weight of the giant pumpkin for a prize! Face painting, pony rides, crafts, make your own caramel apples, and pumpkin patch fun await for you & yours all day long! Event details.

Roald Dahl's Matilda The Musical
Throckmorton Theatre, Mill Valley
Fridays & Saturdays, October 25–November 10, 2 pm and 7 pm (times vary on weekends)

Roald Dahl's Matilda The Musical tells the story of an extraordinary girl who, armed with a vivid imagination and a sharp mind, dares to take a stand and change her own destiny. Fun the the entire family! Tickets: $15–$35.

Purchase tickets here

. Location: 142 Throckmorton, Mill Valley.

Event details.

Jeepers Jack-o-Lanterns
Paradise Beach Park, Tiburon
Saturday, October 26, 11 am–1 pm

Join ranger staff at Paradise Beach Park in carving your own spooky Jack-O-Lantern for Halloween! A limited amount of pumpkins will be available on a first-come, first-served basis (or you're welcome to bring your own). This event is ideal for all ages. All skill levels are welcome, and no experience is necessary. Dress in layers and wear sturdy shoes. Don't forget to bring water and snacks. No pets (except service animals) are allowed at this park.

Event details

Safe Trick-or-Treat Downtown Novato
Grant Avenue, Novato
Saturday, October 26, 11 am–2 pm

The Downtown Novato Business Association will host its annual Safe Trick-or-Treat event along Grant Avenue in downtown Novato. Every year this Halloween event is popular with kids and their parents. Businesses along Grant Avenue will give out candy and there will be a variety of other fun activities at various locations downtown. This is a fun event for the entire family.

For more info,

visit their website.

Trick-or-Treat on 4th Street
Downtown San Rafael
Saturday, October 26, 1–3 pm

Bring your little ones in costume for treats from participating merchants all up and down Fourth Street, Downtown from Lincoln to the West End Village, look for the poster and balloons.

Event details.

Costume Campfire Program
Sonoma Barracks, Downtown Sonoma
Saturday, October 26, 6 pm

Join us for our annual costume campfire program in the Sonoma Barracks Courtyard. Bring the kids for some fun, seasonal talk, spooky campfire songs and a ghostly marshmallow roast. All ages welcome. Free of charge. Location: 98 E Spain Street, Downtown Sonoma.

Event details.

Halloween Activities & Graveyard Stroll
Lucas Valley Field, San Rafael
Saturday, October 26, 7–9:30 pm

Join the Open Space rangers for a fun and spooky evening at the Lucas Valley Field Office. At 7 pm stop on by to check out the One Tam Roving Ranger with its activities and scientific specimens. All About Owls will also have some ambassadors on hand to see up close and learn fascinating facts about. There will also be a viewing of "A Silent Legacy" which is a documentary on the history of the Lucas Valley Grave Yard and old County Farm and Hospital Site. At 7:30 we'll begin our Self-Guided Graveyard Stroll which will include both scary and less scary routes; along the way you'll find informational signs. After your tour collect a bag of candy or hang out at the S'more making station. Rain will cancel.

Event details.

Not-Too-Spooky Halloween
Habitot Children's Museum, Berkeley
Sunday, October 27, 9:30 am–4:30 pm

Fun, treats, and prizes at our Not-Too-Spooky Halloween! Not-Too-Spooky decorations will start going up in mid-October and stay through Halloween. Excavate bugs from frozen monster hands. Paint miniature pumpkins, while supplies last. Come play with pumpkin slime. Play miniature golf in the Toddler Garden tombstone graveyard. Visit the Witches Apothecary in the grocery store for some Not-Too-Spooky sensory play. Pizza lunch $1.50 kid slices. Museum admission applies. Location: 2065 Kittredge Street, Berkeley.

Event details.

Petaluma Mothers Club Fall Carnival
Kenilworth Junior High School, Petaluma
Sunday, October 27, 10 am–1 pmBring the entire family to the annual Fall Carnival! Free admission, with tickets available for purchase that can be used for a variety of games, amusements and concessions. Location: 800 Riesling Rd, Petaluma. Event details

Halloween Faire
Strawberry Recreation District 
Sunday, October 27, 11 am–12:30 pm
Come in costume to celebrate All Hallows Eve with other wizards, witches, fairies, astronauts, and cartoon characters. Play carnival games, bounce in the jump house, enjoy the candy and prize hunt and costume parade! Fee: $9 per child; no charge for adults. Event website.
Goblins' Spooktacular
San Anselmo


Wednesday October 30, 5–7 pm




Dress in your most boo-tiful Halloween costume and join us for some traditional small town fun. This event is for those 0 to 7 years old! Merchants and volunteers will be standing along San Anselmo Avenue between Woodland and Tamalpais to hand out goodies. At fire station #19 on San Anselmo Avenue, there will be cookies and water! This is a fun, town-wide trick or treating event! Location:

San Anselmo Avenue between Woodland and the Fire Station. Event details
Halloween Sausalito
Thursday, October 31, 4:15–7 pm
Downtown Sausalito
Halloween fun for the entire family. Child-friendly haunted house, parade and trick-or-treat, dog costume contest, Firefighter BBQ and more... Event details.

 

Halloween Trick-or-Treat Trail
Downtown Petaluma
Thursday, October 31, 3–5:30 pm
Join over 60 participating downtown Petaluma merchants for a fun and safe community Halloween for the entire family and goodies for costumed kids under 12. Prepare for a hautingly "ghould" time  as the scary, the cute, the ugly and the creepy descend on Downtown Petaluma. Event details
Sausalito Haunted House 
Game Room, Sausalito City Hall 
Thursday, October 31, 4:15–8 pm
Come see what spooky terrors lurk in this year's inception of the annual Sausalito Haunted House. They're dying… to meet you! Haunted House schedule: child-friendly 4:15–5:15 pm and full terror mode from 6:15–8 pm. Cost: $5 per person or $20 per family suggested donation. Location: 420 Litho Street, Sausalito. Event details
Halloween Sausalito
Caledonia Street & Robin Sweeny Park, Sausalito
Thursday, October 31, 4:30–8 pm
Kids of all ages are welcome to come in costume for a Halloween Parade and for some trick-or-treating. Parade begins at the Station 1 firehouse (at 333 Johnson and Caledonia) at 6 pm sharp. Come on down to the Sausalito City Hall, located at Caledonia and Litho Streets in Sausalito for a spooky time. There will also be a firefighters' BBQ and a dog costume contest. Event details
San Francisco & Bay Area Halloween Events
Sign up for tips & news for Marin families!