Back to top
Family Halloween Events in Marin & the Bay Area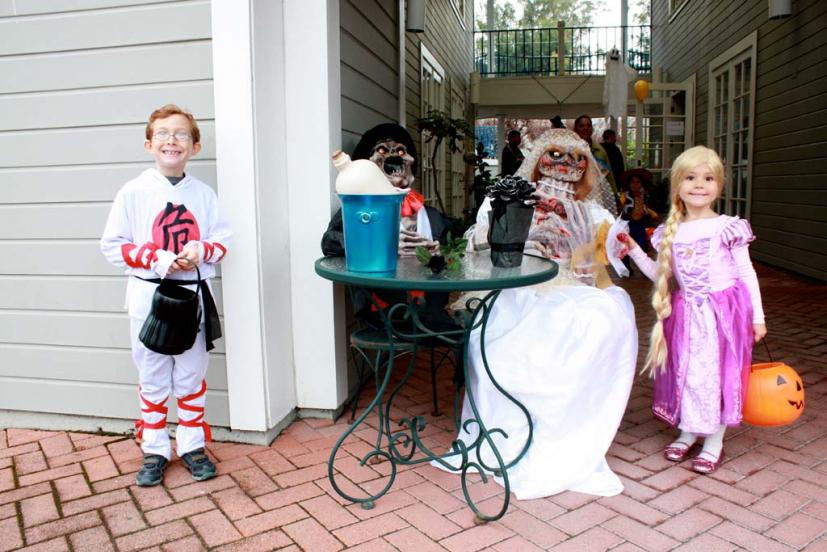 Halloween is one of our favorite holidays of year, and there's so much family fun to be found in Marin and the San Francisco Bay Area. Find a variety of family-friendly Halloween events that's right for you! We'll keep updating our list of events for Marin and beyond as we find more this fall. If you have an event you'd like to see added to the list, please contact us.
Marin and Sonoma Events
Tolay Fall Festival
Tolay Lake Regional Park
Lakeville Highway at Cannon Lane, Petaluma
October 13 & 14, 20 & 21, Saturday & Sunday, 11 am–5 pm
The 11th annual Tolay Fall Festival takes place over two long weekends in October at Tolay Lake Regional Park off Lakeville Highway. In addition to pumpkins and fall decorative items for sale, attractions and activities include a Native American village, the Nighttime Creatures Barn with Creepy Crawly Critters Room, nature hikes, a giant straw maze, a hands-on children's area and kiddie corral, and hay rides. Admission: $5 adults, $3 children 12 and under; free for Sonoma County Regional Parks members. Parking for non-members is $7. Event details
Halloween House Workshops
Habitot Children's Museum, Berkeley
October 19 & 21, Friday, 9:30–10:30 am & Sunday, 3–4 pm
Work together on building a Hansel & Gretel-style gingerbread house and decorating with Halloween candy and spooky shapes. Costumes welcome! Cost: $40 per house - includes admission for one child and one adult and free for Grandparent Circle Members. Pre-registration required reservations@habitot.org or call 510-647-1111 ×14. Location: 2065 Kittredge Street, Berkeley. Event details.
Novato Horsemen Haunted House
600 Bugeia Lane, Novato
October 19 & 20, 26 & 27, 7–10 pm
Bring the kids out for a night of scare and fun at the Novato Horseman Haunted House in Novato. Admission is $5 per person. Event details
Goblin Jamboree Fundraiser
Bay Area Discovery Museum
Saturday and Sunday, October 20 & 21, 10 am–4 pm
Bring the whole family in costume to explore all the fun at the Bay Area Discovery Museum's Goblin Jamboree Family Fundraiser. Experience the museum as it's transformed into a spooktacular Halloween wonderland complete with Witches and Wizards school, pony rides, petting zoo, kid-sized hay maze, live entertainment, and more. Tickets available at the door. Admission: $17.95 general, $14.95 members, free for children under 6 months. Event details
Charity and the JAMband Family Concert!
Pomeroy Rec Center, San Francisco
Saturday, October 20, 11 am-1 pm
Full Band Show! Pumpkin Patch, too! Bring a picnic and stay awhile! Parking is easy. Suggested donation $9/person; no one turned away. Location: 207 Skyline Blvd., San Francisco. Event details.
Pumpkins on Pikes
Tara Firma Farms, Petaluma
Saturday, October 20 & 27, 2–10 pm
The festivities start in the afternoon with great food, music and pumpkin carving. Everyone will get the chance to display their Jack-O-Lantern on a pike in the corn field. When the sun goes down the pumpkins are lit. It is a truly heart warming feeling looking over the glowing corn field to see the individual creations of all who attend. Free pumpkin with admission. Cost: $20 per person, children 6 and under are free. You can also purchase a $10 BBQ plate. Location: 3796 I Street, Ext, Petaluma. Event details
Trick-or-Treat Trail & Boo Bash
Main Street, Tiburon & Belvedere Community Park
Saturday, October 20, 4:30–9 pm
Trick or treat down Tiburon's Main Street with our downtown merchants from 4:30–6:30 pm. Follow the pumpkin-lit trail all the way to the Belvedere Park for a Halloween carnival and Halloween movie in the park from 6:30–9 pm; movie begins at 7 pm. Bring your carved pumpkins prior to the event to be a part of the pumpkins lining the streets from Tiburon to Belvedere! The goal is to have 500 carved pumpkins. Event details
The Not-So-Scary Halloween Magic Show
Novato City Hall
Saturday, October 20, 6–7 pm
It's a magic show full of Halloween fun appropriate for all ages! Bring your ghosts and goblins, your superheroes and your fairies as tricks reign over treats in this silly, fun, laughter-filled show. Free. Location: 901 Sherman Avenue, Novato. Event details
MALT Day at the Pumpkin Patch
Nicasio Valley Farms
Sunday, October 21, 10 am–4 pm
Bring the kids to this Marin Agricultural Land Trust-protected farm in Nicasio for pumpkin picking, pony rides, hay rides and mazes, music, delicious food, activities, farm animals, farm stand, and bouncy house, and slide. Pick an organic pumpkin, taste local cider and treats, and let the kids go crazy with crafts at MALT Day! Tim Cain will perform at 11 am. Location: 5300 Nicasio Valley Road (1/4 mile north of Nicasio square). Free admission. Event details
Petaluma Mothers Club Fall Carnival
Kenilworth Junior High School, Petaluma
Sunday, October 21, 10 am–1 pm


Bring the entire family to the annual Fall Carnival! This event is open to all. Admission is free, with tickets available for purchase that can be used for a variety of games, amusements and concessions. Location: 800 Riesling Rd, Petaluma.

Event details

Sunday Special: A Gentle Halloween with Silly Goose and Val
Mill Valley Public Library, Main Reading Room
October 21, Sunday, 11–11:45 am
Families will laugh and sing, hoot and holler with Silly Goose and her human friend Val. From songs like "Halloween," that deals with friends wearing masks and pretending to be frightening, to "Ghostie Pie," about the ghost who is afraid of Halloween, children will walk, jump, hop to the Haunted House; dance with skeletons, witches, pumpkins, and goblins; and help one little ghost learn who to boo! Location: 375 Throckmorton Ave, Mill Valley. Event details.

Tam Valley Haunted House
Tam Valley Community Center, Mill Valley
Friday–Sunday, October 26–28

TCSD's annual Tam Valley Haunted House celebrates a decade of scary fun! The Haunted House has three different tours: 3:30–4:30 pm: Not Scary, for children under 8 with all the lights on and a fun tour of the different areas; 5-6:30 pm: Scary, for children over 9; closed 6:30–7:30 pm to feed the volunteer monsters then back open 7:30–9 pm for a truly horrifying experience. Cost: $6 per person. Location: 203 Marin Avenue, Mill Valley.

Event details

Trunk or Treat at the CenterMill Valley Community Center
Friday, October 26, 4:30–6:30 pm

Bring your children to the Community Center Parking Lot for a fun, safe and community Halloween event! Face painting, food truck, treating, games, and more! Free.

Event details

Halloween Scream on the Green
Downtown Novato
Friday, October 26, 5:30–9 pm & Saturday, October 27, 10 am–4 pm

Scream on the Green Fall Faire runs in conjunction with the Downtown Novato Business Association's Safe Trick-or-Treat event. Activities will include haunted house, costume contest, live music and entertainment, artisan booths, children's play area and food and beverages. (Friday evening haunted house only.) Location: Sherman Avenue and the Civic Green and Novato City Hall complex.

Event details

It's the Great Pumpkin, Charlie Brown!
Snoopy's Home Ice, Santa Rosa
Friday, October 26, 6–8:30 pm
Join us for crafts, a trick-or-treat trail, food and lots of family fun! There will be two movies will be shown on the big outdoor screen. Children of all ages are welcome. Attendance is free. There will be a Public Skate Session at the Arena from 7:30 - 9 PM with regular admission and skate rental ticket prices. Location: 1667 West Steele Lane, Santa Rosa. Event details.

Spooky Spaghetti Bingo
Corte Madera Rec Center
October 26, 6–9 pm

Enjoy a buffet-style spaghetti dinner from 6 to 7, then Bingo for prizes until 9! Fun for the whole family! $15 per person admission includes 3 Bingo cards.

Event details

Halloween Spook-tacular
Safari West, Santa Rosa
Saturday, October 27, 10 am

Each attendee of this annual event receives a "Wild Card" and a chance to explore the Trick-or-Treat Trail. Explore the trail and fill out your Wild Card as you learn about amazing animal adaptations. Once completed, visit the Safari West Pumpkin Patch and redeem your card for a special prize.

While you're at the pumpkin patch, you can also purchase a pumpkin for yourself, or to donate to one of our animals! Money spent will be donated to the  Vulture Conservation Foundation who work to protect some of the world's most amazing and least appreciated birds.

Cost: Adults $50; Children (4-12) $25. Reservations required. Event details.

Little Folkies Family Band Halloween Concert
Sweetwater Music Hall, Mill Valley
Saturday, October 27, 10:30 am (doors open at 10 am)

Join us at our spooky and super fun Halloween concert at Sweetwater Music Hall! Doors at 10:00 AM, show begins at 10:30 AM. This concert features Irena Eide, and the amazing Little Folkies Family Band, singing and playing old-time and bluegrass tunes and songs from our Fall Collection! Tickets: $17 Advance/ $19 Day of the event (plus fees).

Purchase tickets here

.

Pixie Park Halloween Social
Ross
Saturday, October 27, 10 am–noon

Get on your costume and come enjoy treats, activities, and the annual Halloween parade at Pixie Park! Location:

30 Sir Francis Drake Blvd, Ross.

Event details.

Jeepers Jack-o-Lanterns
Paradise Beach Park, Tiburon
Saturday, October 27, 11 am–1 pm

Join ranger staff at Paradise Beach Park in carving your own spooky Jack-O-Lantern for Halloween! A limited amount of pumpkins will be available on a first-come, first-served basis (or you're welcome to bring your own). This event is ideal for all ages. All skill levels are welcome, and no experience is necessary. Dress in layers and wear sturdy shoes. Don't forget to bring water and snacks. No pets (except service animals) are allowed at this park.

Event details

Safe Trick-or-Treat Downtown Novato
Grant Avenue, Novato
Saturday, October 27, 11 am–2 pm

The Downtown Novato Business Association will host its annual Safe Trick-or-Treat event along Grant Avenue in downtown Novato. Every year this Halloween event is popular with kids and their parents. Businesses along Grant Avenue will give out candy and there will be a variety of other fun activities at various locations downtown. This is a fun event for the entire family.

For more info,

visit their website.

Halloween Festival
Saint Raphael School, San Rafael
Saturday, October 27, noon–4 pm
Bring the family for some ghoulish games, freaky fun, a haunted house, and frightening food. Bring canned food for the needy and receive 2 free tickets for games. Location: 1100 5th Avenue, San Rafael. Event details
Spooky Poekie Party
Mill Valley
Saturday, October 27, noon–5 pm
Spooky House, Mysterious Food, Things to Make Everywhere! Come to our interactive, hands-on Spooky House and make spooky projects. Regular drop-in rates apply during the party. Free unlimited Spooky House visits when dropping in for 2 hours or more. Cost: $10 per person for one 20 minute Spooky House visit without drop-in. Note: be prepared for a short wait if you're just coming for the Spooky House. Location: 247 Shoreline Avenue, Mill Valley. Event details.
Holloween Cookie Decorating
teeny cake, Novato
Saturday, October 27, 1–3 pm


Decorate A Spook-tacular Cookie Creation to Celebrate Halloween!  Come in anytime between 1–3 pm, get your cookie and decorate.  Cost: $6 in advance plus service fee. All ticket sales are final for this event.

Get your tickets online here. Location: 7400 Redwood Blvd., #101, Novato. Event details.

Downtown San Rafael Trick-or-Treat
Fourth Street, San Rafael
Saturday, October 27, 1–3 pm

Come to the 34th Annual Downtown San Rafael Trick-or-Treat event, a FREE festive Halloween celebration along the 4th Street corridor.  The day's festivities include trick or treating in the participating downtown shops, free candy bags in City Plaza, and live music.

Event details

Not-Too-Spooky Halloween
Habitot Children's Museum, Berkeley
Sunday, October 28, 9:30 am–4:30 pm

Come to our not-too-spooky celebration for infants, toddlers and preschoolers! The Museum will be transformed into a Halloween playground, play miniature golf in the Garden Graveyard, visit the witches' apothecary in the grocery store, scoop up spooky ducks in the waterplay area and paint miniature pumpkins in the Art Studio! Come celebrate with us by coming in costume! Location: 2065 Kittredge Street, Berkeley.

Event details.

Halloween Party
San Rafael Public Library
Saturday, October 27, 1–3 pm

The Teen Advisory Board is hosting a fun Halloween party! Enjoy crafts, games, treats, and face painting. Costumes are encouraged (there might be prizes…)! This program is for children and teens of all ages. Drop-in event; no registration required. Location: 1100 E Street, Downtown San Rafael.

Event details.

Annual Corte Madera Larkspur Mothers Club Halloween Boo-Fest
Corte Madera Community Center
Saturday, October 27, 3:30–6:30 pm

Grab your mask, a wand, or broom and join CMLMC for a frightfully fabulous, fun-filled event with other families from our local community. Admission: $40 per family at door for CMLMC members, $50 per family at door for non-members. There is a $10 discount if you purchase advance tickets before October 19.

All-inclusive event (including food and adult beverages!).

Event details

Costume Campfire Family Program
Sonoma State Historic Park, Sonoma Valley
Saturday, October 27, 5:30–6:30 pm

It is that time of year again for our "special" campfire event. Kids are invited to come in costume for a HOWLING good time. The focus is on nature and the season of fall along with Halloween songs and a spooky marshmallow roast!! No charge for this event. Location: 5729, 20 East Spain Street, Downtown Sonoma Square.

Event details

.

10th Annual Santa Venetia Halloween Party
Santa Venetia Neighborhood, San Rafael
Saturday, October 27, 5:30–8:30 pm
Featured as one of the top places to trick-or-treat in Marin County. Come check out what is brewing in the Witches Kitchen, wander though the Spooky Graveyard, explore the Haunted Yard, groove to a local band and check out the Massacre Disco and Game House. Not to mention there will be lots of trick-or-treating. The SRFD will be there too with the fire truck for all to check out. Location: Adrian Way between Meadow and Mabry, San Rafael.

Halloween Activities & Graveyard Stroll
Lucas Valley Field, San Rafael
Saturday, October 27, 7–8:30 pm

Join the Open Space rangers for a fun and spooky evening at the Lucas Valley Field Office. Our Graveyard Stroll which will include both scary and less scary routes. This event is ideal for all ages. All skill levels are welcome, and no experience is necessary. Dress in layers and wear sturdy shoes. Don't forget to bring a flashlight and treat bag. We'll provide all related supplies. We request that no pets (except service animals) attend. Rain will cancel.

Event details

Halloween Faire
Strawberry Recreation District 
Sunday, October 28, 11 am–12:30 pm

Come in costume to celebrate All Hallows Eve with other wizards, witches, fairies, astronauts, and cartoon characters. Play carnival games, bounce in the jump house, enjoy the candy and prize hunt and costume parade! Admission: $9 per child; free for adults.

Event details

Goblins' Spooktacular
San Anselmo


October 30, 5–7 pm

Dress in your most boo-tiful Halloween costume and join us for some traditional small town fun. This event is for those 0 to 7 years old! Merchants and volunteers will be standing along San Anselmo Avenue between Woodland and Tamalpais to hand out goodies. At fire station #19 on San Anselmo Avenue, there will be cookies and juice! This is a fun, town-wide trick or treating event! WANTED!! Volunteers in kid-friendly costumes to help hand out goodies to the children. Location:

San Anselmo Avenue between Woodland and the Fire Station. Event details

Halloween Festival
Pacheco Plaza, Novato
Wednesday, October 31, 4–6 pm

Trick-or-treaters welcome, live DJ dance party, games, face painting, balloon animals, prizes, pet costume show and contest.

Event details

Halloween Trick-or-Treat Trail
Downtown Petaluma
Wednesday, October 31, 3–5:30 pm
Join over 60 participating downtown Petaluma merchants for a fun and safe community Halloween for the entire family and goodies for costumed kids under 12. Prepare for a hautingly "ghould" time  as the scary, the cute, the ugly and the creepy descend on Downtown Petaluma. Event details
Sausalito Haunted House 
Game Room, Sausalito City Hall 
Wednesday, October 31, 4:15–8 pm
Come see what spooky terrors lurk in this year's inception of the annual Sausalito Haunted House. They're dying… to meet you! Haunted House schedule: child-friendly 4:15–5:15 pm and full terror mode from 6:15–8 pm. Cost: $5 per person or $20 per family suggested donation. Location: 420 Litho Street, Sausalito. Event details
Halloween Sausalito
Caledonia Street & Robin Sweeny Park, Sausalito
Wednesday, October 31, 4:30–8 pm
Kids of all ages are welcome to come in costume for a Halloween Parade and for some trick-or-treating. Parade begins at the Station 1 firehouse (at 333 Johnson and Caledonia) Come on down to the Sausalito City Hall, located at Caledonia and Litho Streets in Sausalito for a spooky time. There will also be a firefighters' BBQ and a dog costume contest. Event details
San Francisco & Bay Area Events
Sign up for tips & news for Marin families!