Back to top
Lamb Days at Windrush Farm
Come celebrate spring by meeting some baby lambs on the farm! Windrush Farm, a working sheep farm in Chileno Valley, offers seven Lamb Days this March. Advanced registration is required!
Gates open at 9:45 am and the program runs until about noon. The farm closes at 1:30 pm. Windrush Farm is a working farm so we suggest shoes and clothing you don't mind getting dirty.
In addition to the farm's sheep, you'll meet chickens, Bell the Jersey cow, and the goats Trinka and Kells. After meeting some animals, attendees will spend some time in the barn and get close and personal with the lambs. Then you'll feed the sheep and take a stroll through the pastures. End your day with a walk around the pond learning about the wild side of the farm. There have been a few turtles spotted in the spring and summer, and you might even be able to find some tadpoles! After the wild side walk you are welcome to bring a lunch and picnic at the pond or jump stump area.
Adults admission is $35; children over 10 are $10; children 10 and under are free. Advance registration is required; no drop-ins.
2020 Lamb Days Schedule
Saturday, March 7
Sunday, March 8
Saturday, March 14
Saturday, March 21
Sunday, March 22
Saturday, March 28
Sunday, March 29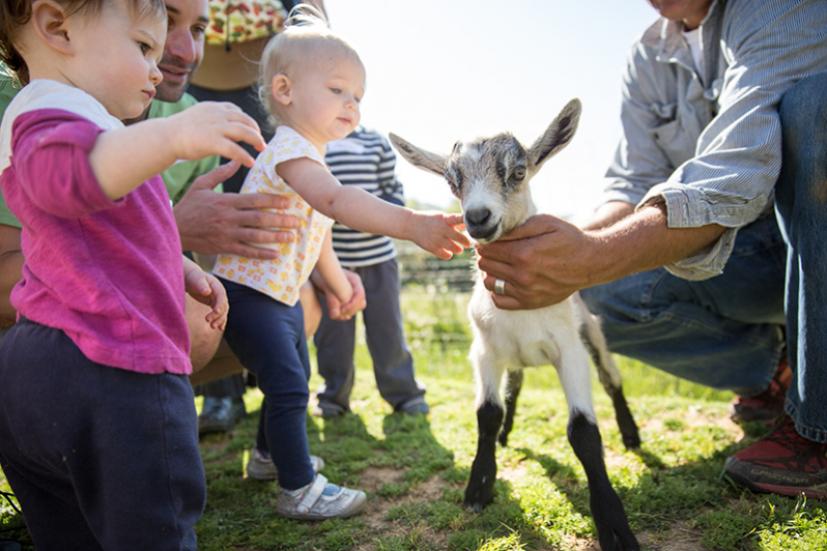 Windrush Farm also offers summer camps, farm concerts, fiber arts workshops, and guided tours. They're located at 2263 Chileno Valley Road, Petaluma 94952. For more information, visit them at windrushfarm.wordpress.com or call (707) 775-3390.
Photos: Paige Green Photography
Sign up for tips & news for Marin families!