Back to top
Lodging, Dining, and Family Fun at the Village in Northstar California
Note: This is the second of two articles on our experience at Northstar California Resort near Lake Tahoe. Read the first installment here.
During our visit to Tahoe's Northstar Calfornia Resort, we stayed right in the Village itself. The Village serves as the hub of activity at Northstar, and it's a fantastic place in which to stay and to hang out when you're not skiing. It may even be worth a trip in its own right, regardless of whether you're skiing or not. There's a lot to do here, and it's the ideal place for families to stay, play, shop, and dine when they're not up on the slopes. We loved the fact that we didn't have to leave the resort—everything, from ski equipment rentals to dining, was literally right outside our door.
The Village itself has a charming atmosphere—kind of like a small European town with a rustic Sierra Nevada twist. Plenty of outdoor seating areas invite you to linger in the Village's public areas, where strategically placed fire pits allow you to warm yourself if it's chilly.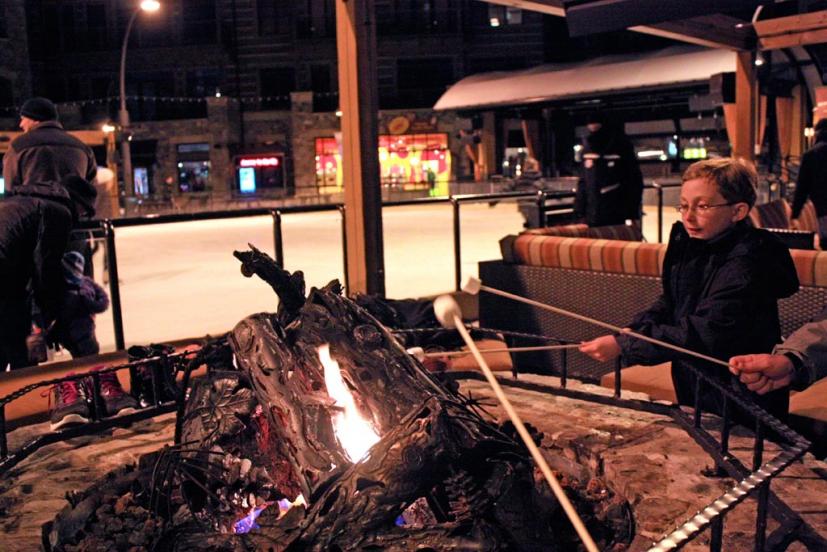 The fire pits in the Village also provide handy places for marshmallow toasting—s'mores are a big deal at Northstore, so don't be surprised if you find someone handing you one at about 3:30 pm (it's a resort tradition). If you didn't bring your own graham crackers, marshmallows, and chocolate bars, you can buy s'mores-making kits at the True North shop in the Village.
Northstar Village Lodging
Lodging options abound at Northstar, but the most convenient choice for families is to stay in one of the new luxury condos located right in the Village. We stayed in a two-bedroom unit in the Big Horn Lodge, run by Tahoe Mountain Resorts Lodging.
Our spacious mountain home-away-from-home was beautifully appointed and furnished, with a big gas fireplace, fully equipped gourmet kitchen, a patio bordering the ski run into the Village, a full-sized washer and dryer, and free wi-fi access. It was the perfect place to relax in front of the fire after a day on the mountain, and the kids had a great time playing in the snow just outside our back door.
Staying at Big Horn Lodge was really ideal. We parked our car in the heated underground garage when we arrived and didn't need to move it again for the entire weekend (other than an early run to the Safeway in nearby Truckee for breakfast stuff and snacks). Take the elevator down from your condo and you'll find yourself right in the heart of the Village, steps from the gondola to the mountain, dining, and shopping. There's really no reason to ever leave, and not having to drive anywhere for a few days is a nice break.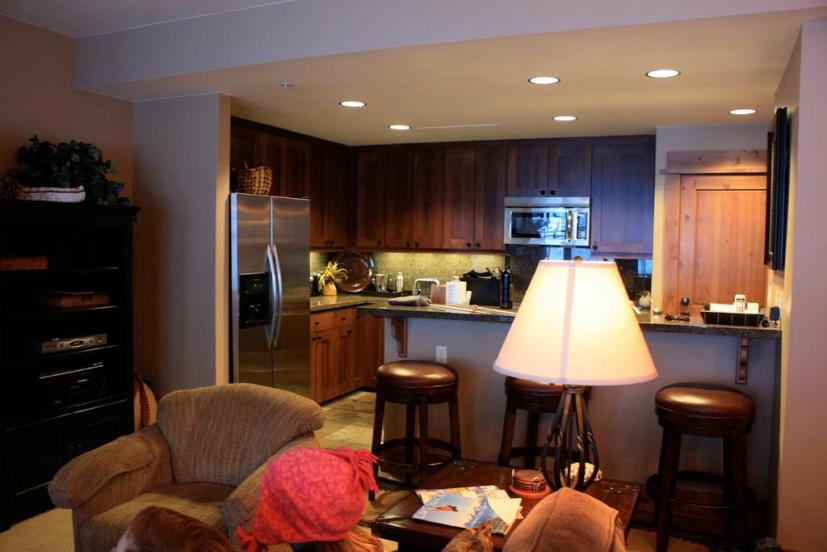 Besides the Big Horn Lodge, Tahoe Mountain Resorts offers several different lodging options in the Northstar Village. Unit choices range from efficient studios to large four-bedroom condos. Prices vary depending on unit size, location, and time of year. Visit www.tahoemountainlodging.com for more information, rates, availablilty, and special packages.
Family Dining in the Northstar Village
In keeping with Northstar's status as Tahoe's family resort, you'll find plenty of family-friendly dining options in the Village. During our stay, we dined at Rubicon Pizza Co., located near the Village's ice skating rink, as well as Baxter's Bistro, an elegant but family-friendly après ski spot near the Northstar gondola.
Rubicon Pizza Co. is casual restaurant serving—what else?—pizza, as well as pastas and other Italian specialties. Thin crust pizzas here are really good, and include some interesting and delicious variations on your standard pie. We loved the signature Rubicon pizza with its pepperoni, sausage, roasted peppers, and portobella mushrooms, as well as the fresh and light classic Margarita. Although less traditional, Rubicon's Thai curry pizza was amazingly delicious—it's really a must try.
If pizza's not your thing, Rubicon offers pastas and salads (try the apple and pecan salad with gorgonzola cheese), along with a kids' menu with the usual suspects like chicken fingers, cheese pizza, and spaghetti. Our kids declared Rubicon's pizza to be among their favorite ever, which is high praise, especially from our daughter who's a bit of a picky eater.
Friendly and efficient service coupled with reasonable prices make Rubicon Pizza Co. our new go-to restaurant in the area. Make sure you save room for the hot-from-the oven chocolate chip cookie topped with house-made ice cream… even if you are making s'mores after dinner.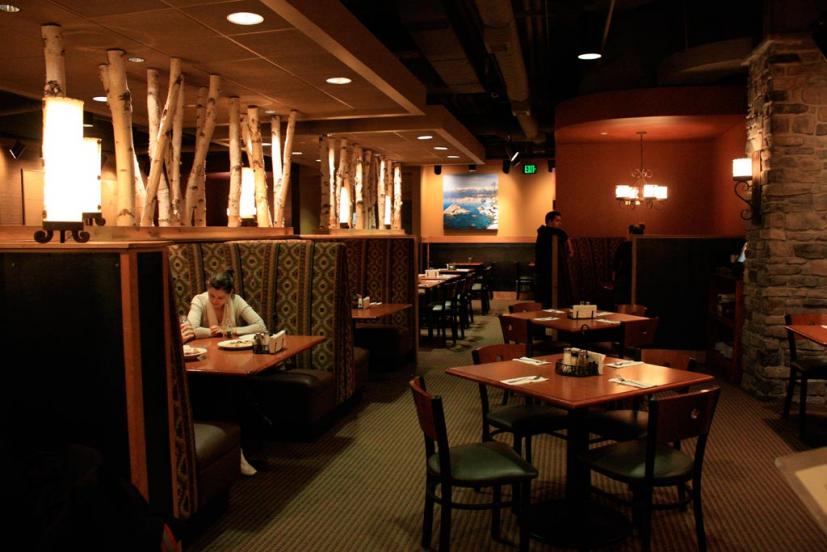 Baxter's Bistro, with its stylish atmosphere, is popular both for its bar and live music and family dining scene. While grownups can choose from some pretty sophisticated and well-executed offerings (braised bison shortribs with horseradish mashed potatoes, anyone?), kids 8 and under have their own menu—featuring a coloring page with Ripperoo, Northstar's ski and snowboard mascot—with standys like mini burgers, mac-and-cheese, and nachos, so nobody will be disappointed.
Baxter's Bistro is worth the splurge for a special night out, with our without kids in tow. If you want something a little more casual there, they make a pretty mean burger. There are plenty of fire pits located on the patio around Baxter's, too, so you can cozy up with a libation après ski and watch the gondolas and skiers come down off the mountain.
During ski season, Rubicon Pizza Co. is open daily from 11:30 am–9 pm and Baxter's Bistro is open Thursday–Monday from 2–9 pm.
You'll find many other dining options in the Village, too, from Mexican fare at Chilly Pepper's Dos and sushi at Mikuni to French-style hot dogs ("Frog Dogs") at the Euro Snack stands and coffee and pastries at the resident Starbucks. For a full list of dining offerings at Northstar, check the resort's online Village Guide.
Family Fun and Activities in the Village
At the heart of the Northstar Village you'll find a large ice skating rink. Surrounded by comfy outdoor seating areas and firepits, it's the natural focal point of the village. Skating is free, and you can rent ice skates for $10 if you didn't bring your own. If you want to just watch, that's fine, too.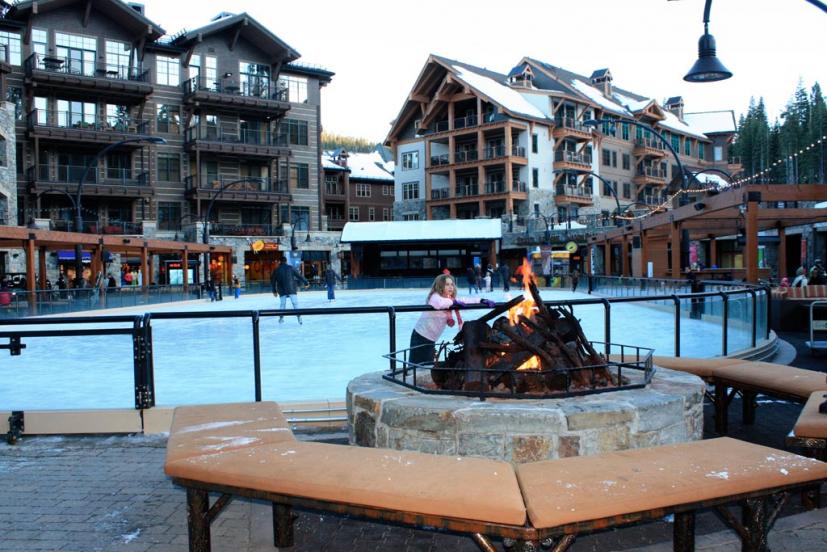 The skating rink area is also the optimal place to hang out, chat, people-watch, and roast marshmallows for your s'mores. We even saw a kids' birthday taking place there one afternoon. At the head of the skating rink is the Village Stage, where live music takes place on weekend afternoons. Skating takes place daily from noon–8 pm (9 pm on Friday and Saturday), weather permitting.
In addition to skating and marshmallow roasting, families can make their own candles, mosaics, and stuffed animals at the Village Candle Shop, explore their creativity at the All Fired Up! pottery painting studio, and create stylish jewelry at the Farrah Ralé jewelry boutique. There's even a two-screen movie theater. Find out more about the things to do at the village in the Village craft and activity guide.
Also, keep your eyes open for Northstar's Ripperoo Parade, where you can join Ripperoo in a fun music-filled procession through the Village, with complimentary cookies, too. The Ripperoo Parade starts at the Adventure, Learning, and Guiding Center at 4:45 pm on Saturdays during ski season (check the schedule for details).
Shopping at the Village
The Village also provides plenty of opportunities to shop. Browse ski, snowboard, and outdoor apparel and gear, fashions, and more. Stores catering to families and children include Mine, selling kids' ski and snowboard apparel and accessories, and a branch of San Francisco's Ambassador Toys. Ambassador stocks a nice variety of toys, books, and arts and crafts supplies—everything you need to keep the little ones busy.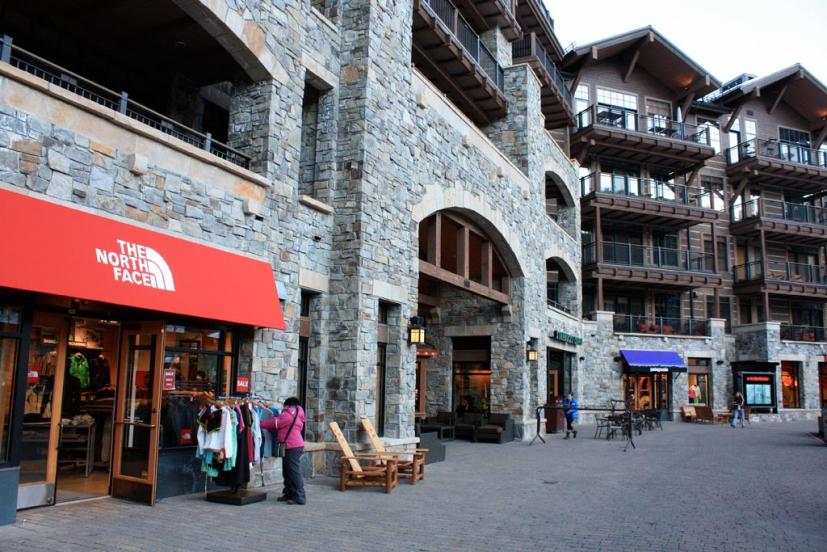 We had a fantastic time at Northstar, and the kids keep asking when we're going to go back. The whole trip, from our fun time on the mountain to our stay in the Village, was a great ski experience and we're definitely ready to return!
If You Go
Northstar California Resort is located just south of Truckee at 5100 Northstar Drive. To get there from Marin, take Highway 101 to Highway 37 east. Follow 37 through Vallejo and pick up Interstate 80 east. Head east on 80 into the Sierras all the way to Truckee, where you'll take the exit for Highway 267/North Shore Drive. Follow Highway 267 south and turn right onto Northstar Drive.
Take Northstar Drive into the resort; keep an eye out for signs alerting you to which parking lots are full. If you're staying in the Village, proceed to it where you'll find temporary parking while you check in.
For information, reservations, lift and trail statuses, lodging options, and more, visit www.northstarcalifornia.com.
Thanks so much to Northstar California and Rubicon Pizza Co. for hosting us during our stay at the resort.
Sign up for tips & news for Marin families!