Back to top
Beach to Boardwalk: A Family Getaway to Santa Cruz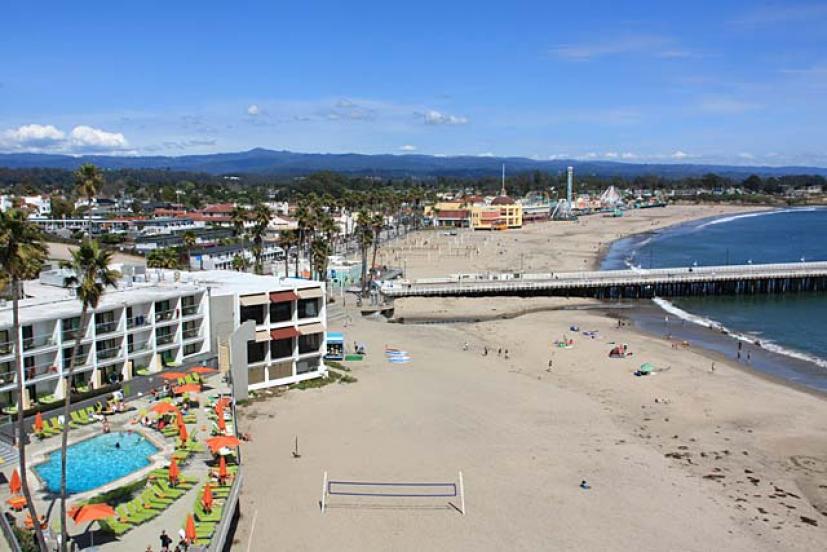 One of the great things about living in Northern California is the fact that there's no shortage of fantastic places to visit that are only a short drive away. A destination we love to visit for its beaches, stunning views, laid-back attitude, and world-famous Boardwalk is the seaside town of Santa Cruz.
The quintessential California beachside town, Santa Cruz is an ideal place for a family getaway for a long weekend, with plenty for everyone to do, from swimming and surfing to playing at the Santa Cruz Beach Boardwalk. We also love the fact that Santa Cruz is only about two hours away by car—a road trip distance that everyone can manage without getting too cranky or rambunctious.
There's so much to do there that we can't possibly cover everything in one short article, so here are a few of our favorite highlights for a family visit on summer vacation, spring break, or any other time of year.
Where to Stay
For our last visit, we really wanted to stay somewhere where we could just spend the day relaxing and taking in Santa Cruz's seaside atmosphere. The town has countless lodging options for every budget and taste. We stayed at the amazing Santa Cruz Dream Inn, which ended up being the ideal choice!
The Dream Inn is a retro-chic hotel located right on Cowell's Beach, a stone's throw from the fun at the Santa Cruz Beach Boardwalk. Every room in the hotel faces Monterey Bay, and in fact the Dream Inn is the only hotel in Santa Cruz located right on the beach.
The hotel building itself dates from the 1960s, and has been recently remodeled in a ultra-modern but fun style that's perfect for a place like Santa Cruz. Staying there, you kind of feel like you're in an old Elvis or James Bond movie.
Our eighth-floor room had a stunning view of the Boardwalk, wharf, and beach. We spend a lot of time sitting on our private patio watching the surfers, stand-up paddleboarders, sea lions, and sea otters in the water just off Cowell's Beach. We loved falling asleep to the sound of the breaking waves on the beach below.
The Dream Inn is both luxurious and family friendly, with a year-round heated pool and stairs that lead right onto Cowell's Beach from the pool deck. There's a poolside bar and lots of comfy chaise lounges, umbrellas, and sofas that encourage lounging by the pool and the beach.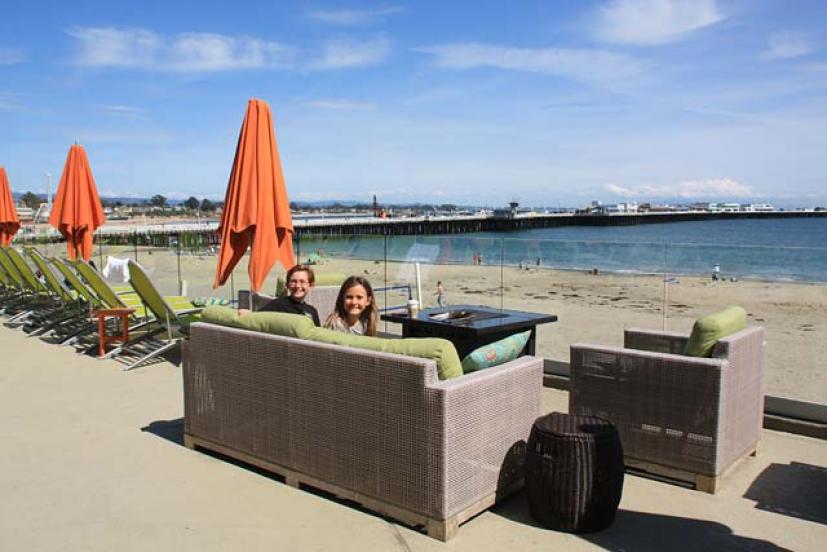 Each room has a big flat-screen TV as well as a mini fridge and a Keurig K-Cup coffee maker. My kids loved the fact that you could check a variety of classic board games at the front desk, too. Front desk staff, and everyone we met at the Dream Inn, for that matter, was friendly, efficient, and went out of their way to make our stay a fantastic one.
In all, we had a delightful experience here and stongly recommend it. It's not cheap, but it's definitely worth it for a Santa Cruz splurge. For rates, availability, and more info, visit the Dream Inn online or call (866) 774-7735.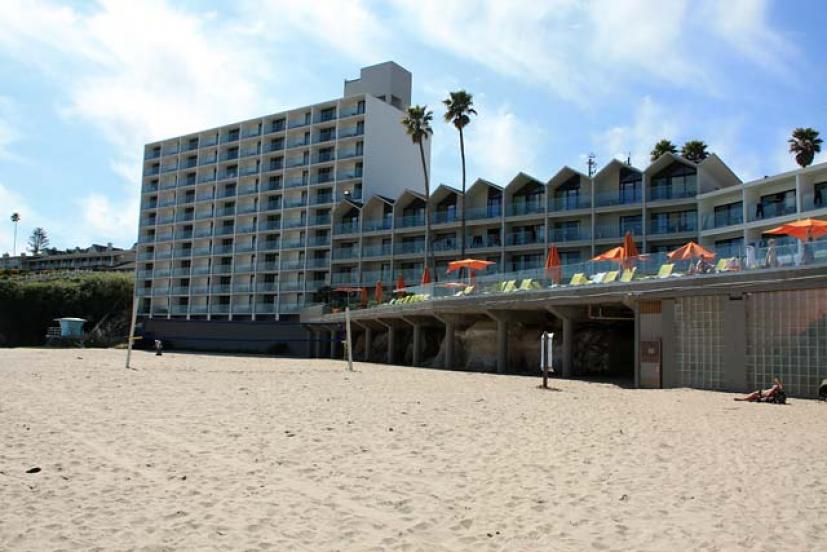 Visiting the Santa Cruz Beach Boardwalk
The big attraction for visitors to Santa Cruz is the famous Santa Cruz Beach Boardwalk. This venerable seaside amusement park has been delighting families since it opened back in 1907. It's California's oldest amusement park, and features a variety of rides and attractions both classic and modern.
I used to visit the Boardwalk often when I was young, so it's a nostalgic experience for me. It also features prominently in one of my favorite '80s movies, the Brat-Pack teen vampire flick The Lost Boys. In fact, visiting the Boardwalk is kind of like stepping back into the '80s or '90s, but in a good way.
The Boardwalk is anchored by the classic wooden Giant Dipper roller coaster, which has been thrilling riders since 1924. Our favorite ride is another classic: the 1911 Looff Carousel. This historic carousel is one of only a handful of Looff carousels left in existence, and is surrounded by antique mechanical band organs that provide an appropriate musical accompaniment while you ride.
It's also one of the few carousels anywhere that has a brass ring dispenser. This device—which gave rise to the saying "grab the brass ring"—lets riders on the outer ring of carousel horses grab a small metal ring as they ride past. You can then try to throw the ring into a target in the shape of a clown's mouth.
Other rides include the Haunted House, the Cave Train, Ghost Blasters, the Logger's Revenge flume ride, and the family Sea Serpent roller coaster. There a plenty of hair-raising thrill rides for those so inclined, as well as gentle but fun kiddie rides for the little ones.
In addition to rides, there's the large Casino Arcade in the old Cocoanut Grove building, midway games of skill, and plenty of carnival-style food, most of it of the greasy deep-fried variety. (Deep fried Oreos, anyone?) Don't miss the Neptune's Kingdom indoor amusement area, which includes the pirate-themed Buccaneer's Bay miniature golf course. This two-story 18-hole course features three neat black light holes, too, and is a lot of fun. The entrance to Neptune's Kingdom is presided over by the original Laffing Sal from San Francisco's long-gone Playland at the Beach amusement park.
The Santa Cruz Beach Boardwalk is not exactly Disneyland, but it's closer, much less expensive, and has an old-fashioned charm of its own. Admission to the Boardwalk itself is free—you can come and hang out all day if you want—but you buy tickets ($1) for the rides, which cost between three and six tickets each. You can also get a wristband that entitles you to unlimited rides all day long. During the summer the Boardwalk often presents free concerts and movie screenings on the beach. My kids had a blast at the Boardwalk, and wanted to go back every day to experience it again.
Parking at the Boardwalk lots costs $12, but street parking is available in the area, too. We just walked about 10 minutes from the Dream Inn.
Other Things to Do
If you get tired of the Boardwalk, check out some of Santa Cruz's other sights and experiences. Just west of town is Natural Bridges State Beach, which offers beautiful beaches and amazing rock formations. Along the way, you'll see walking paths that are perfect for a seaside stroll, as well as the Santa Cruz Surfing Museum, housed in an old lighthouse.
The Monterey Bay National Marine Sanctuary operates a visitor center at 35 Pacific Avenue, just a short walk from the Dream Inn and the Boardwalk. It features state-of-the-art exhibits and interactive displays that highlight this amazing underwater environment. Admission is free, and it's open Wednesday–Sunday from 10 am–5 pm.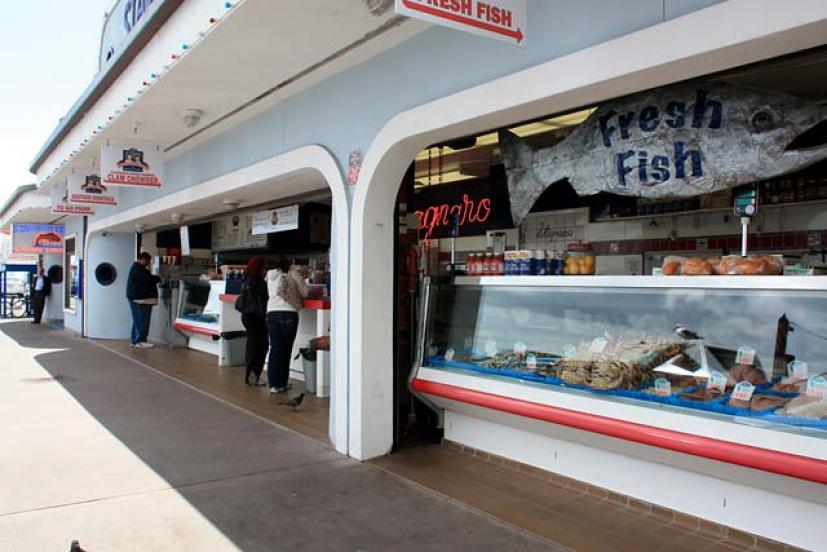 Other fun Santa Cruz experiences for the family include the Mystery Spot, a classic roadside attraction in the redwood forest where the laws of physics seem to go haywire, and the Roaring Camp Railroads in nearby Felton, which offers steam-engine-drawn train rides through the redwoods as well as excursion trains that travel to the Santa Cruz Beach Boardwalk. (And don't forget the annual Day Out with Thomas event in the summer.)
Family Dining in Santa Cruz
Like a lot of Northern California towns, Santa Cruz offers many options for family dining. For an inexpensive meal, we like the local chain Pizza My Heart, which offers pizza by the slice or whole in a fun surf shack atmosphere. There's a location in downtown Santa Cruz at 1116 Pacific Avenue, as well as two more in neighboring Capitola, where the restaurant got its start.
We also had lunch at one of the seafood places on the Santa Cruz Municipal Wharf. We tried Stagnaro Bros. (59 Municipal Wharf), and found it to be your classic old-school Italian-American fish house with a neat nautical decor. Food wasn't too sophisticated, but the fish was super-fresh, service was good, the kids liked it (they have a pretty lengthy kids' menu), and prices were reasonable. And, did I mention the view was amazing, too?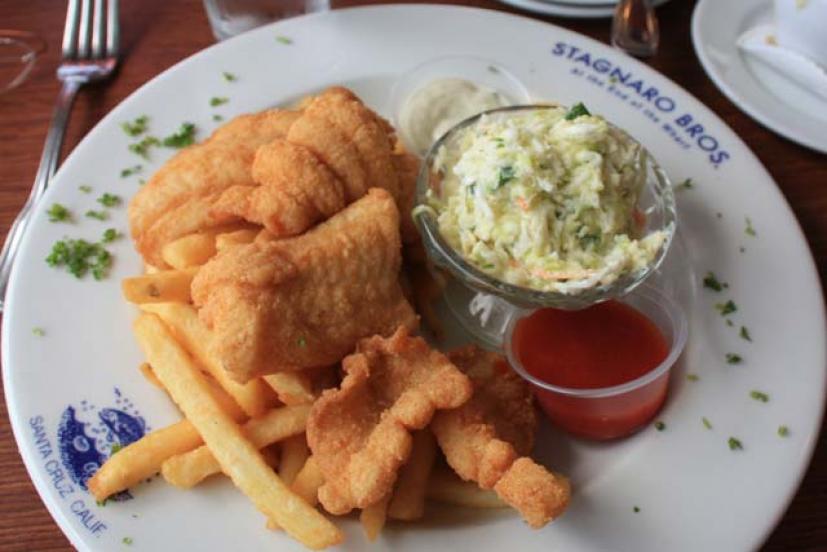 The Wharf is also a fun, although touristy, place to visit, with plenty of souvenir shops and restaurants, as well as a number of noisy sea lions who can be seen swimming around the Wharf's pilings.
You'll also find a Trader Joe's and Whole Foods in town, which are handy for picking up snacks, breakfast items, and extra coffee cups for the Keurig in your room at the Dream Inn.
If You Go
Santa Cruz is approximately a two-hour drive from Marin. Take Highway 101 south across the Golden Gate Bridge and turn off onto Highway 1 at the Park Presidio/19th Avenue exit. Take 19th Avenue to Interstate 280, which you'll follow down the Peninsula toward San Jose. Exit onto Highway 85 in Cupertino and follow it until you get to Highway 17, which you'll take south up over the Santa Cruz Mountains. Highway 17 will merge with Highway 1, which you can take into Santa Cruz.
Make sure you pack swimsuits, beach towels, sand toys, swim goggles, sunscreen, hats, and other supplies for fun in the sun. Because of Santa Cruz's unique south-facing location on Monterey Bay, it's often warmer than other coastal areas in Northern California. It can also get the typical California coastal fog, so don't forget the sweatshirts and fleece jackets, too.
Disclosure: The Dream Inn and Commune Hotels + Resorts hosted our stay for one evening at the Santa Cruz Dream Inn, and the Santa Cruz Beach Boardwalk provided our family with passes to the park.
Sign up for tips & news for Marin families!