Back to top
Flower Piano Returns to the San Francisco Botanical Garden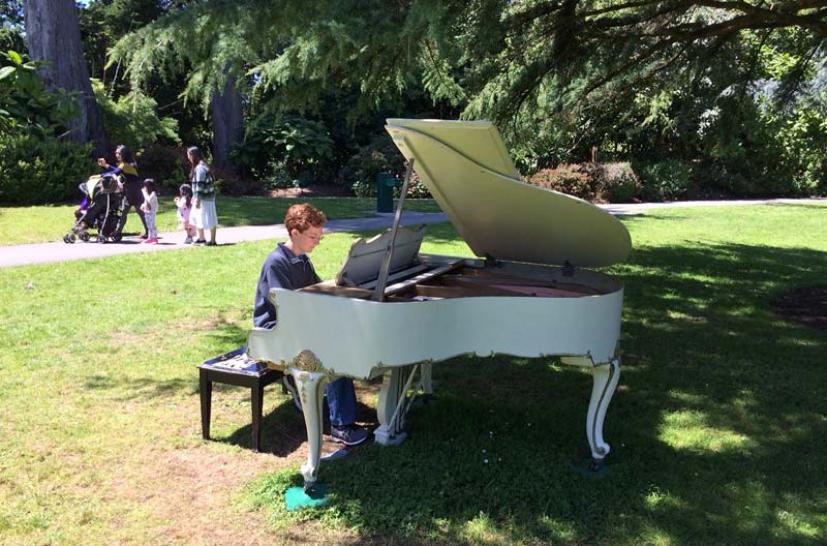 This summer, Flower Piano returns to the San Francisco Botanical Garden in Golden Gate Park from July 13 to 24. Now in it's third year, this music-filled event features a dozen pianos placed in dramatic locations throughout the 55-acre garden for anyone to play. Pianos are available to the public to play between 9 am and 6 pm every day, except during scheduled performances. Flower Piano is produced in conjunction with Sunset Piano.
My son, who's been playing piano since he was five, had a blast exploring the garden and finding and playing all 12 pianos. It's fun to stop and hear what other visitors are playing, too. Sometimes you'll be surprised with a really fantastic performance! Performances take place throughout the event, including Piano Extravaganzas from noon to 2 pm on Saturday, July 15 and July 22; check their website for a full schedule.
Flower Piano is free with admission to the Botanical Garden, which is free for members and San Francisco residents, and $8 for adults, $6 for youth 12 to 17 and seniors 65+, $2 for children 5 to 11, and free for children 4 and under. A family ticket—good for two adults and all children under 17 from the same household, costs $17.
The San Francisco Botanical Garden is located in Golden Gate Park with entrances at 9th Avenue and Lincoln Way and Martin Luther King, Jr. Drive near the Music Concourse. For more information, visit sfbotanicalgarden.org/flowerpiano.
Today's Events
Sunday, February 25, 2018