Back to top
Los Trompos Opens at the Bay Area Discovery Museum May 21!
Get ready to experience Los Trompos, a colorful and fun new interactive art installation at the Bay Area Discovery Museum in Sausalito, opening Saturday, May 21, 2022! These lively, eye-catching and larger-than-life "spinning tops" were created by contemporary Mexican designers Héctor Esrawe and Ignacio Cadena and will be on exhibit at the museum from through September 11, 2022.
Inspired by the popular children's toy and traditional Mexican textiles, Los Trompos consists of six colorfully woven, life-size spinning tops. Children can push and pull to rotate the tops and explore the structures both inside and out, and marvel at the sky and clouds as they spin! This new interactive installation extends Bay Area Discovery Museum's Art Studios experience and brings an exploration of textiles to the outdoors for the museum.
The Bay Area Discovery Museum will kick off the celebratory opening of Los Trompos with a festive event for museum members on Saturday, May 21 from 9 to 10 am. Special exhibit entry is included in the price of admission and is always free for museum members. Learn more about becoming a member here.
Los Trompos was jointly commissioned by the Bay Area Discovery Museum and the New Children's Museum in San Diego, and will move there after its run in Sausalito.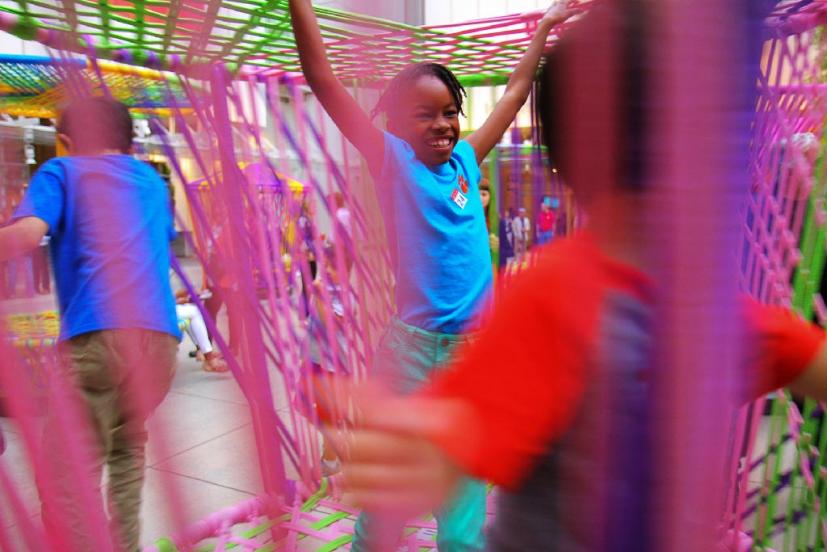 If You Go
Both the museum's indoor and outdoor areas are open to the public. Normal hours are Wednesday–Sunday, 9 am–4 pm; closed Monday and Tuesday. Member hour is from 9–10 am. The Bay Area Discovery Museum will be closing early on Saturday, May 21 at 3:30 pm.
Admission is free for members, $15 for babies ages 6–11 months and seniors 65+, $18 for children 1–17 and adults 18–64, $16 for seniors 65+, and $1 for EBT card holders. Families can also check out a museum pass for up to 6 admissions at their local branch of the Marin County Free Library. Make your advance reservations online here.
The Bay Area Discovery Museum is located at 557 McReynolds Road in Sausalito, at the foot of the Golden Gate Bridge.
Sign up for tips & news for Marin families!