Back to top
Love and Learn: Classes for New Parents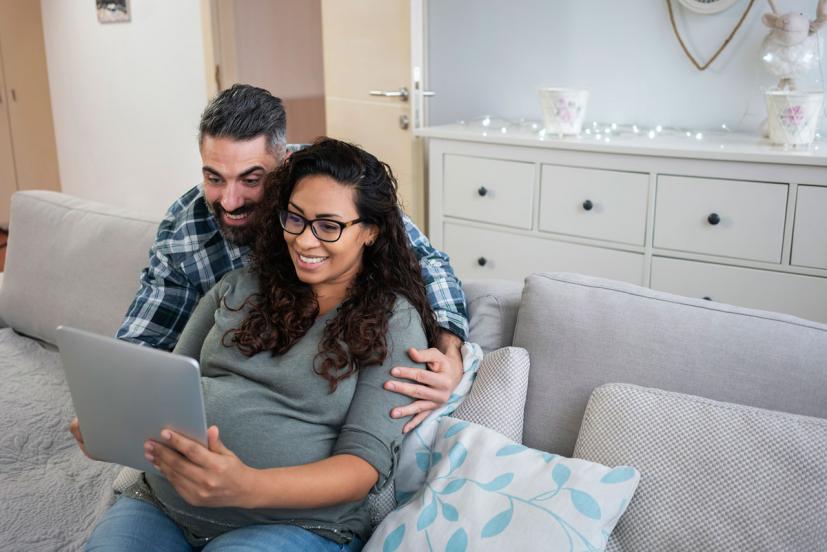 Marin Mommies presents a sponsored article from MarinHealth Medical Center in Greenbrae.
There are things a new parent can only learn from experience, like your baby's favorite lullaby, or the difference between a hungry cry and a cranky cry. But there are also universal aspects of pregnancy and baby care that every parent should learn. That's why MarinHealth® offers a variety of classes for expecting and new parents.
Childbirth and Infant Care Series
Our Childbirth and Infant Care Series is taught virtually and includes seven classes. Classes are currently offered on Wednesday evenings, but will move to Tuesday evenings beginning in January 2023. It's a good idea to register during your second trimester. Classes include:
Childbirth
Our three-class childbirth series is designed to prepare you for the physical and emotional changes that come with pregnancy, delivery, and the postpartum period. You and your partner will learn breathing and relaxation techniques and options to enhance comfort and control pain during labor. In addition, you'll receive practical information on everything from filling out your birth preferences plan to what to bring to the hospital.
Breastfeeding
As a Baby-Friendly®, hospital, MarinHealth Medical Center is committed to supporting new mothers in establishing and maintaining breastfeeding. To prepare for your breastfeeding journey, many new moms benefit from MarinHealth's Breastfeeding Class, taught by an International Board-Certified Lactation Consultant (IBCLC). The class focuses on establishing breastfeeding, common nursing-related difficulties, and more. MarinHealth also offers Lactation Services during your hospital stay to help you start a good breastfeeding routine, as well as on an outpatient basis for any challenges that may arise once you and baby return home.
What to Expect Postpartum
Having a baby is a joyful occasion, but new parents are not always prepared for the changes in their daily routine, their emotions, or even their relationship. This class prepares parents for the changes that happen during and after birth. Topics range from what to expect between delivery and discharge to physical and emotional changes, including how to recognize potential postpartum depression.
Newborn Care
Caring for a tiny newborn can be intimidating, especially the first time around! This class helps prepare new parents for everyday baby care, starting with the very first hours of your baby's life when you're both still in the hospital. Topics cover everything from diapering, burping, and swaddling to jaundice, rashes, and choosing a pediatrician.
Home and Car Safety
This class covers important safety information, ranging from selecting car seats and other baby equipment to baby proofing your home—you'll be surprised how soon you need to start plugging outlets and shopping for baby gates!
In addition to the Childbirth and Infant Care Series, we offer several safety courses and support groups:
CPR We offer blended CPR training. The online portion of the class covers choking, stroke, heart attack, sudden cardiac arrest, emergency action steps, airway management, rescue breathing, chest compressions, cardiopulmonary resuscitation (CPR), and AED use and operation. For the skills-verification portion, we connect you with an instructor virtually. We provide a supply kit and loaner manikin so you can complete the skills verification from home. The online CPR portion takes 1.5–2 hours and must be completed before the skills-verification portion, which is offered on Saturdays and takes about 1.5 hours.
After evaluating your knowledge and hands-on skills in accordance with Health and Safety Institute (HSI) program standards, your instructor will issue your CPR Certification Card.
First Aid
Our pediatric-focused interactive classes are full of great information to help you feel confident caring for your little one. As with the CPR class, you'll complete coursework virtually on your own time, then connect virtually with an instructor on a Saturday for the skills portion of the class. First-aid emergencies covered include bleeding control; shock; soft-tissues injuries; bone, joint, muscle injuries; broken bones; medical emergencies; heat- and cold-related illnesses and injuries; seizures; poisoning; and more. The online First Aid course takes 1.5 to 2 hours, and the skills portion takes 1 to 1.5 hours. After evaluating your knowledge and hands-on skills according to the Health and Safety Institute (HSI) program standard, your instructor will email you your First Aid Digital Certification Card.
Mom's Support Group
This free, weekly ongoing group is an opportunity for moms and babies to connect face-to-face in a relaxed, virtual environment to express the joys and concerns of being a new mother. We discuss a variety of topics including nursing, newborn care, parenting, and other common experiences. To receive a Zoom link, email yana.harootunian-cox@mymarinhealth.org.
Pathways
In this six-week series, moms going through the early stages of having a new baby gather virtually to share their experiences, support one another, and learn strategies for easing postpartum challenges. Topics include: postpartum mood issues, identity and relationship changes, self-care, managing expectations, and more. This group is open to everyone, whether this is your first child or fifth, and is led by a licensed therapist specializing in postpartum emotional health. Learn more at www.mymarinhealth.org/pathways.
In addition to helping you prepare for the joys and challenges of your new arrival, MarinHealth's pre- and post-natal classes provide an opportunity to meet other new parents or parents-to-be. Click here to view class schedules and additional details and enroll.
We also offer a free email series with expert information to help you before, during, and after pregnancy. Sign up at https://www.mymarinhealth.org/maternity.
Sign up for tips & news for Marin families!