Back to top
Marin Weekend Family Fun for September 7–9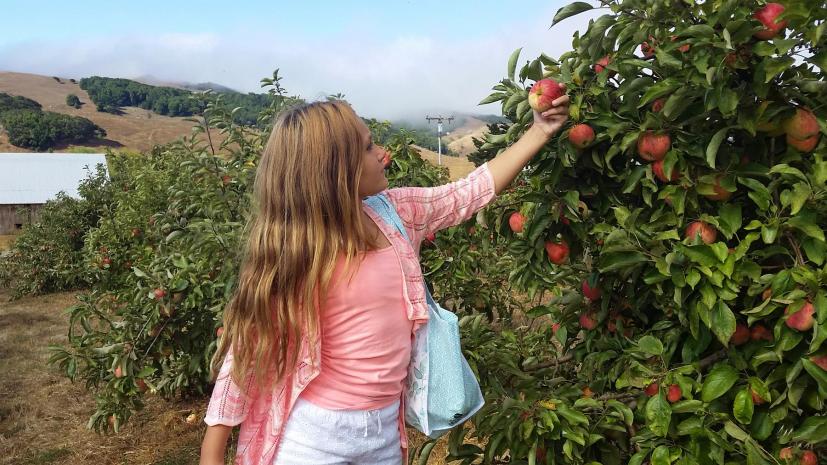 Pick your own organic apples at Chileno Valley Ranch. RSVP to reserve your spot and read about our visit here.
Here are our picks for great events and activities for children and families this weekend. Find more events for the whole week in Marin and beyond in our Family Events Calendar.
Friday, September 7
French Storytime (L'Heure du Conte)
San Anselmo Library
Friday, 11–11:30 am
For children of all ages and their parent or caregiver. Talk, sing, read, and play together. Share books, stories, rhymes, music in French. No registration required. Parents/caregivers are expected to stay with children during all storytime sessions. Free. Location: 110 Tunstead Avenue, Council Chambers, San Anselmo. Event details
Picnics on the Plaza
Town Hall Lawn, San Anselmo
Friday, 5–8 pm
The popular Picnics on the Plaza events feature music and family fun in downtown San Anselmo. Bring your picnic basket or buy food at the event. This Friday: El Cajon. Location: 525 San Anselmo Avenue, Town Hall Lawn, San Anselmo. Event details
Broadway Under the Stars Gala Celebration
Jack London State Park, Glen Ellen
Friday–Sunday, 5 pm
Don't miss this fast-selling, end of season celebration packed full of powerhouse performances, community tributes, sentimental reflections and more. Bring a picnic before the performance. The show begins at 7:30 pm. Tickets: $45–$149. Purchase tickets here. Location: 2400 London Ranch Road, Glen Ellen. Event details
Free Movies at Old Mill Park: The Lion King
Mill Valley
Friday, 8 pm (starts at dusk)
Bring your family, blankets, low beach chairs, flashlights and picnics and enjoy this free movie in the park: The Lion King. Location:

352 Throckmorton Avenue, Mill Valley.

Event details
Movies in the Park: Coco
Howarth Park, Santa Rosa
Friday, 8 pm
This fun-loving event series is back in Howarth Park for another season! Bring the family, a picnic and a blanket for a lovely evening of film-enjoyment under the stars in our park! Free. Location:

630 Summerfield Road, Santa Rosa.

Event details
Saturday, September 8
Farmers' Market
Marin Country Mart, Larkspur Landing
Saturday, 9 am–2 pm
Shop for great local food and have fun at Marin Country Mart. Enjoy pony rides and a petting zoo for the kids from 10:30 am–2 pm adjacent to the farmer's market. Arts and crafts and face painting for kids from 9 am–2 pm and kid's entertainment from 9:30–10:30 am. Event details

Free Family Fitness at the CenterMill Valley Community CenterSaturday, 9–10 am

Join Coach Tilda for a fun workout for the entire family! Geared towards kids of all ages and their families, class is filled with games, activities and exercises that are safe, fun and challenging for both kids and parents. Not only is this a creative way to start an active lifestyle at a young age, you get to spend quality time with your family! Location: held on lawn, 180 Camino Alto, Mill Valley. For more info,

visit their website.

Busy Bees—Indoor Play Days
Hamilton Community Center, Novato
Saturday, 9 am–noon

Parents and little ones are invited to join Recreation Staff for a morning of safe and secure indoor fun! Enjoying learning and playing with your toddler/preschooler in this parent-participation class featuring age appropriate toys, tumbling mats, sensory bins, crafts and parachute play. No registration required. Drop-in fee is $5 per family at the door. Parents and/or caregivers are required to stay the duration of class and are responsible for their child(ren).

Event details

National Grandparent's Day
Habitot Children's Museum, Berkeley
Saturday, 9:30 am–4:30 pm

We're welcoming all grandparents today for FREE - bring your grandchildren and grown children to enjoy Habitot's exhibits and art programs. Make-a-Plate opportunity in the Art Studio for $20 donation. Location: 2065 Kittredge Street, Berkeley.

Event details

Presidio Family-Friendly Bike Ride
Presidio Visitor Center, San Francisco
Saturday, 10–11:30 am

Join a Presidio Park Ranger and Presidio Trust guide on this gentle 4-mile bike ride. Roll through the history and nature of the Presidio at a family-friendly pace that's fun for all! Rent a bike from Sports Basement or bring your own. Appropriate for ages 8+. Location: Presidio Visitor Center, San Francisco.

Event details

.

Presidio Explorapalooza
Presidio Visitor Center, San Francisco
Saturday, 10 am–1 pm


Adventure awaits! Choose from a menu of self-guided exploratory experiences (appropriate for ages 7 to adult) that invite you to discover hidden special places in the park. From challenging quests and geocaching to Explorer Backpacks and scavenger hunts, park staff will get you started on your adventure of choice. Free. Location:

210 Lincoln Boulevard, San Francisco.

Event details

Bay Area Children's Theatre presents: Pete the Cat
Children's Creativity Museum Theatre, San Francisco
Saturday, 10:30 am, 1:30 & 4 pm and Sunday, 1:30 pm
When the cat-catcher finds Pete rockin' out on his guitar after bedtime, he sends Pete to the Biddles' to learn some manners. But Pete won't go silently into house cat arrest--not when he can jam with the family and help Jimmy Biddle paint the crucial picture he needs to pass second grade. Rock out with Pete the Cat and friends in this groovy musical! Purr-fect for ages 3-8. Tickets: adults $28, senior $26 and child (ages 2–14) $24. Event details
Our Lady of Loretto Fall Festival
Our Lady of Loretto School, Novato
Saturday, 10 am–8 pm
Fun the the whole family! Our Lady of Loretto Fall Festival features carnival games, food, bake sale, outdoor pub area, evening dinner, bingo and more. Tickets available for purchase at the door. Location: 1811 Virginia Avenue, Novato. Event details
Nature and Optics Festival
The Sonoma Barracks, Sonoma
Saturday, 10 am–4 pm
Exhibits include live owls, bats and raptors! Non-profit groups share nature displays and the U.S. Fish and Wildlife Service brings its airboat. Vendors of optics, cameras, and binoculars are on hand with equipment for demo and sale. Nature crafts entertain the kids. All ages, free of charge. Location: 20 East Spain Street Sonoma. Event details
Concert for Kids & Tot Art in the Park
Robin Sweeny Park, Sausaltio
Saturday, 10:30 am
Sausalito Parks and Recreation is pleased to bring back Concert for Kids & Art in the Park. Sponsored by the Sausalito Lions Club, this annual children's entertainment series takes place on Saturday mornings once a month from July through October at Robin Sweeny Park. These summer and fall performances feature music, art, fun and laughs for children of all ages. Bring your family, a blanket and enjoy these free concerts. Location: 420 Litho Street, Sausalito. Event details
Pixie Park Open House
Marin Art & Garden Center, Ross
Saturday, 10:30 am–noon
Open Houses are a great way to learn about the history of Pixie Park and what it means to belong to this co-op playground. The new member open house is conducted in a casual environment where you can speak to a board member about the benefits and responsibilities of being a Pixie family, as well as ask questions and meet other prospective families. After learning about the park, interested families can sign-up and receive their key. Location: 30 Sir Francis Drake Boulevard, Ross. Event details
Family Art Making
de Young Museum, San Francisco
Saturday, 11 am–4 pm
Family Art Making offers a free, drop-in art project led by professional teaching artists.  Projects change every 3-4 weeks and connect to our permanent collections or highlight our special exhibiton.  Make sure to pick up a Discovery Guide to explore the galleries. Artists of all ages are welcome to join. Free; museum admission required for gallery activities. Event details
Ghirardelli Square Chocolate Festival 2018
San Francisco
Saturday & Sunday, noon–5 pm
Ghirardelli Chocolate Company is excited to invite you to the annual, two-day chocolate celebration that has transformed into a true San Francisco staple. The Ghirardelli Chocolate Festival hosts Beach Street vendors, culinary demos by top dessert professionals, a silent auction, and the popular Ghirardelli Chocolate Lounge. 100% of the profits from this event are donated to Project Open Hand. Event details
Free Minecraft Worlds Big Build Preview with LEGO
Play-Well TEKnologies, San Anselmo
Saturday, 1–4 pm
What is the most amount of LEGO® you have ever had access to? Join us September 8 to have access to over 100,000 LEGO® pieces in one of our popular big build events. This build build theme will be Minecraft! Students will be able to construct various areas from Minecraft such as various biomes, the Nether World, and finally, the Ender world. This event is FREE! Please pre-register a time slot to save your spot. Event details
Annie Barrows & Sophie Blackall
Book Passage, Corte Madera
Saturday, 2–3:30 pm
In One Big Happy Family, Ivy & Bean are back ... and they are funnier than ever. Ivy's worried. She's read a lot of books about only children, so she knows that they are sometimes spoiled rotten. How can she keep from getting spoiled? There's really only one solution: she needs a baby sister, on the double Luckily, Ivy and Bean know just where to get one. Annie Barrows' bestselling chapter book series, Ivy & Bean, with illustrator Sophie Blackall, is a classroom favorite and has been keeping kids laughing---and reading--for more than a decade With more than 5 million copies in print, Ivy & Bean return with a brand-new book for a new generation. Ages 8–10. Event details
Free Shakespeare in the Park: A Midsummer Night's Dream
Presidio, San Francisco
Saturday–Monday, 2–5 pm
Bring a blanket and enjoy an outdoor performance of a beloved classic. Follow the misadventures of four young lovers, a group of aspiring actors, and a team of mischievous fairies as they enter the woods on a summer night. Presented in partnership with the SF Shakespeare Festival.

Blankets and picnic baskets are welcome

Free, but registration is recommended. Location: Civil War Parade Ground, Presidio, San Francisco. Event details
Film: Cinderella (1950)
The Walt Disney Family Museum, San Francisco
Saturday, 4 pm & Sunday 1 pm
A dream is a wish your heart makes, and fairy godmothers are often very helpful in making those dreams come true! We invite you to enjoy the timeless tale of Cinderella's kindness and optimism, despite her dismal circumstances, and a crew of clever mice who try to help her get to the Ball. Cost: $5 members or with general admission, $10 adults, $8 student and youth. Location:104 Montgomery Street in the Presidio, San Francisco. Event details
Evening Power Play
Cal Star Gymnastics, Novato
Saturday, 6–9 pm
Drop the kiddos ( K-8 th grade) for some indoor fun. They can run, jump and play in an open gymnastics environment. Bring the kids in on a rainy day or any day to burn some energy. Cost: $24/ per child. Location: 70 Digital Drive, Suite #3 in Novato. Event details
Movies in Creek Park: Honey, I Shrunk the Kids
Creek Park, San Anselmo
Saturday, 7 pm
Enjoy free movies outdoors in San Anselmo's Creek Park. This Friday: Honey, I Shrunk the Kids. There will be a Bastille Day Celebration - Chef coats, stovepipe hats and rats welcome. Seating generally begins around 7 pm, with pre-movie slide show, announcements, trivia and nightly raffle. Movies begin when dark enough and generally run two hours. Event details
Public Star Party
Robert Ferguson Observatory, Sugarloaf Ridge State Park, Kenwood
Saturday, 8–11:30 pm
Star Parties: Presentations on astronomical topics are given in the classroom throughout the course of the evening. Starting at dusk, the Observatory's three main telescopes are open for your viewing. Docents set up additional telescopes in front of the building. Friendly and knowledgeable docents are available to answer your questions. Admission: $3 per adult, under 18 free; $8 parking fee. Event details
Sunday, September 9
Sign up for tips & news for Marin families!