Back to top
Merry Days, Holly Nights, and Family Fun at Squaw Valley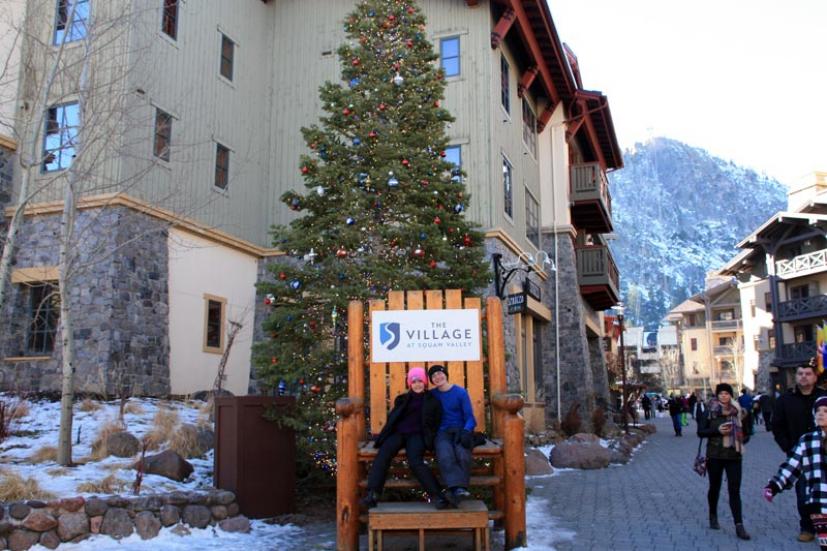 Last weekend, we paid a visit to one of our favorite places in California, Squaw Valley, to check out their Merry Days & Holly Nights holiday festivities and winter fun for families. We had a great time, and with the holiday decor and activities, we really felt like we were in a Christmas wonderland!
Squaw Valley, which was the site of the 1960 Winter Olympics, is of course well known for its skiing and snowboarding, but offers other family winter fun like tubing and mini snowmobiles. Merry Days & Holly Nights brings Santa Claus himself to Squaw Valley, along with holiday performances and activities, throughout the month of December for wintertime magic.
While there's not a lot of snow on the ground at lake level and around the Village at Squaw Valley, you'll find plenty on the slopes due to November's snowfall and Squaw Valley's snowmaking efforts. There should be a pretty good storm moving in this week, so keep your fingers crossed for fresh snow.
Merry Days & Holly Nights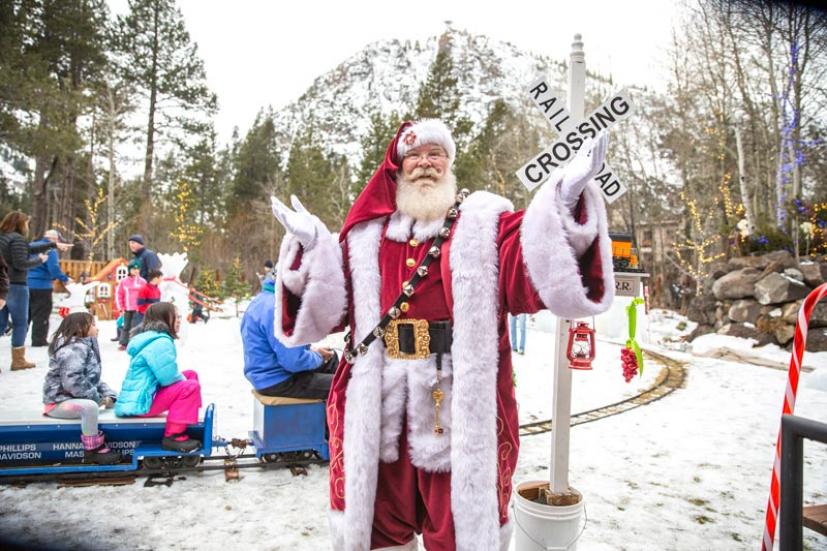 Photo: Squaw Valley Alpine Meadows
Through Christmas Day, December 25, Santa will be available in the afternoons for photo ops in both the Squaw Valley Village and the Merry Wonderland and Ice Garden at the Olympic Village Lodge. He'll also be on hand on select afternoons for storytelling, and you may even encounter him skiiing on the slopes!
It's just a short walk from the Village to the Merry Wonderland, but why do that when you can ride a horse-drawn sleigh, complete with jingle bells? Free rides take place from 2 to 5 pm through December 24, and are offered on a first-come, first-served basis. Don't worry if there isn't a lot of snow on the ground—the sleigh has both wheels and runners for all-terrain access.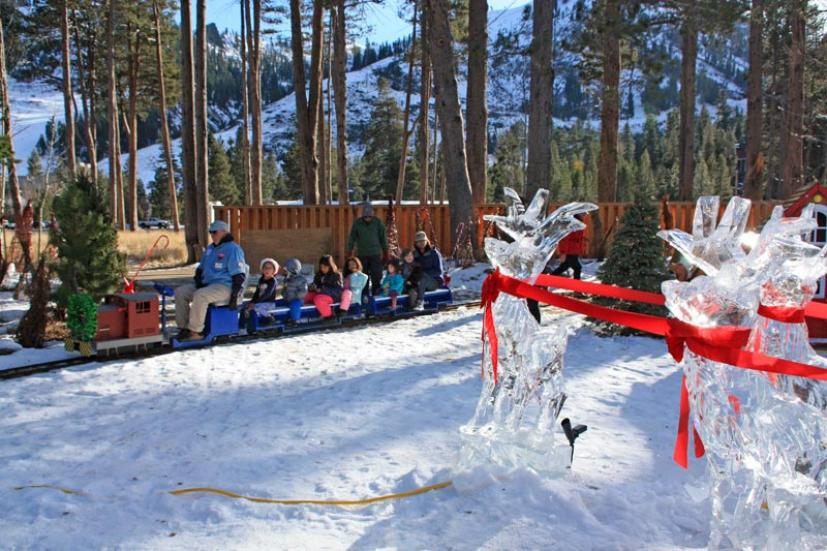 Other events include free miniature train rides in the Ice Garden, brunch with Santa on December 24, musical performances, farm-to-table dinners, New Year's Eve fireworks, and more. Find a full schedule of holiday events on Squaw Valley's website.
Family Winter Fun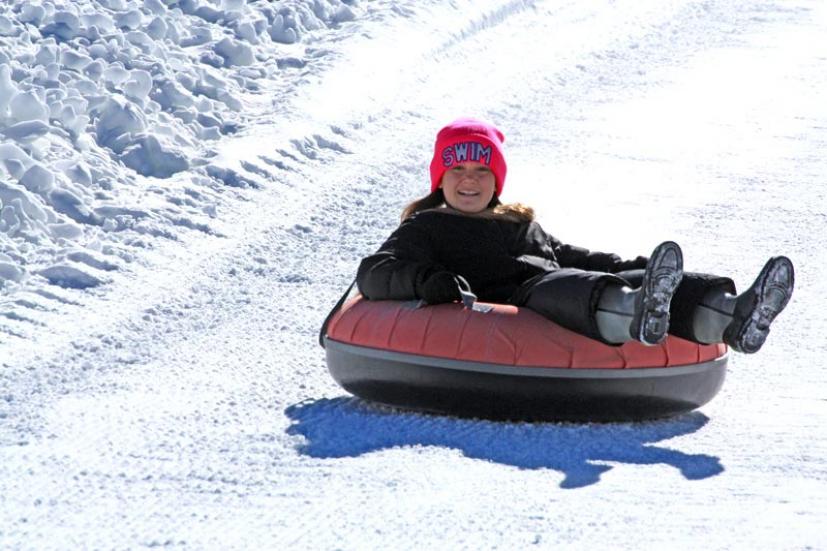 It goes without saying that you and your family can have a blast skiing and snowboarding (or learning to) at Squaw Valley, they also offer other fun activities during the winter.
Make sure you check out the SnowVentures Activity Zone at the base of the mountain, where the whole family can go snow tubing! Get your tube and ascend the tubing hill on the covered magic carpet lift, and then zip down. It's a lot of fun, and unlike skiing, requires no skill whatsoever (except a little daring). Child- and adult-sized tubes are available, and children must be 40 inches or taller to ride.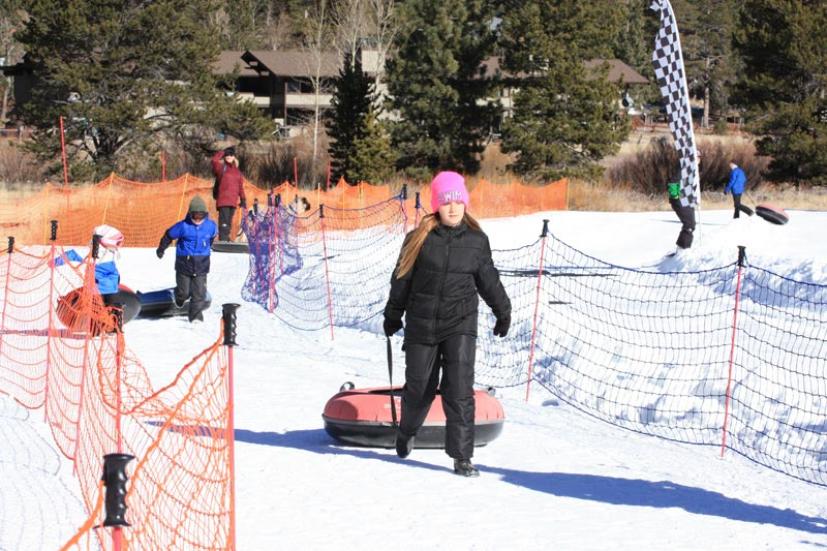 You'll also find mini snowmobiles for kids 12 and under at SnowVentures. My daughter had a blast riding there, and the snowmobiles can really get moving! It's a thrilling and safe experience for kids. When you're done playing you can warm up at the adjacent SnowVentures Lodge.
Another must-do activity is the tram ride up to Squaw's High Camp. Climb aboard the cable car in the Village and ascend over 2,000 feet to High Camp (elevation 8,200 feet), where you can visit the Olympic Museum, dine, and shop. Of course you'll get to take in some amazing views, too. Unfortunately, the ice skating rink at High Camp is out of commission for the season.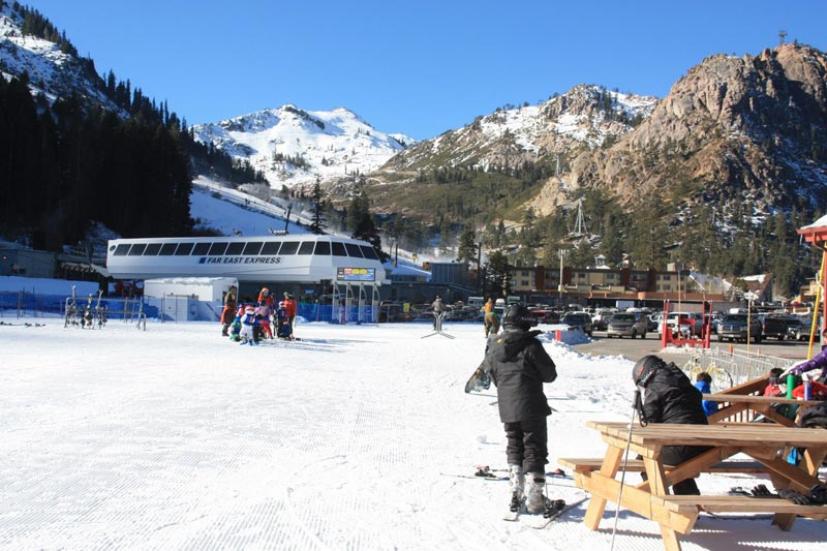 Where to Stay
During our visit, we stayed in a two-bedroom suite right in the heart of the Village at Squaw Valley. Our spacious unit had a full kitchen, gas fireplace, and all the comforts of home.
It's super convenient to be right in the middle of all the activity in the village, and so easy to come back and relax after a day of fun in the snow without having to drive anywhere. Service was helpful and friendly, and there's heated underground parking with elevator access directly into the buildings. Make reservations at squawalpine.com or at (866) 818-6963.
We've also stayed at Squaw Valley Lodge, located just outside of the village. With ski-in, ski-out access to the mountain and a peaceful setting, we highly recommend it, too. Make reservations online at www.squawvalleylodge.com or by calling (855) 549-6742.
Dining and Shopping
The Village at Squaw Valley is home to over 50 shops and restaurants, as well as accommodations. We like Rocker@Squaw for family dining and food made with locally-sourced ingredients, Fireside for pizza, and Mountain Nectar for smoothies, wraps, and bagels. Don't miss the Squaw One Logo Company for T-shirts, caps, outerwear, toys, postcards, and other souvenirs.
If You Go
Squaw Valley is located off Highways 89 near Lake Tahoe. To get there, take Highway 101 to Highway 37 in Novato and head east through Vallejo to Interstate 80. Take I-80 all the way to Truckee, where you'll take the Highway 89 exit and head south. Follow Highway 89 until it reaches Squaw Valley Road, where you'll turn right and follow it into Olympic Valley. For more information on activities at Squaw Valley visit www.squawalpine.com.
Make sure you read our article on visting Squaw Valley during the summer.
Disclosure: Squaw Valley Alpine Meadows hosted us during our stay.
Today's Events
Wednesday, March 21, 2018