Back to top
Squaw Valley Is the Place to Go for Summer Family Fun in Tahoe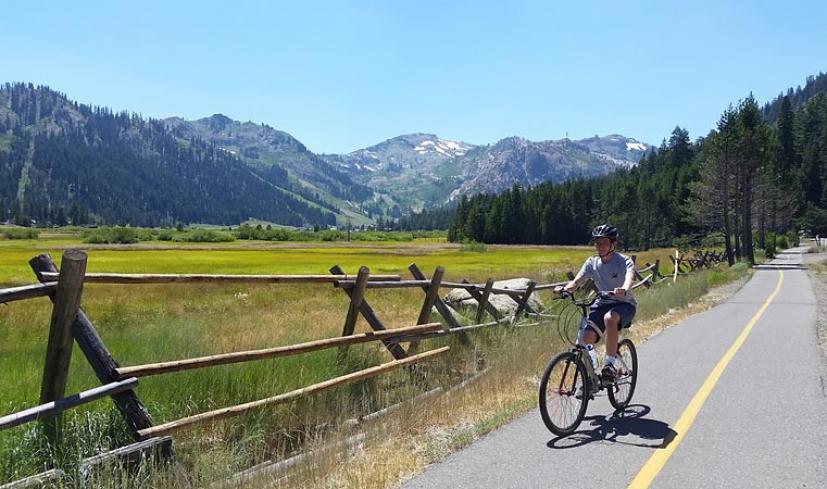 It's been a while since I've spent some time in Squaw Valley, the famous resort located west of Lake Tahoe, so when my family and I went there this summer, I found myself wondering why it's been so long since I last visited! There's so much for families to do here—it's the perfect destination for a summer family getaway in the mountains.
Squaw Valley, which came to prominence as the site of the 1960 Winter Olympics, is of course known for its skiing and snowboarding, but it's also home to summer activities like biking, hiking, swimming, roller skating, climbing, zip lining, and even shopping in the Village. You never even have to leave the valley when you're there!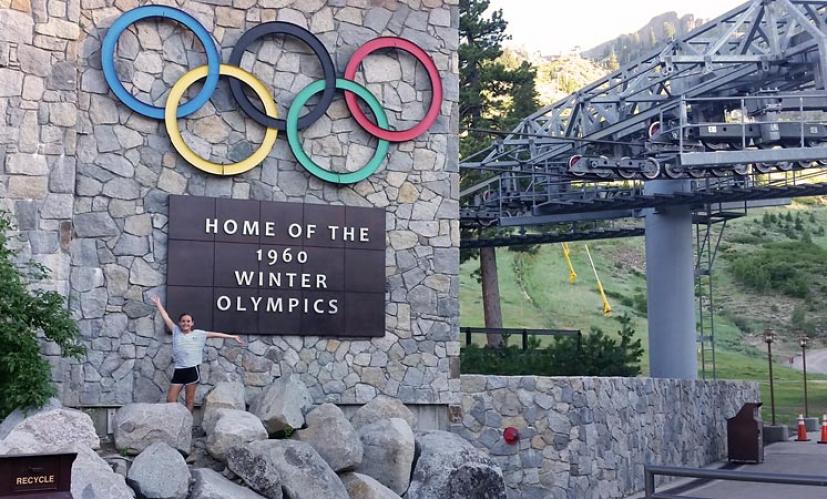 Family Activities
Active families will find plenty to do at Squaw Valley. One of the highlights of our visit was a trip via tram up to Squaw's High Camp. Climb aboard the cable car in the Village and ascend over 2,000 feet to High Camp (elevation 8,200 feet) where you can swim, relax in the hot tub, roller skate, play disc golf and lawn games, and hike through fields of summer wildflowers.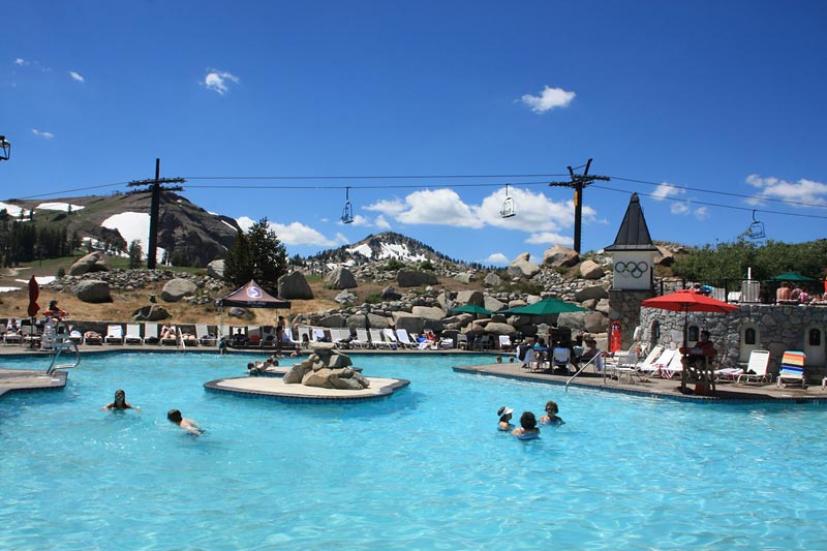 At High Camp you'll find also a restaurant and a small museum dedicated to the 1960 Winter Olympics. The tram ride up and down the mountain is pretty thrilling, and you're treated to amazing views of Lake Tahoe and the surrounding mountains once you're up there.
Another activity we love to do at Squaw is bike riding. A safe, separated bike path runs from the Squaw Valley Village down to Highway 89, where it hooks up with the Truckee River Trail, which you can take all the way into Tahoe City and beyond. Along the way you'll find spectacular views as well as a small park and playground near the entrance to the valley. 
You can bring your own bikes or rent them in Squaw Valley. We rented bikes from the Parallel Mountain Sports shop in the Squaw Valley Village and even got free water bottles to take on our trip.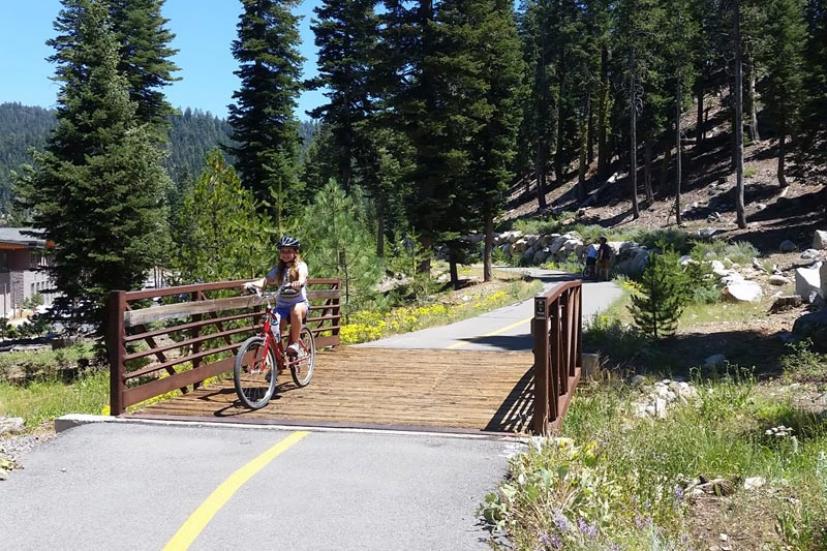 My kids also loved challenging themselves on the ropes course offered at the Squaw Valley Treetop Adventure Park. Similar to the one offered at nearby Granlibakken, this ropes course offers a series of platforms connected by rope bridges and zip lines, as well as climbing towers and a "leap of faith." Instruction and safety gear are provided, and you can do whatever activity you like there during your two-hour session.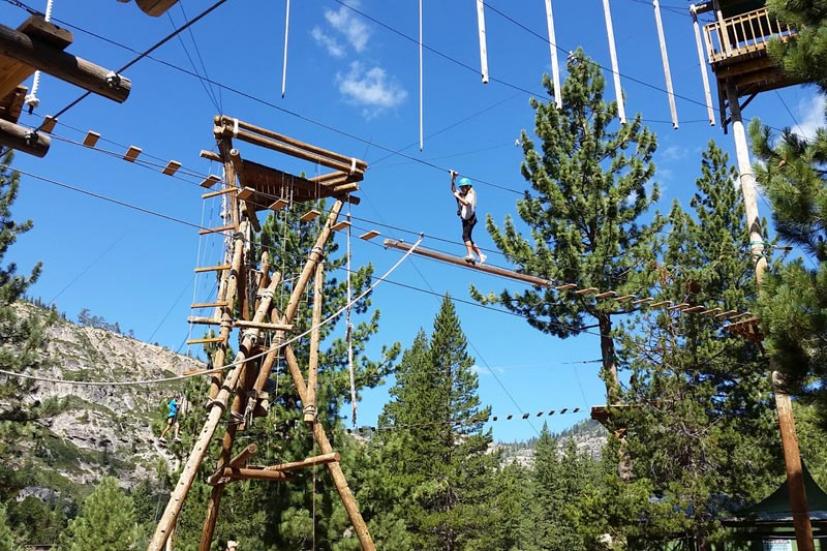 It's less structured than the one at Granlibakken, which has more courses, but it's perfect for families with kids of all ages. We saw children as young as five tackling the course, along with teenager and grownups, too.
The Squaw Valley Village offers plenty of activities, too, including a Skyjump bungee trampoline, an indoor climbing wall, and even giant board games you can play. Other activities include free outdoor movies, concerts, and even festivals like the upcoming Brews, Jazz, and Funk Fest from August 12 to 13, 2017.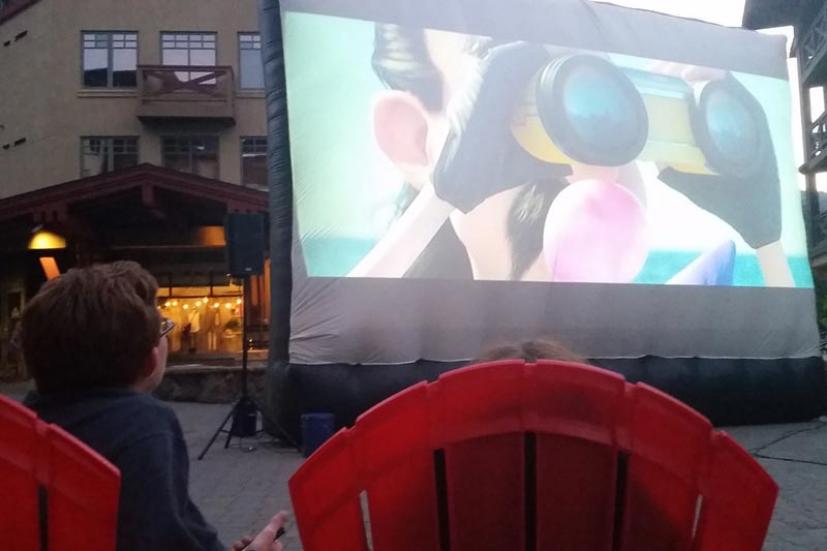 Where to Stay
We were lucky enought to stay at Squaw Valley Lodge and highly recommend it for families. Conveniently located right next to the Squaw Valley Village, the Lodge offers condo accommodations with the benefits of a hotel. Our two-level unit was spotlessly clean and nicely appointed, and had an amazing view of the mountains. It was fun to watch the tram whisk right past our windows. We also had a full kitchen with all the supplies we needed to make our own meals.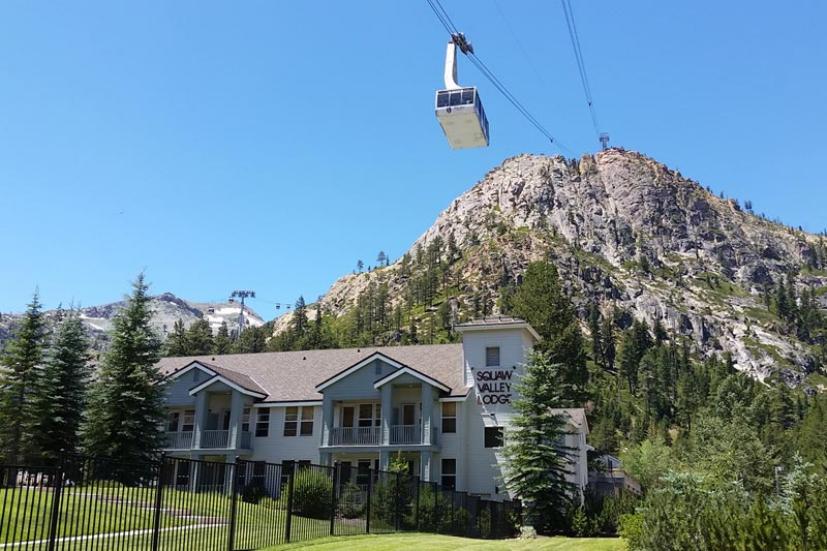 Amenities at Squaw Valley Lodge include a spacious lobby with a fireplace, a swimming pool and hot tubs, ping pong tables, and tennis courts. There's also free coffee and tea in the lobby, as well as gas BBQ grills by the pool. There's also a fitness center and spa on-site.
Make reservations online at www.squawvalleylodge.com or by calling (855) 549-6742.
Dining and Shopping
The Village at Squaw Valley is home to over 50 shops and restaurants, as well as accommodations. We like Fireside for pizza and Mountain Nectar for smoothies, wraps, and bagels. Don't miss the Squaw One Logo Company for T-shirts, caps, outerwear, toys, postcards, and other souvenirs.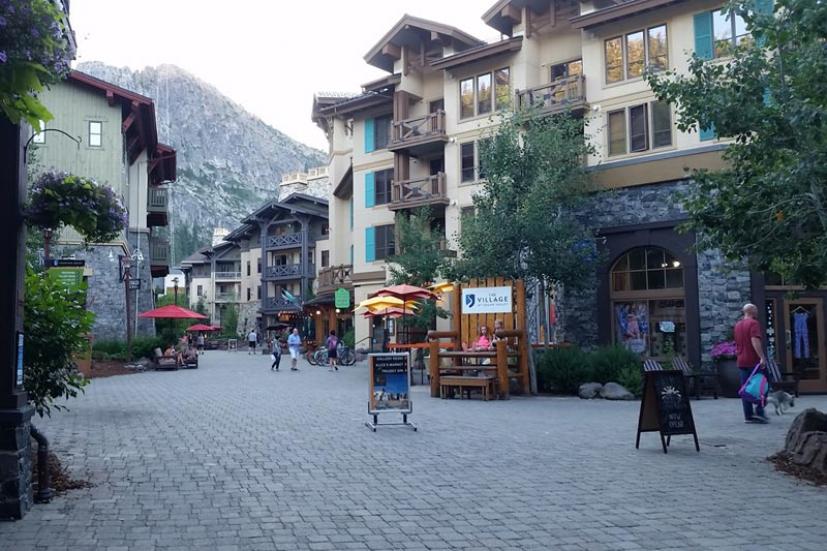 Tips for Families
Make your ropes course reservations in advance—they often sell out.
Bring your own refillable water bottles. Squaw Valley has water bottle filling stations located throughout the resort.
Rocker sports bar has hot chocolate, which is the perfect thing to sip on during outdoor movie night.
There's a Safeway in nearby Tahoe City where you can stock up on groceries.
Tram tickets are expensive, so plan on making a day of it in High Camp.
Save your seats early for outdoor movie night by putting down blankets or other placeholders. (Comfy Adirondack chairs are provided to sit on.)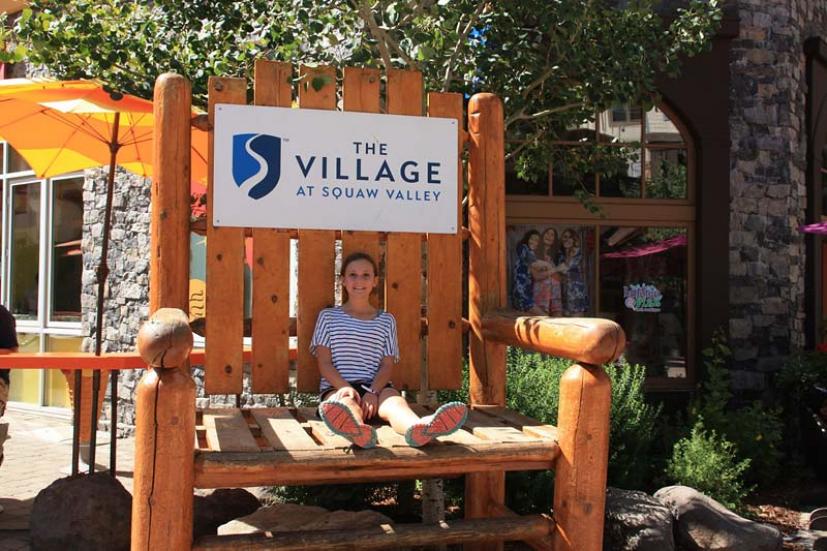 If You Go
Squaw Valley is located off Highways 89 near Lake Tahoe. To get there, take Highway 101 to Highway 37 in Novato and head east through Vallejo to Interstate 80. Take I-80 all the way to Truckee, where you'll take the Highway 89 exit and head south. Follow Highway 89 until it reaches Squaw Valley Road, where you'll turn right and follow it into Olympic Valley. For more information on activities at Squaw Valley visit www.squawalpine.com.
For other Tahoe family getaway ideas, check out our article on visiting Truckee and Tahoe City.
Disclosure: Squaw Valley Lodge provided us with accommodations during our stay, and Squaw Valley Alpine Meadows provided an aerial tram ride package.
Today's Events
Thursday, February 22, 2018