Back to top
Summer Family Fun in North Lake Tahoe
Lake Tahoe is without question one of California's classic family vacation destinations year-round. While a lot of people think of it in terms of winter sports, we think it has a special charm in the summer.
One of our favorite places to stay and play lakeside is in and around the lovely north Lake Tahoe town of Tahoe City. You can hike, bike, boat, kayak, swim, raft, or just relax amid the towering pines and crystal clear waters of Lake Tahoe and the Truckee River.
Where to Stay
There's no shortage of places to stay in the area, from old-school lakeside lodges and campgrounds to motels and modern resorts. On our last visit, we stayed at Granlibakken Tahoe, a peaceful 74-acre resort just outside Tahoe City. Granlibakken—the name is a Norwegian one meaning "hill sheltered by fir trees"—is ideal for families, with a pool, tennis courts, spa, hiking trails, bike rentals, and even a Treetop Adventure Park for climbing and zip lining fun (more on that in a bit).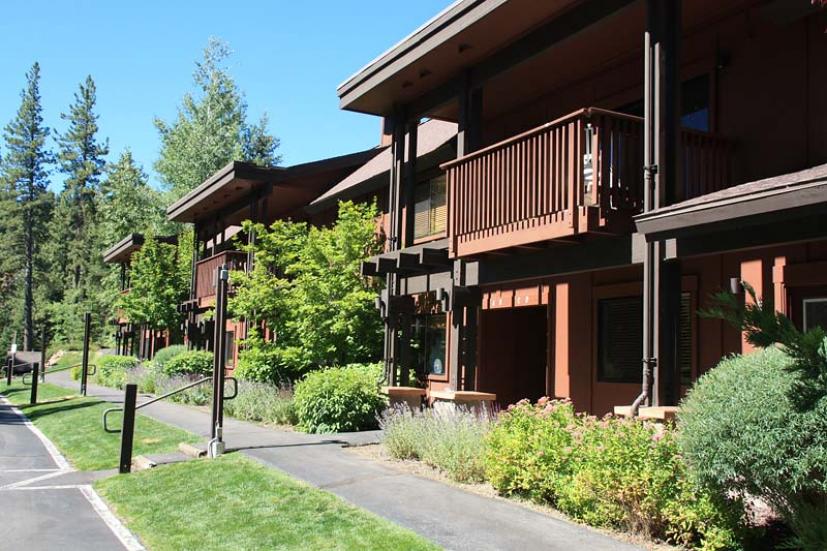 We stayed in a suite, which was more than large enough for our family of four. With a full kitchen, spacious living room, and a deck overlooking the woods, it was a relaxing home away from home. Granlibakken offers many different kinds of lodging, from lodge rooms to three-bedroom townhouses ideal for group getaways and family reunions.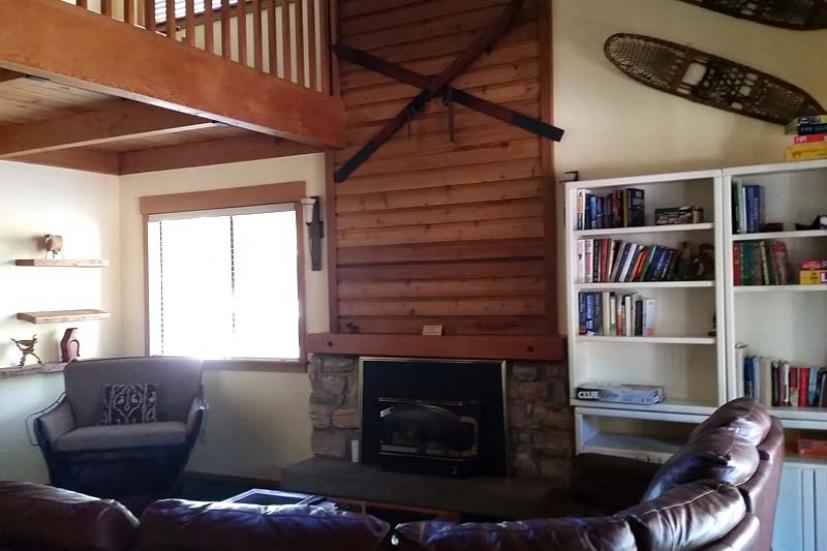 A full buffet breakfast, with dishes like scrambled eggs, sausage, pastries, fresh fruit, French toast, cereal, and more, is included with lodging, and was a great way to get started and plan our day's activities.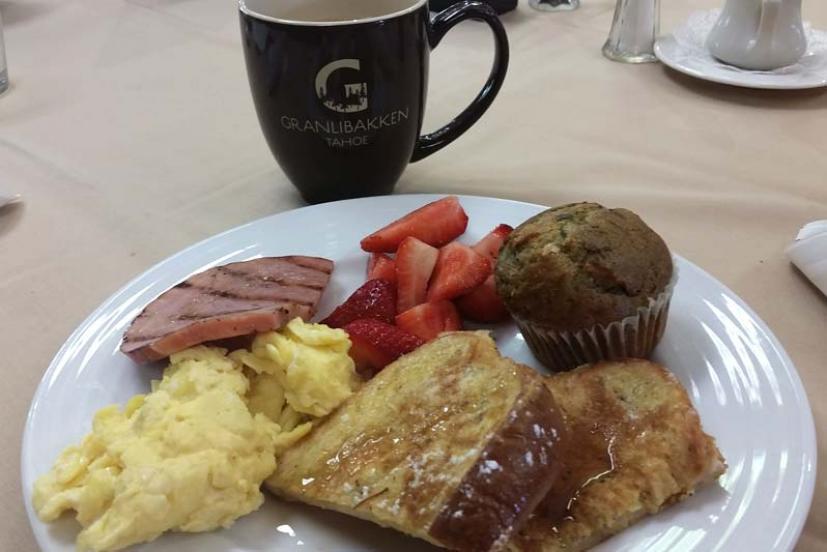 In winter Granlibakken opens its sledding and ski hill, and offers lessons and equipment rental. It also offers on-site dining options at the Cedar House Pub and Ski Hut Snack Bar. It's truly a year-round destination.
What to Do
There's so much to do in and around Tahoe City during the summer! Since the Treetop Adventure Park was literally a few steps from our unit at Granlibakken, we absolutely had to give it a try.
Operated by North Tahoe Adventures, the adventure park consists of series of courses linking platforms built high up in the trees, from 15 feet to up to 50 feet in the air. It's family friendly, too—while adventurers 4 foot 8 and above can try out the more difficult Monkey Courses, kids 5 and up and beginners of all ages can give the park's easier Flying Squirrel zone a try.
My kids had a blast challenging themselves on the course and zip lining from tree to tree and to the ground. Adventure Park staff are on hand to offer encouragement and suggestions on how to make your way through the different courses, and can climb up and rescue you as a last resort. My kids thought this was the best activity they've done in a long time, and spent what seemed like hours trying out the different courses. Sessions begin at $40 and reservations are a must, especially during the summer. They also have locations at Squaw Valley and North Tahoe Regional Park at Tahoe Vista.
Of course other less thrilling but no less fun actitivies abound in the area around Tahoe City. The Tahoe Trailways Bike Path winds its way along the Truckee River from Squaw Valley and then along the west shore of Lake Tahoe. It's wide and paved and perfect for cyclists of any ability. We rode up from Tahoe City to the entrance to Squaw Valley, following the Truckee River as it flowed north.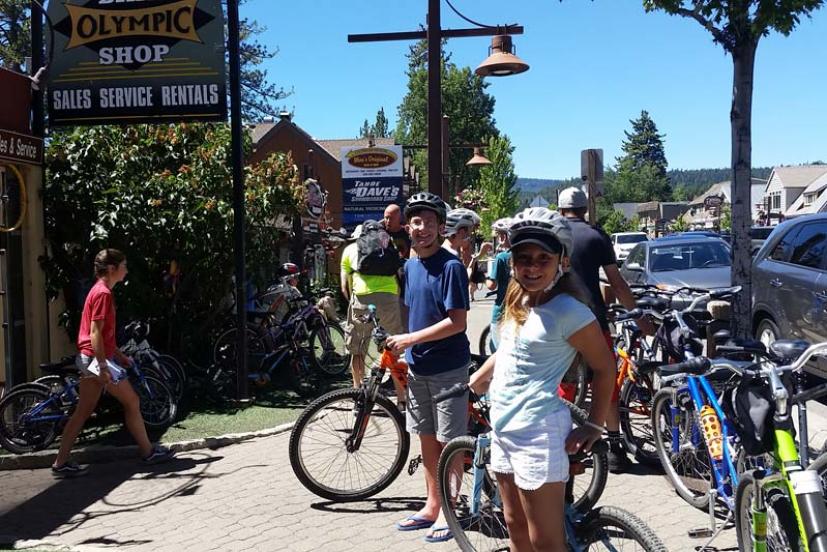 If you don't bring your own bikes, don't worry—you'll find plenty of reasonably priced places to rent them in town. We rented bikes at Olympic Bike Shop on West Lake Boulevard in Tahoe City, which had fantastic customer service and a huge selection of bikes. You can also find bikes at Willard's Sport Shop a few blocks away, West Shore Sports in Sunnyside, and Factory Bike in Squaw Valley.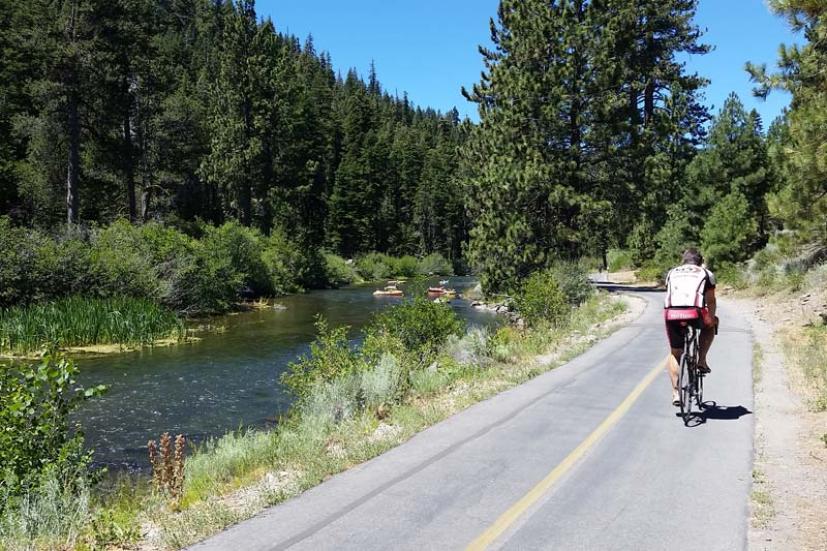 Kayaking and stand-up paddleboarding are also popular, and you can bring your own or rent them in town, too. We actually headed south to beautiful Emerald Bay State Park (about a 25-minute drive from Tahoe City) and kayaked out to Fannette Island, Lake Tahoe's only island.
A less demanding water sport, rafting on the slow moving Truckee River, is another popular option. People float downstream in rafts, inner tubes, and other inflatables, enjoying the scenery and keeping cool in the water. Plenty of services offer rides for rafters back to Tahoe City for as little as $5 per person. If you decide to do this at the spur of the moment, Tahoe City's sport shops and even the local Safeway and CVS have a good selection of affordable inflatables.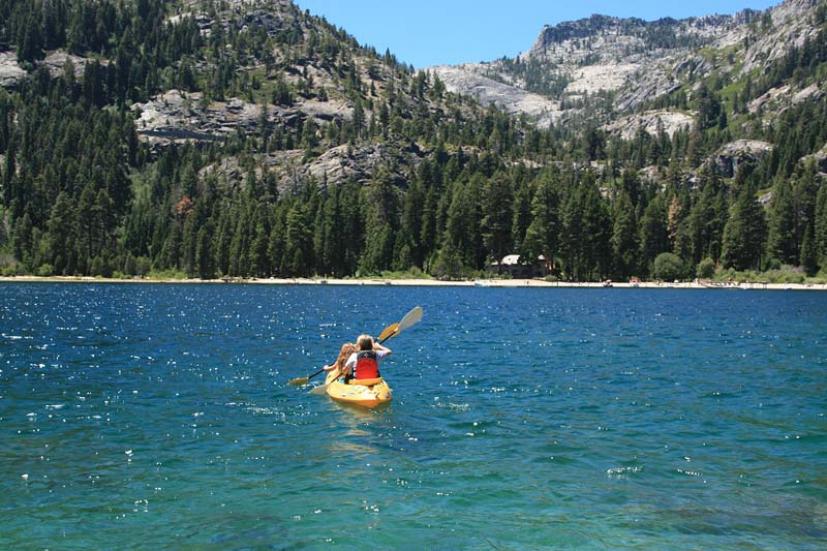 Keep in mind that with this year's record rain and snow amounts, the water level in the Truckee River is unusually high, and the current can be very fast especially when they release water from the lake. This means the rafting season may be delayed until at least early July, so check before you go.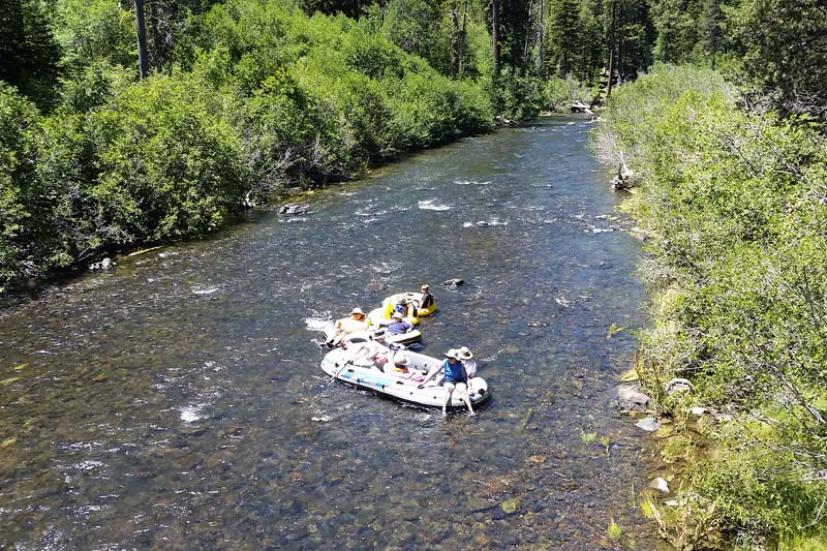 If you just want to relax, that's OK, too! Tahoe City and the surrounding area boast some fantastic beaches. We love Commons Beach right in town, which offers picnic areas, playgrounds, expansive lawns, a farmers market, and even free concerts and outdoor movie screenings in the summer.
Family Dining in Tahoe City
While our room at Granlibakken had a full kitchen, who wants to cook when they're on vacation? Tahoe City has quite a few dining options, many of them with incomparable lake or river views. A fun, family-friendly option is Moe's Original Bar B Que, which offers authentic Southern-style smoked 'que right along the shore. Sit outside and take in the view while you tuck into pulled pork or ribs and up to 10 Southern-style side dishes ranging from collard greens to slaw to baked beans to mac-and-cheese. They've got an inexpensive kids' menu, too.
Also right on the water is Hacienda del Lago, which is off the West Lake Boulevard a bit in the Boatworks Mall. Ask for a table outside or next to a window so you can take in the amazing lake views. Hacienda del Lago offers pretty much standard Mexican-American fare (with a kids' menu), but service is great and the setting is incomparable.
Along the Truckee River, we like Front Street Station Pizza. This little log cabin offers New York Style pizza, as well as Mexican food, and sandwiches. You can sit on their back deck and watch the rafters drift by on the river.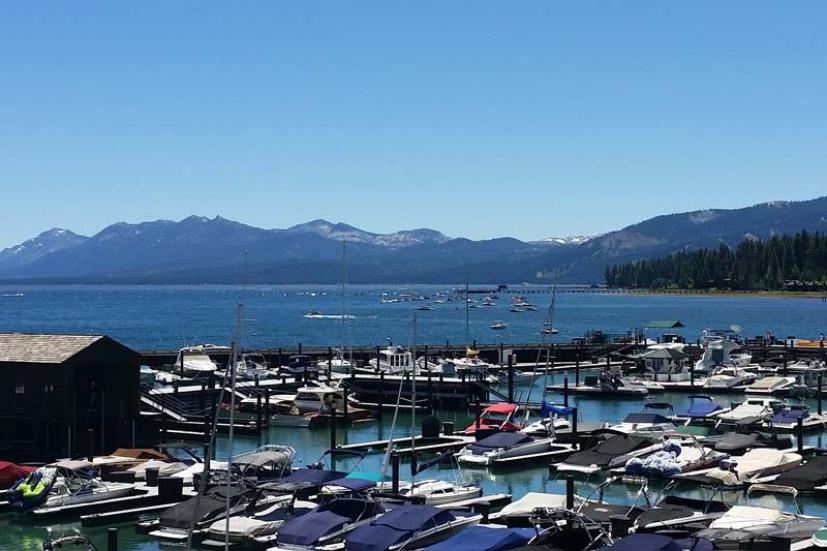 The Bridgetender Tavern & Grill is another waterside favorite. Located right at the mouth of the Truckee River since the 1970s, it offers outdoor dining right on the river, with plenty of kid-friendly favorites for breakfast, lunch, and dinner.
If You Go
Tahoe City is located along the shore of Lake Tahoe at the junction of Highways 89 and 28. To get there, take Highway 101 to Highway 37 in Novato and head east through Vallejo to Interstate 80. Take I-80 all the way to Truckee, where you'll take the Highway 89 exit and head south. Follow Highway 89 until it reaches Tahoe City.
For other Tahoe family getaway ideas, check out our article on visiting Truckee.
Sign up for tips & news for Marin families!