Back to top
Truckee Is Perfect for a Fall Family Getaway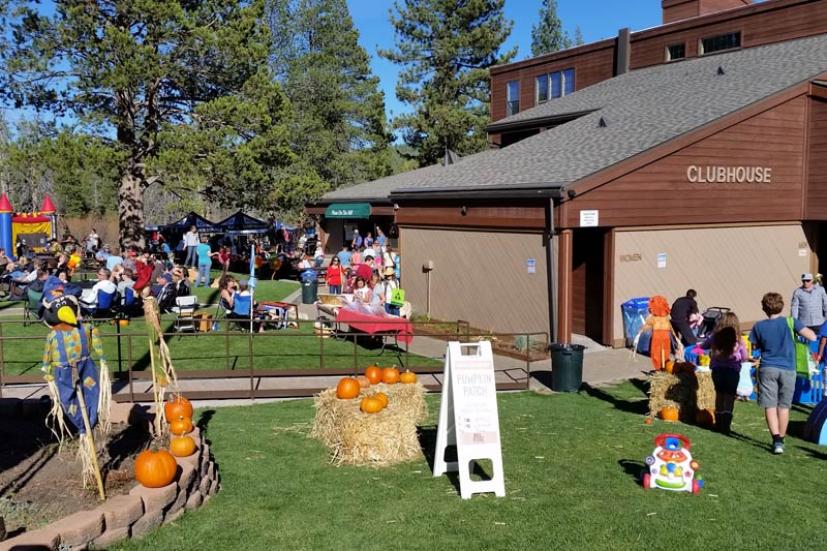 While winter and summer are the most popular times to visit Truckee and the Lake Tahoe area, fall can be a fantastic time for a family trip up the mountains. The weather is often beautiful, fall color abounds, summer's tourists and winter's skiers are absent, and there's still plenty to do in an amazing place. And it's not too far away, either.
We love events like the annual Fall Festival at Tahoe Donner, a mountain community and ski area just outside town. This laid-back autumn event, which takes place this year on October 8, features family fun like pumpkin carving, arts and crafts, food, pony rides, archery, a petting zoo, and much more.
While many of Tahoe Donner's summer programs close in the fall, the community still boasts some great restaurants and other upcoming fall events, including their free Light Up the Night holiday kick-off event in late November. Tahoe Donner offers great family winter sports opportunities, too, including cross-country skiing, snow shoeing, and even fat biking at their Alder Creek Adventure Center.
A must-visit destination near Truckee is Donner Memorial State Park, which marks the spot where the Donner Party spent the winter of 1846–1847 while trying to cross the Sierra Nevada Mountains into California. That winter was one of the worst on record, and many of the emigrants in the Donner Party never made it to their destination alive—some even resorted to cannibalism to survive. Fourth-graders will especially appreciate a visit to the park, since they're learning about California history right now in school.
The park's new visitor center and Emigrant Trail Museum tells the story of the ill-fated Donner Party and the Emigrant Trail to California, local Native Americans, the building of the Transcontinental Railroad, and more. Many of the displays are interactive, and a theater shows a video about the Donner Party every half-hour.
Inside the park you'll find several miles of trails to hike, including the Interpretive Trail, which leads to the sites of several of the Donner cabins. It's easy for everyone, and should be manageable with a sturdy stroller. Make sure you head down to Donner Lake, with its beach and picnic areas. It's a pleasant place to have a lakeside lunch in nice weather. There's an extensive campground at Donner Memorial State Park, too, with spaces for both tents and RVs.
Downtown Truckee is also worth a visit, with many cute shops and boutiques along and around Donner Pass Road in the historic downtown. Make sure you visit Truckee Variety Co., an old-fashioned toy store (and more) which carries classic toys, games, and puzzles, candy, magic tricks, and more—it's almost overwhelming.
For dining, we like the New York-style pizza a Best Pies downtown and the old-school comfort food at Jax Truckee Diner across the tracks (featured on Diners, Drive-Ins and Dives with Guy Fieri). Families with kids under 7 might want to spend some time at the KidZone Museum, a creative play children's museum located on Donner Pass Road near the high school and fire station.
For an overnight stay, you'll find plenty of places in town. We like the Hampton Inn & Suites just south of downtown Truckee near the airport. This comfy and affordable hotel is perfect for families, and is conveniently located near many area attractions and ski resorts, and is only about 10 minutes away from Lake Tahoe itself. Spacious family suites come equipped with fireplaces, whirlpool tubs, and separate sitting areas. It's a great spot to relax after a day of activities in Truckee.
The hotel has a great free breakfast included with your room, and the lobby, with its fireplace, classic mountain decor, soaring ceiling, and complimentary coffee, tea, and hot chocolate, is a relaxing place to hang out. There's even a big stack of toys, games, puzzles, and kids' books to keep everyone occupied. Outside there's a pool as well as a firepit where you can relax on cool evenings.
Another great lodging option is Donner Lake Village. Located right on Donner Lake, this hotel offers a wide range of condo-style accommodations ranging from one-room "lodgettes" to two-bedroom townhouses. Spacious lakeside rooms having amazing views and well equipped kitchens, making it ideal for longer family stays. Donner Lake Village is located at 15695 Donner Pass Road in Truckee.
We've also had a lot of fun staying at Northstar, which is located a little further south of town on the way to Kings Beach and Lake Tahoe. Learn more about the family fun available at Northstar here.
If You Go
Truckee is about a three-hour drive east of Marin County and the San Francisco Bay Area. To get there, take Highway 101 to Highway 37 in Novato and head east through Vallejo to Interstate 80. Take I-80 all the way to Truckee.
Sierra weather in the fall is usually pretty nice, with high temperatures in the 70s and 80s. Nighttime and morning temps can get pretty cold, though, so make sure you pack accordingly. Also, if there's any hint that snow might be on the way, make sure you have tire chains.
Today's Events
Sunday, February 25, 2018