Back to top
Get Away to Amazing Emerald Bay in Lake Tahoe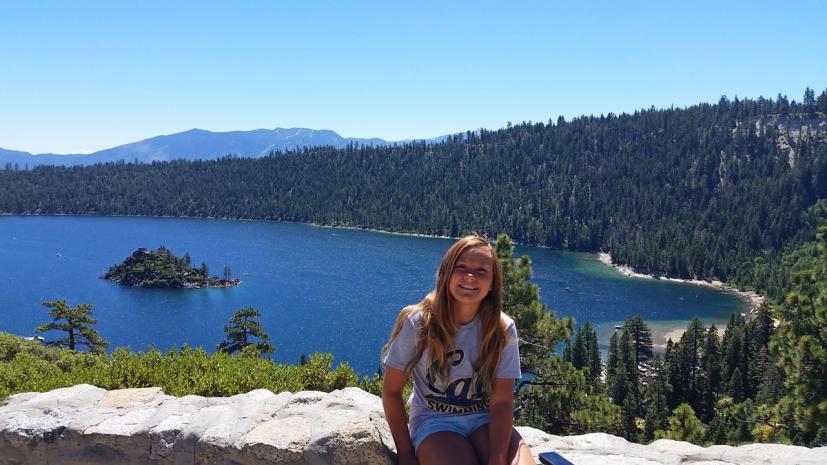 Lake Tahoe is one of California's premier vacation destinations and for us, there's no place that showcases the area's natural beauty more than Emerald Bay State Park. Located off Highway 89 about 12 miles north of South Lake Tahoe, Emerald Bay offers stunning views and outdoor activities for the whole family, including hiking, swimming, kayaking, and more.
The focus point of Emerald Bay State Park is centered on the area around Vikingsholm, a Scandanvian-style mansion built back in the 1920s. To get there, park in the lot and then, after taking in the view at the scenic overlook, hike down to the beach. The hike is about one mile with a 500-foot elevation change; while the trip down is easy, the hike back can be a bit of a challenge. We saw plenty of families with small kids tackling it, though, and it's not that tough if you take it in stages.
Once down, you'll reach a wide expanse of sandy beach bordered by tall pine trees, with views of Fannette Island (Lake Tahoe's only island), crowned by its castle-style tea house, to the east and Eagle Falls and mountain peaks to the west. Here you can relax under in the shade and watch the boats come and go, swim in the clear cool waters of the bay, or rent a kayak or stand-up paddleboard and explore.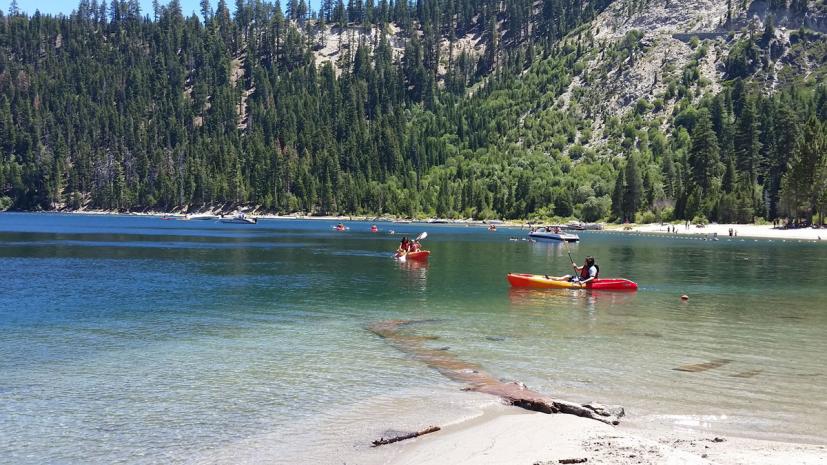 We love kayaking, so we were excited to see that kayak rentals are available right at the beach from Kayak Tahoe. The guys running the concession were friendly and helpful, and gave us a basic lesson and some pointers on landing our boats on Fannette Island before we set out. There's nothing quite like peacefully gliding over the crystal-clear Tahoe waters in a kayak!
You can land your boat at the island and explore. The small stone tea house, which is little more than a ruin right now, is worth a the short climb, and offers spectacular views. Bring a picnic or a snack to fuel up for your paddle back.
The open-topped ocean kayaks offered at the bay by Kayak Tahoe are stable and easy to paddle, and a double is perfect for a parent and child. While kids can paddle their own kayaks if accompanied by an adult on the water, you have to be over 15 to paddle to Fannette Island, so a double boat is the way to go.
Emerald Bay is one of those places where the world seems to slow down and you can hang out and relax for the whole day. If you want to do something more than relax, then check out the miles of hiking trails in the park, like the scenic Rubicon Trail that runs from Eagle Point to neighboring D.L. Bliss State Park.
This is really one of our favorite places in California, and a must-visit if you are in the Lake Tahoe area!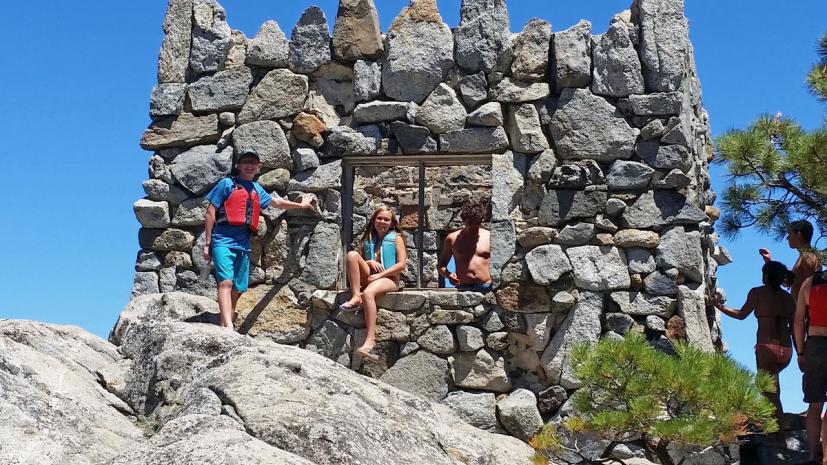 If You Go
Emerald Bay State Park is located 12 miles north of South Lake Tahoe and 22 miles south of Tahoe City along Highway 89. It's open daily from sunrise to sunset.
Parking is available in the Vikingsholm lot ($10 parking fee) or along the road. Emerald Bay is an extremely popular destination, so make sure you get there early, before 10 am, to get a parking spot, especially during the summer and on weekends. You'll have a better paddling experience before the afternoon winds pick up, too.
The trail down to Vikingsholm is approximately one mile in length with a 500-foot elevation change, so keep that in mind before setting out for the hike. We saw plenty of families with kids tackling the trail, but make sure everyone is OK with the uphill return trip. The wide flat trail is perfect for an offroad capable jogging stroller.
Kayak rentals are available right at the beach; Kayak Tahoe doesn't take advance reservation at this location, so rentals are available on a first-come, first-served basis. If nothing's available at the moment, they'll put you on a wait list and call your cell phone when it's time to go. Rentals include a basic kayaking lesson and life vests.
Tours of the historic Vikingsholm mansion are currently on hold due to COVID. You can also camp at Emerald Bay at one of several campgrounds located around the park, including a boat-in campground; advance reservations required. For more information and reservations, visit www.parks.ca.gov.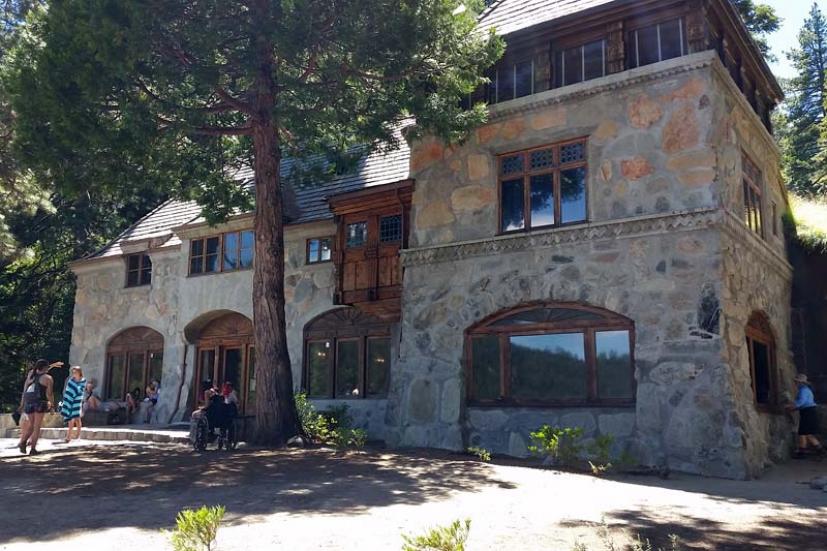 Sign up for tips & news for Marin families!