Back to top
Indoor Fun at Jack and Jill's Play Place in San Rafael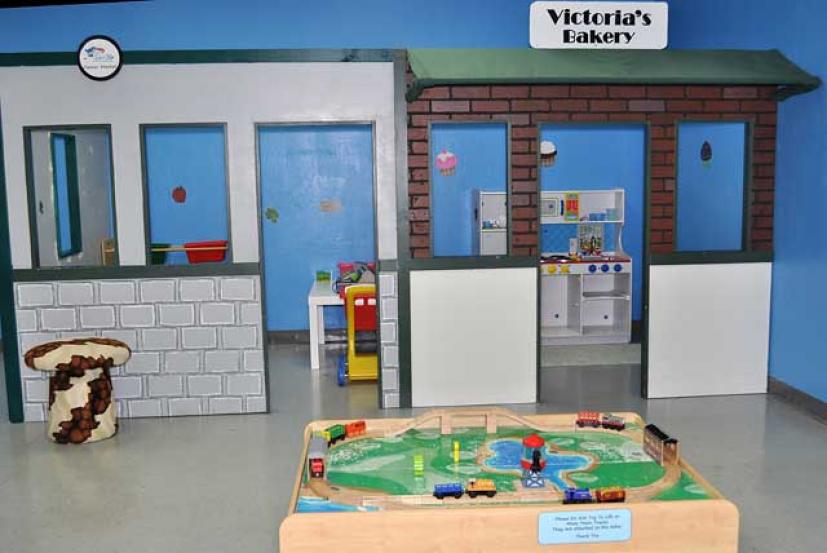 If you're looking for a fun place for drop-in play or a birthday party, make sure you check out Jack and Jill's, Marin's newest indoor play space. Located in San Rafael, Jack and Jill's offers drop-in play for children agest 8 months to 6 years and their parents or caregivers.
At Jack and Jill's kids can enjoy creative play with activity tables, a dramatic play area, play houses, an arts and crafts area, blocks, a reading room for storytelling, and a "crawler" area with soft crawl-on and pull-up structures and soft toys. Jack and Jill's also offers a space for indoor children's birthday parties and other special events.
Drop-in play is offered from Monday–Friday from 8:30 am–5:30 pm and Saturday from 8:30 am–noon. Drop-in play costs $10 per child age 1 and up; $8 for each sibling. Children under 1 year are free with a paid sibling or $5 without. Adults are admitted free, of course. There's no time limit, so hang out and play as long as you like!
Adults can enjoy complimentary coffee and tea, and small snack items, bottled water, and apple juice are available for sale. If you want to bring your own food, Jack and Jill's has a designated eating area, and there's even a microwave to heat stuff up.
Birthday parties are offered on Saturday afternoons, Sundays, and weekday evenings at a discounted rate. Two-hour parties cost $225 and include full exclusive use of Jack and Jill's and access to all play and craft areas. There's no minimum number of party guests and none of those annoying "additional children" fees. You provide food and party decorations and supplies; Jack and Jill's helps set up and—more importantly—does all the clean up.
Other activities at Jack and Jill's include Saturday parents' nights out, Music with Nick on Friday mornings, and more. Check their online calendar for more events and information.
Jack and Jill's Play Place is located at 125 Mitchell Boulevard, Suite D, in the Terra Linda area of San Rafael. Plenty of free parking is available in adjacent lots and along the street. For more information, call them at (415) 472-1120 or visit www.jackandjillsplayplace.com.
 Photos courtesy Jack and Jill's Play Place.
Sign up for tips & news for Marin families!