Back to top
"Oliver!" Opens at the Throckmorton Theatre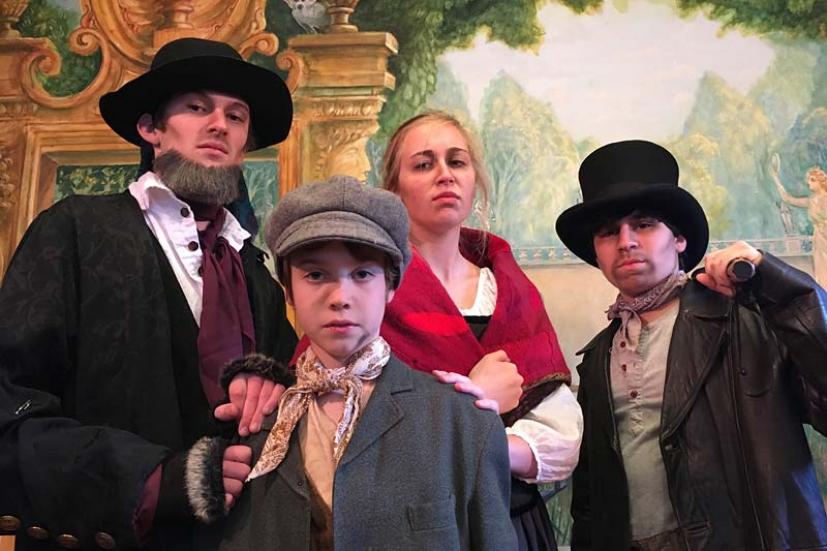 Left to right: Fergus Campbell as Fagin, Liev Bruce-Low as Oliver, Skylar Silvera as Nancy, Marco Lizzaraga as Bill Sikes. Photo:  Throckmorton Theatre
This weekend, Throckmorton Theatre and a cast of some of the Bay Area's most talented youth performers premiere their production of the Broadway classic musical Oliver! Based on Charles Dickens' novel, this Tony- and Olivier-Award-winning show is one of the few musicals to also win an Academy Award for Best Picture.
The streets of Victorian England come to life as Oliver, a malnourished orphan in a workhouse, escapes to London and find acceptance amongst a group of petty thieves and pickpockets led by the elderly Fagin. When Oliver is arrested for a theft he didn't commit, the benevolent victim, Mr. Brownlow, takes him in. Fearing for the safety of his hideout, Fagin employs the sinister Bill Sikes and the sympathetic Nancy to kidnap him back, threatening Oliver's chances of discovering the true love of a family.
Performances of Oliver! take place on Friday, March 10 and 17 at 7:30 pm, and Saturday and Sunday, March 11, 12, 18, and 19 at 2 pm. General admission tickets cost $20 for adults and $15 for students; reserved seating tickets are $35. Order tickets online at tickets.throckmortontheatre.org or by calling (415) 383-9600. The box office is also open Tuesday through Sunday, from 2 to 6 pm for in-person sales.
Theater seating is in a sort of cabaret style with tables interspersed among the seats. You can purchase snacks like popcorn and cookies to eat while you enjoy the show, as well as soft drinks, wine, and beer.
The historic Throckmorton Theatre is located in downtown Mill Valley at 142 Throckmorton Avenue. It's an amazing and fun venue, and if you haven't seen a show there, you owe it to yourself (and your family) to check it out, especially for one of their amazing youth performances. Find out more at throckmortontheatre.org.
Throckmorton Youth Performers
Throckmorton Youth Performers (TYP) offers musical theater opportunities and performances for youth ages 7 to 18 throughout the year. Their current season includes this production of Oliver! and a spring production of Beauty and the Beast. For more information, visit www.throckmortontheatre.org.