Back to top
Rebounderz Rohnert Park: Fitness and Fun, Rolled Into One, for the Whole Family!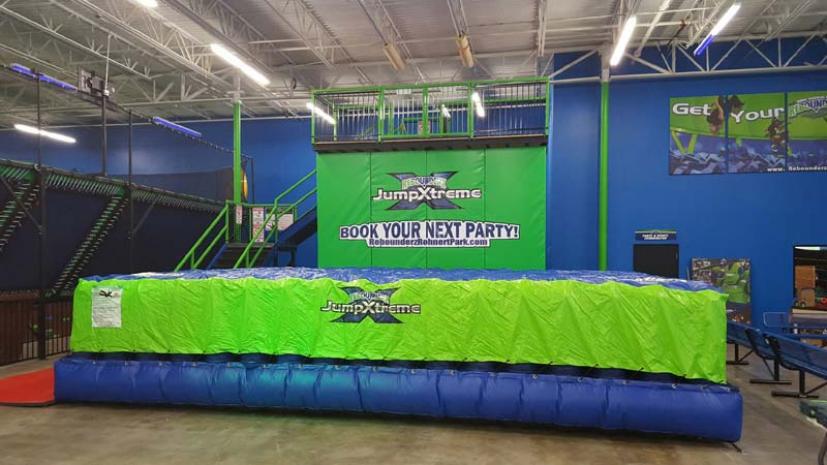 Marin Mommies presents a sponsored article from Rebounderz Rohnert Park.
Rebounderz Rohnert Park is fitness and fun rolled into one, for the whole family! Just 20 minutes up the highway from Novato, we are a facility that specializes in entertainment that provides exercise while having fun!  One hour of jumping burns about 1,000 calories. It also increases metabolism, circulates more oxygen to tissues and improves coordination!
In June, we are introducing our newest attraction, the JumpXTREME tower! Our tower platform is raised 14 feet above the ground and allows our guests to take a leap onto our custom designed inflated landing surface.  Test your fear of heights in a safe environment! Tummy fluttering at its best. Currently, experience our: 74 interconnected Trampoline Beds, 3-Level Indoor Playground, Air Dodge ball, Foam Pit, Basketball Slam, Arcade, Café, and Parents' Lounge with free wifi!
We specialize in birthday parties! We have 6-themed private rooms to choose from with a dedicated host, fitness, food, and fun! Spend an hour jumping and playing, then relax in the room knowing we are taking care of everything! Use code REBOUNDERZMARINMOMMIES and receive 10% off your next birthday party. Valid until October 31, 2016.
Looking to do something new and unique for camp this summer?  Sign up for our signature summer camp for kids 5 to 10 starting June 14. Every other week, Tuesday through Thursday from 9 am to noon, kids will enjoy our facility and organized games while being supervised by our counselors. Activities include jumping on trampolines, air dodge ball, dunking games in the Basketball Slam, our three-level playground, and good-old-fashioned games in the gym with our counselors.
Four special programs we offer that exemplify how we cater to all ages are: During Munchkin & Me every Tuesday and Friday (9 to 11 am summer hours starting June 7!) kids 7 and under and their adult are just $15 for the two hours! We bring out foam blocks and stuffed animals onto our trampolines, the little ones play in the foam pit, color and play with toys, and enjoy the playground. It's a really relaxed program geared towards the children really enjoying Rebounderz!  People plan their play dates here. And, as always, enjoy free Starbucks coffee and bagels, as we love the parents too!
Our Friday Night Teen Frenzy is offered every other Friday each month and features a live DJ, club lighting, three hours of jump time, pizza, a fountain drink, and of course socializing in a safe environment for teens!  Every Thursday from 3:30 to 5:30 pm kids 10 to 14 are invited to play organized air dodge ball with our refs. Just $15 for two hours of play and includes a free water bottle. It's a great way to get kids moving after school in a safe environment. Every Tuesday evening from 6:30 to 7:30 pm enjoy AirX, our low impact, high energy exercise class on trampolines. And check out our Daily Dealz every day of the week!
Rebounderz in Rohnert Park is Family Run, Fitness and Fun, all under One Roof!  Start planning your Rebounderz experience now!
Sign up for tips & news for Marin families!