Back to top
SF Opera's "The Barber of Seville" Is a Treat for the Whole Family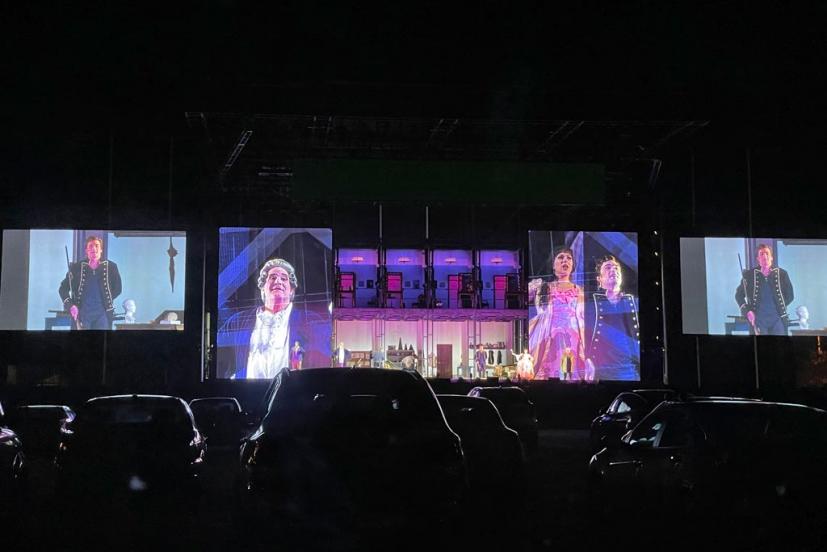 San Francsico Opera has brought its spring 2021 season to Marin! Live performances have resumed on a giant outdoor stage at Marin Center in San Rafael for a unique drive-in opera experience. We got to see their production of Rossini's The Barber of Seville on Friday night and it was a spectacular experience and a fun night out for the whole family.
This production of Barber is an ideal introduction to opera for families: it's streamlined (clocking in at around 90 minutes) and sung in English (with supertitles, too). The innovative outdoor stage is pretty amazing and features a multi-story set with moveable panels upon which are projected scenery, special effects, and close-ups of the performers. It's also flanked with two large screens that show you the action on stage.
This abbreviated production frames itself as a behind-the-scenes glimpse at the preparations and rehearsals for a production of The Barber of Seville and gives the audience both a fun look at the inner workings of the production and a review of the "greatest hits" from the opera. Barber is fun and funny and unlike a lot of operas, everybody makes it out alive at the end, making it perfect family fare.
Audiences have two choices when buying tickets for this drive-in spectacle: the live stage on the fairgrounds ($250 per car) and a live simulcast on the big screen by the Civic Center Lagoon ($50 per car). We got to experience the live version, and we highly recommend it! Parking attendants will show you to a space in front of the stage, with taller cars like SUVs in the back. On the way in, you're given a goodie bag with SF Opera face masks, information about the show, and glow sticks to wave as a way of applauding the peformers.
Feel free to bring your own snacks, drinks, and even dinner to eat in the car. You can listen to the performance at FM 92.7 on your car radio or a portable FM radio. Radios are available to borrow, too, on a first-come, first-served basis, in case you're worried about wearing your car battery down. (The SF Opera staff also have jumper cables available just in case.)
It's a great way to introduce the kids to classical music and opera, and it's a fun and unique night out that everyone will enjoy. Learn more and order your tickets at sfopera.com. You can also learn more about the production and its stellar cast in our guest article from the SF Opera.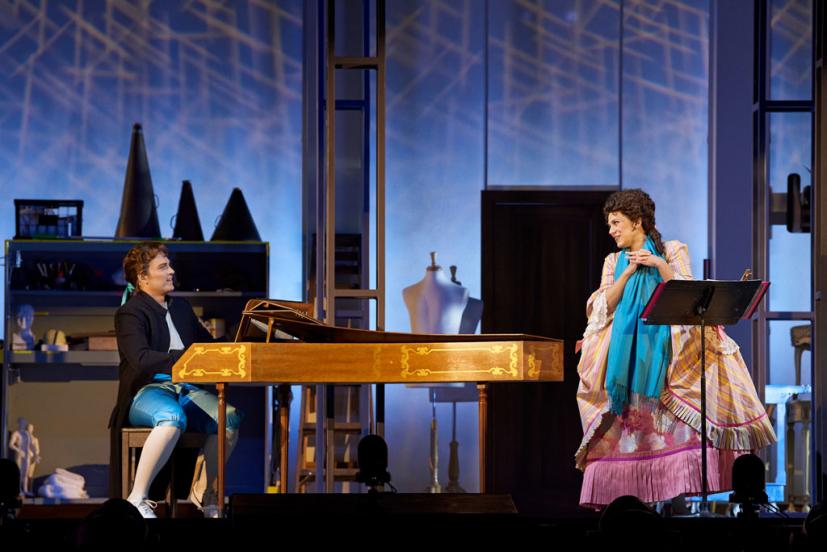 Real-life husband and wife, Alek Shrader and Daniela Mack play the smitten couple Almaviva and Rosina. Photo: Stefan Cohen.
If You Go
Remaining performances of The Barber of Seville take place on Tuesday, May 10; Friday, May 14; and Saturday, May 15, 2021. Performances take place at Marin Center, 10 Avenue of the Flags, San Rafael 94903.
Gates open at 6:30 pm and the performace starts around 8 pm. Run time is approximately 90 minutes. Tickets cost $250 per car for the live stage performance at the fairgrounds or $50 per car for the live big-screen simulcast at Lagoon Park. Order tickets online here.
There are no assigned spots for the performance; parking spots are assigned on a first-come, first-served basis. Listen to the performance on your car or portable radio at FM 92.7. Radios are available to borrow at the first aid tent free of charge. No food or drink is available for purchase, but you can bring your own.
COVID-19 precautions are of course in place — even on the stage where the peformers all maintain social distancing! Patrons should remain in their cars and wear masks if you have to get out to walk around. Portable restrooms with hand-washing stations are available.
Disclosure: San Francisco Opera provided us with a ticket to this performance for review purposes.
Sign up for tips & news for Marin families!