Back to top
"The Barber of Seville" at the Marin Center is a Family Affair
Catherine Cook stars as Berta, a housekeeper reimagined as a leopard-print-sporting diva. Photo: Stefan Cohen.
When veteran mezzo-soprano Catherine Cook thinks of family, one opera often pops to mind: the laugh-out-loud comedy The Barber of Seville.
It's not because the music recalls Saturday morning cartoons, like the Looney Tunes' Rabbit of Seville. And it's not because this is the rare G-rated opera where nobody dies.
It's because Cook — winner of 1990 Metropolitan Opera National Council Auditions, the most prestigious opera competition in the United States — found herself starting a family just as she was embarking on some of her earliest performances in The Barber of Seville. It remains one of her signature operas to this day.
Now on stage in San Francisco Opera's English-language, drive-in production of The Barber of Seville, she plays the role of Berta, a housekeeper reimagined as a leopard-print-sporting diva.
Lucas Meachem in the role of Figaro, the local barber who doubles as the town matchmaker. Photo: Stefan Cohen.
All around her is a household run amok. The local barber, Figaro, doubles as the town matchmaker, and he keeps coming up with wild schemes to reunite a bashful count, Almaviva, with the girl of his dreams, Rosina.
Real-life husband and wife, Alek Shrader and Daniela Mack play the smitten couple Almaviva and Rosina. Photo: Stefan Cohen.
But in order for the lovers to be together, they have to dodge the grumpy head-of-household, Doctor Bartolo, who chases them through the house in boxer shorts, shaving cream occasionally dripping from his face.
Philip Skinner (right) sings the role of the grumpy, head-of-household Doctor Bartolo. Photo: Stefan Cohen.
The Barber of Seville was the inspiration for Cook to pursue an opera career in the first place. "I was never interested in opera in high school, but they bussed us to see The Barber of Seville at the Lyric Opera of Chicago," she said in a recent interview.
There, as a teenager, she became enraptured with what she saw playing out on stage. It was music, comedy and acting, all rolled into one. "I remember sitting in the opera house thinking, 'This is it. Oh my gosh, this is everything I love on one stage.'"
Years later, she would be in The Barber of Seville herself. Having trained at San Francisco Opera as an Adler Fellow, she returned to make the Bay Area her home.
"I just took a breath of air and I thought the sky is so big here," she says. "It just really felt like home right from the start."
But during her first production as Berta on the San Francisco Opera stage, she found herself pregnant. And then it happened again in her next Barber of Seville here.
Cook's "Barber babies" became a running joke backstage: "Uh-oh," her friends would tease. "We're doing Barber again. Are you pregnant?"
And performing while pregnant had its challenges. For her second Barber production, she was on stage almost the entire time — and then there was the set itself.
"That production I remember distinctly because it was the one with the giant house, and the house was on a turn table. The house would turn," she says. "I had the worst morning sickness. I was in that turning house going, 'Oh god, please, please, let me be alright.'"
Catherine Cook with her family. Photo courtesy of Catherine Cook.
Cook's kids are 24 and 16 now. They both know that they were on stage with her as she made her first Barber appearances here. "For me personally, it's definitely part of my story with The Barber of Seville," she says.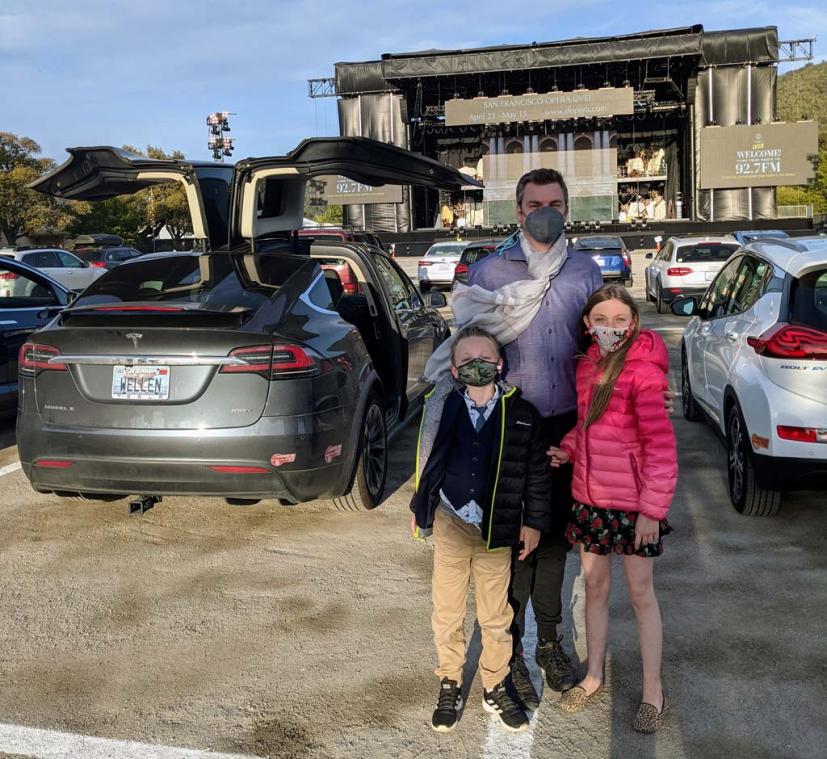 Photo courtesy of opera patron Michelle S.
Now, The Barber of Seville can be part of your family's story too. With a streamlined 90-minute format, San Francisco Opera's English-language version of The Barber of Seville is the perfect opportunity to pile your family into the car for a night of music and laughter.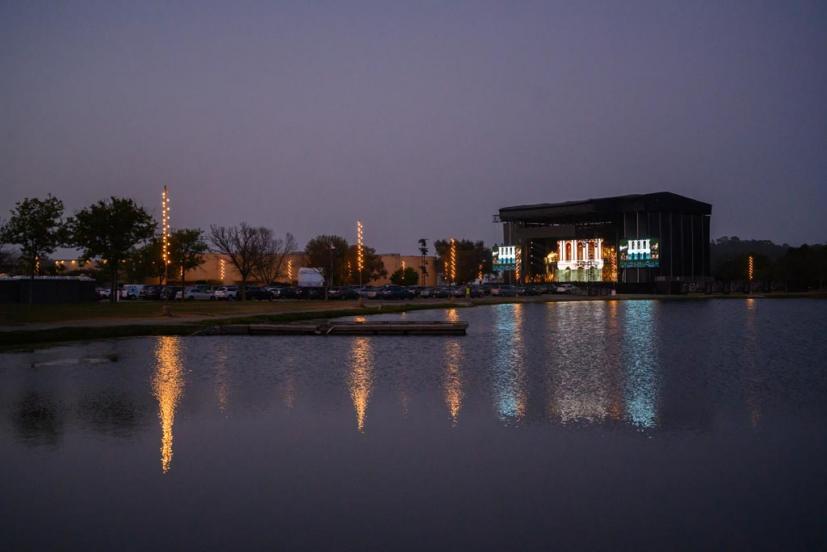 Photo: Kristen Loken
Show up before the show to enjoy Marin Center's duck-filled lagoon, or pack snacks for an in-car picnic during the opera. This new drive-in format allows everybody to enjoy classical music from the comfort and safety of their vehicle. You can even sing along with the show!
Catch it now through May 15, on stage at Marin Center.
This is a sponsored article from San Francisco Opera.
Sign up for tips & news for Marin families!