Back to top
Spring is in Bloom at the Japanese Tea Garden
San Francisco's Japanese Tea Garden is a favorite spot for tourists in San Francisco's Golden Gate Park, but it's also a great spot for local families. I've been visiting since I was a small child, and I've made sure that I introduced it to my children, too. Before I took them there, I had forgotten how magical this place is.
It's especially worth a visit at this time of year when the sakura — flowering cherry trees — and azaleas are in full bloom. It's a magnificent and colorful spring sight that's really worth the effort to see. The kids love to explore the grounds and get some tea and a Japanese snack at the tea room.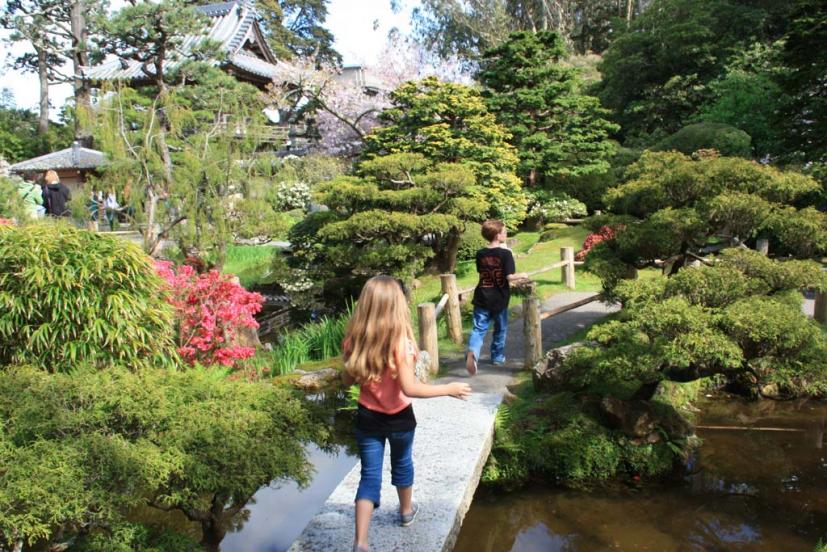 The Japanese Tea Garden is lush and tranquil with all its spring flowers blossoming, and even with the many tourists roaming around it still had the feeling of being a peaceful retreat from the bustle outside. We always try to make it a point to visit every time we're in Golden Gate Park, no matter what the time of year.
The Tea Garden gift shop sells a nice selection of Japanese goods and art objects, including tetsubin cast iron tea pots, chopstick sets, tea cups, sake sets, origami paper, jewelry, dolls, anime character items, and more. On one of our previous visits, carpenters working with traditional Japanese hand tools were working on some of the shop's architectural details.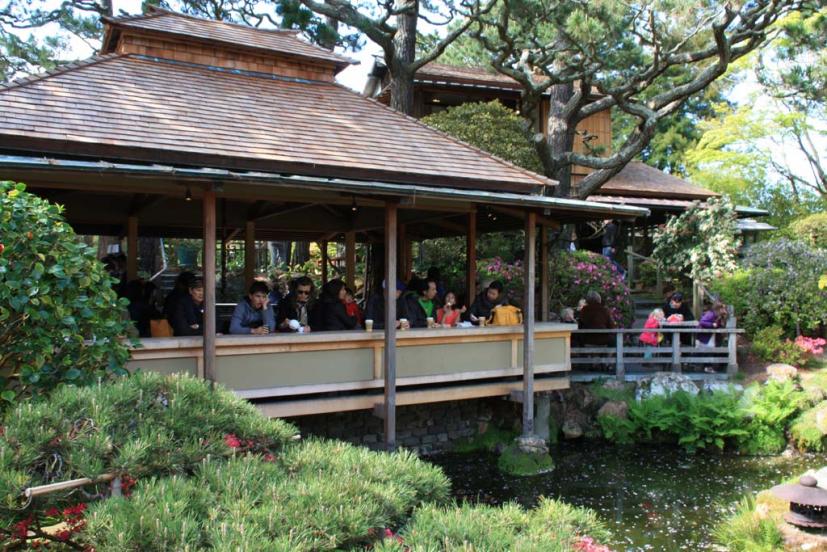 The Japanese Tea Garden features — true to its name — a traditional Japanese tea house on the grounds where you can sit, relax, and drink a pot of tea. You can sit and relax with a pot of green tea accompanied by arare rice crackers or sweet mochi cakes.
The tea house also serves snacks including udon, edamame, miso soup, tea sandwiches, and traditional Japanese sweets and confections. If your kids aren't interested in tea, they can get hot chocolate or choose from a variety of Japanese soft drinks.
The many paths, ponds, streams, sculptures, plants, stone lanterns, and stepping stones are a real hit with children, as is the steep, improbably arched moon bridge (Drum Bridge) that requires you to scale it like a ladder. You'll also see stunning examples of traditional Japanese architecture and craftsmanship, such as the spectacular cypress gates and a Buddhist pagoda, as well as a monumental bronze Buddha sculpture.
Don't forgot to wander down by the tranquil pond and say hello to the koi, many of whom will swim up to the surface to greet you.
The five-acre Japanese Tea Garden has been a fixture in Golden Gate Park since 1894, when it was constructed for the California Midwinter Exposition (which was also when the Tea Garden's neighbor, the de Young Museum, got its start). Did you know that the fortune cookie, although today commonly associated with Chinese restaurants, were invented here in 1909 by the original designer and caretaker of the garden, Makato Hagiwara?
If You Go
The Japanese Tea Garden is located at (appropriately) 75 Hagiwara Tea Garden Drive, next to the de Young Museum and across from the California Academy of Sciences. It's open every day from 9 am to 6 pm in summer (March through October) and 9 am to 5 pm in winter (November through February). Last entry 30 minutes before closing.
Admission to the Tea Garden is $14 ($16 on weekends) for adults, $7 for youth 12–17 and seniors 65+, and $3 for children 5–11. San Francisco residents, veterans, people receiving SNAP benefits, and children under 5 are admitted free. The Japanese Tea Garden also offers free admission if you enter on Monday, Wednesday, or Friday by 10 am. You can order tickets online at sfjapaneseteagarden.org.
Convenient parking is available at the Music Concourse Garage, which has entrances from the north at 10th Avenue and Fulton Street and from the south at Martin Luther King, Jr. and Music Concourse Drives. Street parking is also available on Martin Luther King, Jr. Drive (most spots are 3- or 4-hour zones).
For more information, visit the Japanese Tea Garden online at www.japaneseteagardensf.com.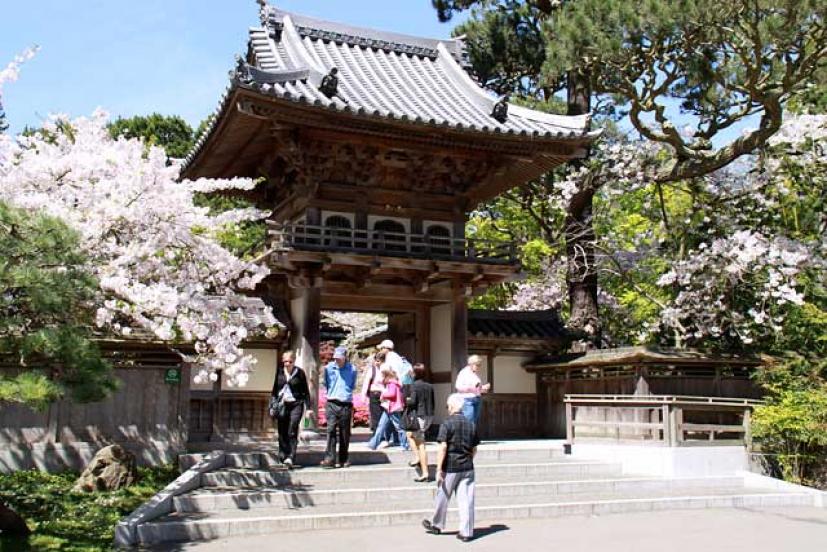 Sign up for tips & news for Marin families!