Back to top
Stapleton Ballet's Nutcracker: A Marin Holiday Tradition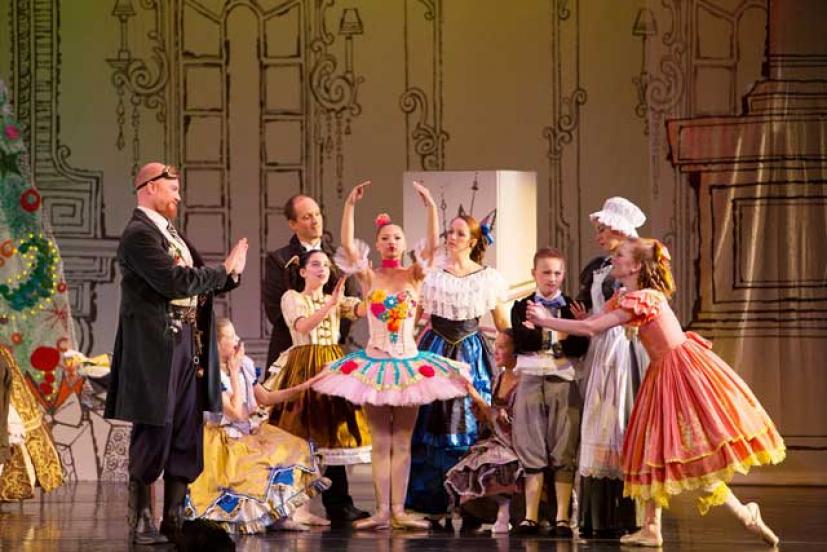 The Stapleton Ballet's annual production of the Nutcracker has been a Marin County tradition for 27 years, and it returns to Marin Center in San Rafael this holiday season for performances on Saturday, December 5 and Sunday, December 6 only.
With over 250 talented dancers from San Anselmo's Stapleton School of the Performing Arts as well as professional guest stars, a visit to this production marks the start of the holiday season for many Marin families.This production features inspired dancing, stunning imagery and beautifully crafted sets and costumes. The timeless tale of Clara and her wondrous adventure with the Nutcracker opens with the lavish Victorian holiday party, featuring exquisite, period-authentic costumes created in 2013. The captivating, mysterious Uncle Drosselmeyer makes a grand entrance, weaving his magic into the festivities and placing a spell on Clara's wooden toy.
Clara's Nutcracker transforms into a prince to battle the evil Mouse Queen in the heart-stopping battle scene, recently re-created to feature a firing cannon and a magical tree that grows to over 40 feet tall! Clara and the Prince journey through a snowstorm to the Land of the Sugar Plum Fairy, where surprises abound. Artistic Director Virginia Stapleton's production flows seamlessly and is designed to engage young and old, from start to finish.
1 pm matinee performances will be followed by a meet-and-greet with costumed characters. Make sure you bring your camera!
The Stapleton Ballet Nutcracker takes place at the Marin Veterans' Memorial Auditorium on Saturday, December 5 and Sunday, December 6 at 1 pm and 5 pm. Costumed characters will greet children in the lobby after 1 pm shows. Tickets are $34 for adults and $22 seniors and youth 18 and under.
For more info, go to www.stapletonschool or purchase tickets here.
Sign up for tips & news for Marin families!