Back to top
STEM and STEAM Summer Camps in Marin and the Bay Area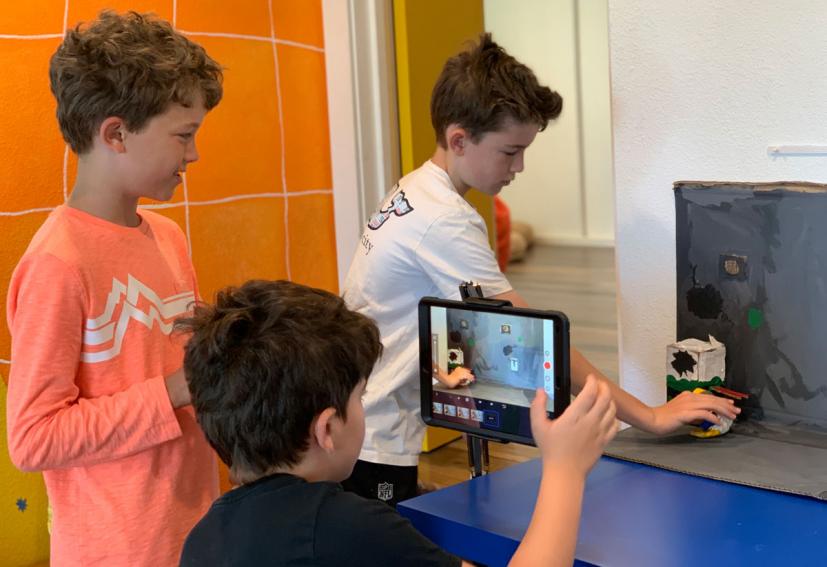 Photo: CreativeCave Summer Camp in Mill Valley
STEM (science, technology, engineering, and mathematics) along with its sibling concept STEAM (add "arts" into the mix) are hot educational initiatives right now. Get the kiddos ahead this summer learning in-demand skills with one of these cool Marin STEM or STEAM camps.
AR Camp by Integem
Camp Integem is a unique experience for K–12 students who love STEM, art, coding, AI, design, fashion, animation, or game design. Teleport into your creation to experience the magic of your holographic AR design and prepare you for future success. camp.integem.com
CreativeCave Summer Camps
From illustrative design to animatronics of the future, CreativeCave offers classes and camps that empower kids to prototype their imaginative ideas. Stop motion, animation, fashion, comics, video games, digital illustration, and much more. We offer a variety of full day camps for kids 7–12 years old and afternoon mini camps for TEENS. www.creativecave.biz
Discovery Camp at the Bay Area Discovery Museum
Children embark on new adventures, make discoveries, and try out new ideas at the museum they love! With 17 themes Bay Area Discovery Museum has a camp for everyone! Discovery Camps serve ages Preschool – 4th Grade. www.bayareadiscoverymuseum.org/camps
Esports and STEM Camps at Esporterz
Make new friends, sharpen your brain, improve your gameplay, and have a blast at Esporterz' safe and supportive gaming community. With a curriculum designed for all skill levels, Esporterz' experienced coaches will guide you through STEM lessons, esports drills, and scrims in a fun and competitive environment. esporterz.com/camps
KidzToPros STEM Summer Camps
KidzToPros' STEM summer camps prepare them for the tech-driven future! Innovative, project-based STEM camps teach kids how to program robots, design and code computer games, create websites and develop 3D models. www.kidztopros.com
Maker Camp
Maker Camp, sponsored by MAKE magazine, is a summer camp with a focus on using science, technology, engineering, art and math (STEAM) to create, build, and discover. Every day Maker Campers learn about Makers of the past while becoming the Makers of the future. Maker Camp introduces exciting projects from Chronos Academy's upcoming school year and gives campers a fun-filled taste of the school. chronos.academy/maker-camp
MV GATE
MV GATE's camps at Mill Valley Middle School provide opportunities for project-based learning with Python programming, electronics and Arduino, and web design and development for kids in middle school and high school. www.mvgate.org
Play-Well TEKnologies
This awesome activity center in San Anselmo teaches kids about robotics and engineering through LEGO play and construction in their summer camps for kids ages 5–12. They also offer STEM camps at locations around the county. play-well.org
Lawrence Hall of Science
Summer camps at UC Berkeley's Lawrence Hall of Science provide a unique experience full of scientific discovery and fun, hands-on activities. Camps take advantage of the Lawrence's resources, including the planetarium, Animal Discovery Room, exhibits, and more. Camps are offered for ages 4–18. www.lawrencehallofscience.org
Sign up for tips & news for Marin families!