Back to top
STEM and STEAM Summer Camps in Marin and the Bay Area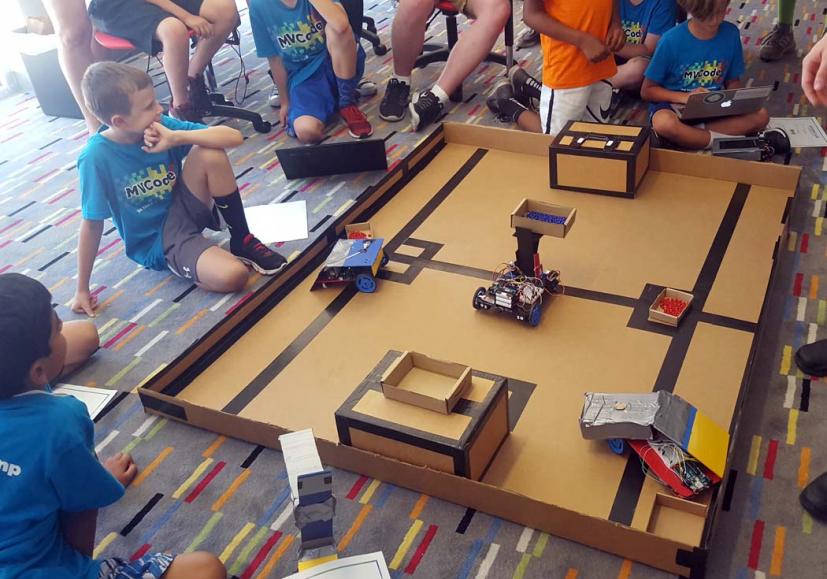 Photo: MV Code Club Robotics Camp
STEM (science, technology, engineering, and mathematics) along with its sibling concept STEAM (add "arts" into the mix) are hot educational initiatives right now. Get the kiddos ahead this summer learning in-demand skills with one of these cool Marin STEM or STEAM camps.
Novato's renowned Buck Institute offers hands-on science camps for kids ages 10 and up, as well as a two-week high school immersion program for students entering grades 10-12. Scholarships are available based on financial need. www.buckinstitute.org
Doodle (AKA Camp Doodles) gives kids in grades pre-K–5 a chance to get hands-on with engineering, electronics, art, and science. Doodle camps take place in Mill Valley, San Francisco, Berkeley, and Orinda. campdoodles.com
With a Marin location at Dominican University of California in San Rafael, iD Tech offers camps that teach skills like coding, 3D-modeling and printing, game development, and robotics. www.idtech.com
These cool learning centers, with locations in Mill Valley, Greenbrae, San Francisco, San Mateo, and Redwood City. Learn to code, make robots, build with Minecraft, develop games in Unity, and more! www.mvcodeclub.com
MV GATE's camps at Mill Valley Middle School provide opportunities for project-based learning with Python programming, electronics and Arduino, and web design and development for kids in middle school and high school. www.mvgate.org
This awesome activity center in San Anselmo teaches kids about robotics and engineering through LEGO play and construction in their summer camps for kids ages 5–12. They also offer STEM camps at locations around the county. play-well.org
ARTifact Art Camps offers a varity of STEAM summer camps for ages 3–11 years. Themes include Star Wars, fashion design, Mary Poppins Wonderland, and more. www.sfartifact.com
Summer camps at UC Berkeley's Lawrence Hall of Science provide a unique experience full of scientific discovery and fun, hands-on activities. Camps take advantage of the Hall's resources, including the planetarium, Animal Discovery Room, exhibits, and more. Camps are offered for ages 4–18. www.lawrencehallofscience.org
Sign up for tips & news for Marin families!