Back to top
Summer County Fairs in Marin and the San Francisco Bay Area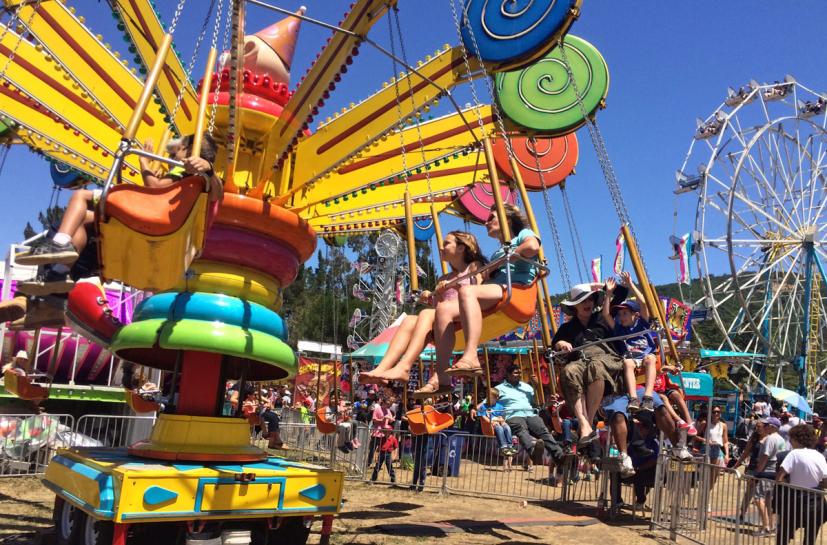 Summer is almost here, and so are the San Francisco Bay Area's county fairs, which are back for 2022 and take place almost every week from May through August. In addition to our own fantastic Marin County Fair, which happens in San Rafael from June 30 through July 4, fairs take place in just about every county in the Bay Area. Your family can get its fill of fun all summer long with carnival rides, farm animals, concerts, competitions, games, performances, and much, much more! Each fair has its own unique offerings and fun activities for everyone.
Here's our guide to summer fairs and festivals in the Bay Area:
May 12–15
Contra Costa County Fairgrounds, 1201 West 10th Street, Antioch 94509
The 2022 Contra Costa County Fair features the Xtreme Sports Zone, Kids Town America, Ag Venture Land, Midway of Fun Carnival live entertainment, animal shows, and more at contracostafair.com
June 4–12
San Mateo Event Center, 1346 Saratoga Drive, San Mateo 94403
San Mateo County's annual fair includes concerts by the Commodores as well as free fair entertainment like a pettting zoo, Aussie Kingdom, Roberto the Magnificent, the Chinese Acrobats of Hebei, and more. Of course there will be carnival rides, farm animals, and exhibits of all types, too. www.sanmateocountyfair.com
June 17–July 10
Alameda County Fairgrounds, 4501 Pleasanton Avenue, Pleasanton 94566
The Alameda County Fair in Pleasanton offers an amazing lineup of concerts featuring headliners like Sheila E, Great White, 38 Special, Blue Öyster Cult, and Clay Walker. There will also be a carnival midway with rides and games, a 4th-of-July Fireworks Spectacular, kids' STEAM Weekends, farm animals, a rodeo, monster trucks, motocross, a demolition derby, and countless entertainers. annual.alamedacountyfair.com
June 22–26
Sonoma-Marin Fairgrounds, 175 Fairgrounds Drive, Petaluma 94952
The Sonoma-Marin Fair in Petaluma is famous for its renowned World's Ugliest Dog Contest, and features carnival rides, fair exhibits, crafts at Clo's Kids' Corner, and an Ag-Venture land where you can milk a cow, saddle a horse, ride a tractor, and more. Concerts and events TBA. www.sonoma-marinfair.org
June 27–30
Solano County Fairgrounds, 900 Fairgrounds Drive, Vallejo 94589
The Solano County Fair's 2022 theme is "Bales of Fun." Fairgoers will enjoy free concerts, animal exhibits, carnival rides, and more. scfair.com
June 30–July 4
Marin County Fairgrounds, 10 Avenue of the Flags, San Rafael 94903
Marin's own fantastic fair never fails to thrill and entertain, with free carnival rides, farm animals, exhibits, and even the Imperial Stormtroopers of the 501st Legion. Stick around for free concerts (lineup TBA), as well as a nightly fireworks show. This year's theme is "So Happy Together". marinfair.org
July 15–31
California Expo, Cal Expo, 1600 Exposition Boulevard, Sacramento 95815
The California State Fair takes place over 17 days this summer, and includes competitions, headliner concerts, animals, exhibits from each of California's 58 counties, a three-acre farm, the Whale Tale exhibit from the California Coastal Commission, and of course the biggest carnival in Northern California! www.castatefair.org
August 4–14
Sonoma Country Fairgrounds, 1350 Bennett Valley Road, Santa Rosa 95404
The Sonoma County Fair in Santa Rosa is big, exciting, and a lot of fun! See plenty of farm animals, concerts, a destruction derby, horse racing, fair exhibits, a flower show, and more. Of course there's a carnival with over 50 rides for kids, families, and thrill-seekers. The 2022 theme is "Tropical Fairidise". Thursdays are Kids' Days: children 12 and under receive free general admission all day! www.sonomacountyfair.com
Sign up for tips & news for Marin families!