Back to top
Take a Family Summer Staycation at the Palace Hotel in San Francisco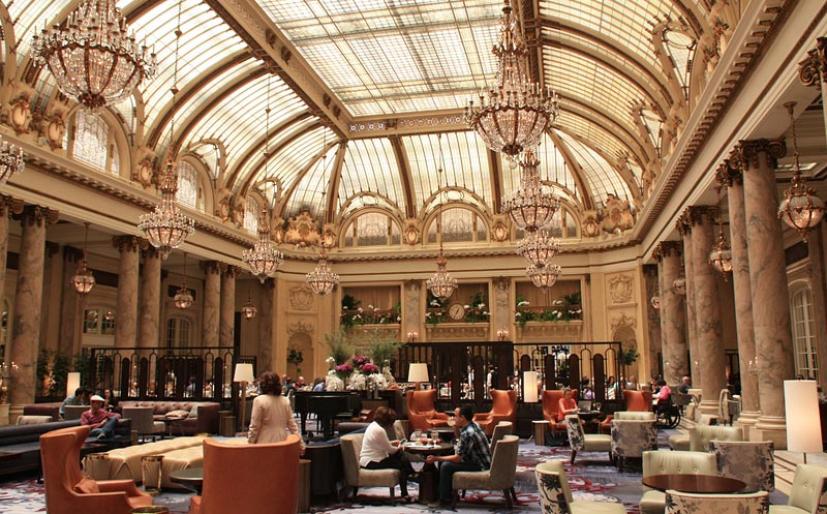 When we make our summer vacation plans, sometime we forget that we live in one of the most popular tourist destinations in the world—the San Francisco Bay Area! We recently got a chance to play tourist and spend a fun and luxurious summer "staycation" weekend right in our own back yard at the famous Palace Hotel in downtown San Francisco. This recently renovated historic hotel in the heart of the city has been a favorite place to stay since its founding 1875, hosting presidents, royalty, and of course families!
We had a blast at the Palace. With welcoming and helpful service, fantastic amenities, and plenty of things to do, it makes for a fun and memorable getaway. Here's why the Palace Hotel is perfect for a fun getaway with the kids this summer:
Location, Location, Location
The Palace Hotel is sited right in the heart of downtown San Francisco at New Montgomery and Market Streets. It's only steps from Union Square, Chinatown, and Yerba Buena Gardens, and a short trolley ride from the Ferry Building, Pier 39, and the Exploratorium. Nearby attractions for families include SFMOMA, the Contemporary Jewish Museum, and the Children's Creativity Museum. If you still can't think of anything to do, check in at the Palace's concierge desk and they'll help you find something.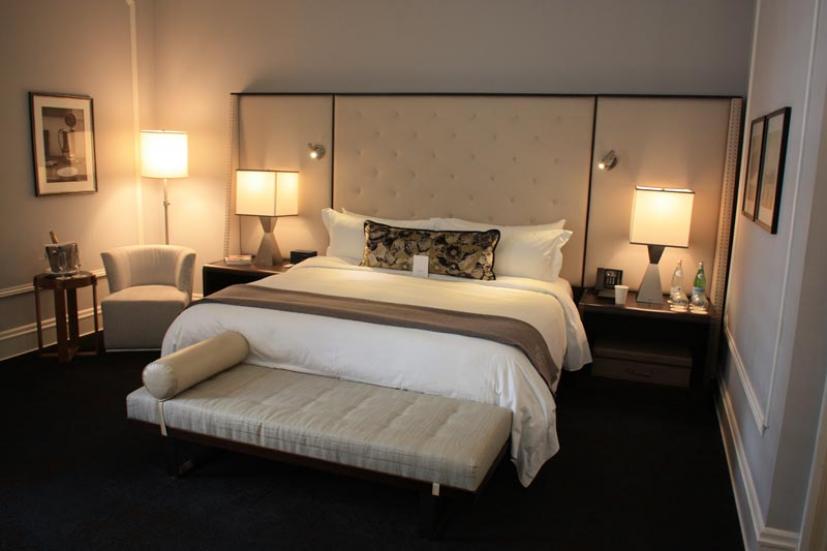 History and Luxury
While the Palace Hotel survived the 1906 earthquake, the subsequent fire gutted the building, which was rebuilt and reopened in 1909. Hotel rooms are newly remodeled and super comfortable with cool modern furnishings, but retain their classic century-old architectural details and charm, including 11-foot ceilings, moldings, and original heavy wooden doors with ornate brass doorknobs. We stayed in adjoining rooms—one with two double beds for the kids and one with a king for the parents. You have to love the heated toilet seats in the bathrooms, too!
Make sure you take a history tour of the hotel, offered Saturdays at 5 pm, where you can learn about the Palace's storied history and stunning architecture, as well as some of the famous personalities who stayed here since it opened in the 19th century.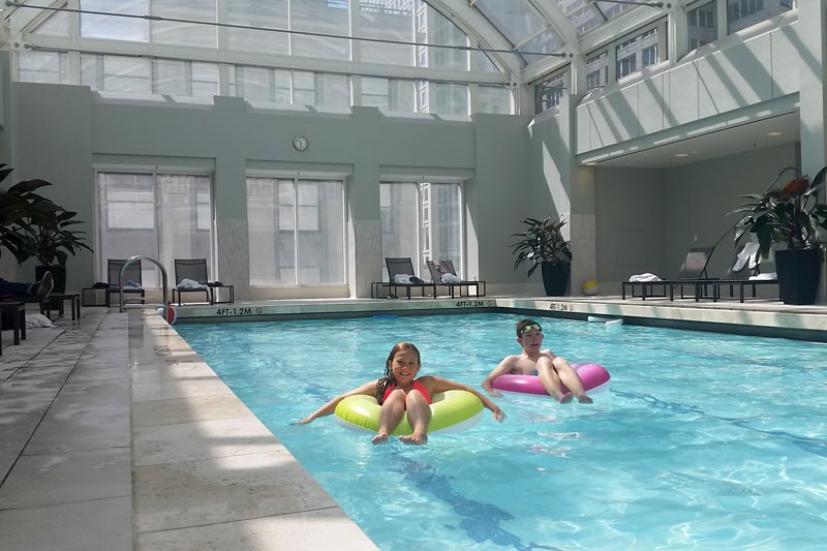 Keeping Everyone Busy
While you'll fine plenty of activities in the neighborhood, there's no reason to even leave the hotel! First, the Palace has a fantastic rooftop indoor pool. While it's shallow, it's perfect for kids and for swimming laps, too. Plus, you can order snacks and meals to be delivered to you poolside. This summer, the hotel offers "Freezie Fridays" every Friday from 10 am to 4 pm, with a surprise frozen treats poolside for the kids, as well as Dive In Movie Nights Saturdays at 8 pm, where you can watch a movie on the big screen while floating on an inner tube in the pool.
For a treat, make sure you visit the Ghirardelli Chocolate Shop located inside the hotel. Not only do they hand out free chocolate samples, but they make amazing speciality sundaes, milkshakes, and more.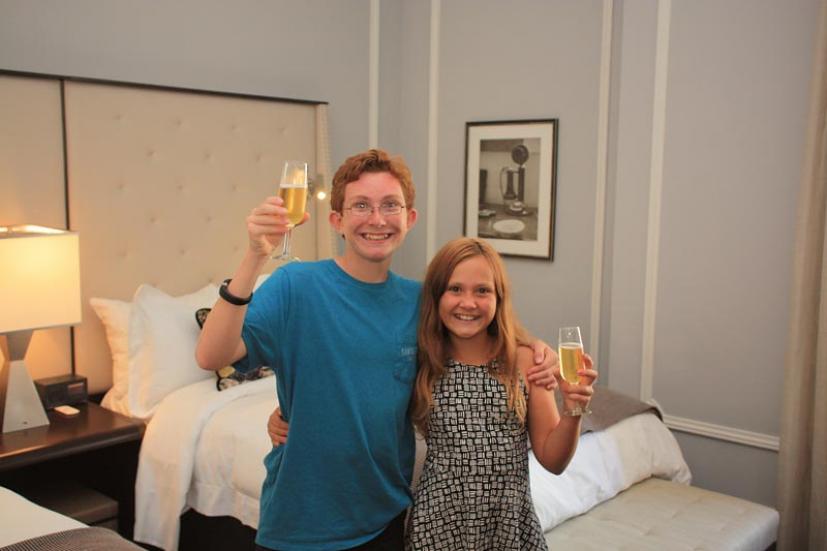 When it comes time to wind down, the kids got to relax in their own room and enjoy a movie from the extensive selection of family movies offered at the hotel. If you check in to the hotel at their family rate this summer, the movie is on them!
Dining, Palace Hotel Style
The Palace Hotel boasts two of San Francisco's most iconic dining spaces: the elegant and breathtaking Garden Court and the cozy Pied Piper Bar, both of which are family friendly. Having brunch, dinner, or afternoon tea in one of these places is truly an unforgettable experience.
The grand Garden Court has long been renowned as one of the city's most beautiful dining spaces, with its soaring glass dome and marble columns. You can relax in the lounge with a drink or enjoy the hotel's breakfast, City Brunch, or afternoon tea. There's often live music, too. Even if you don't dine there, it's worth stopping by just to marvel at the court's beaux-arts architectural extravagance.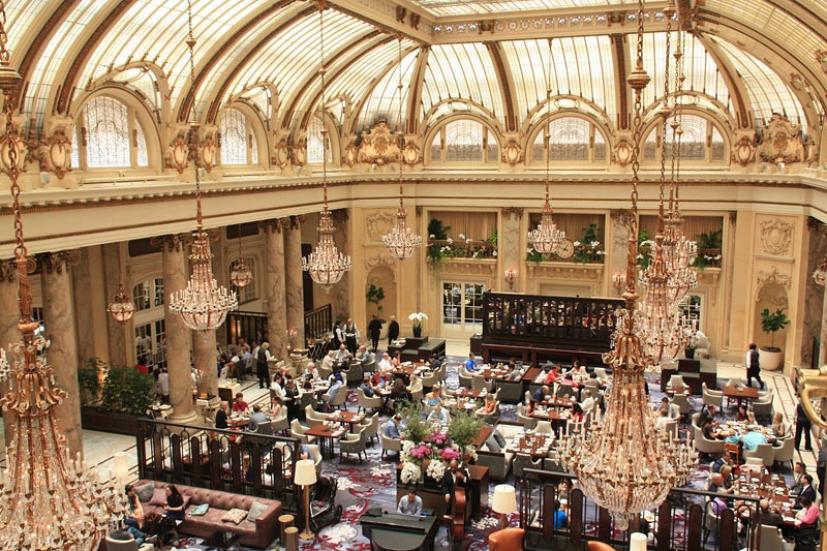 For a more intimate but no less historic experience the Pied Piper Bar offers casual dining in a cozy wood paneled space. What makes it truly special, however, is the amazing Maxfield Parrish painting of the Pied Piper of Hamelin. Commissioned by the hotel back in 1909, this huge 16-foot-long painting glows with Parrish's signature vibrant colors and exacting detail. We really enjoyed our dinner here, with attentive service, a wonderful atmosphere, and really delicious burgers. Even if you don't end up dining there, you need to stop by to view the amazing work of art hanging over the bar.
During our stay, we decided to have breakfast in our room, and ordered some family favorites like pancakes, pastries, scrambled eggs, and bacon. Everything was delicious, and it was fun to splurge on room service.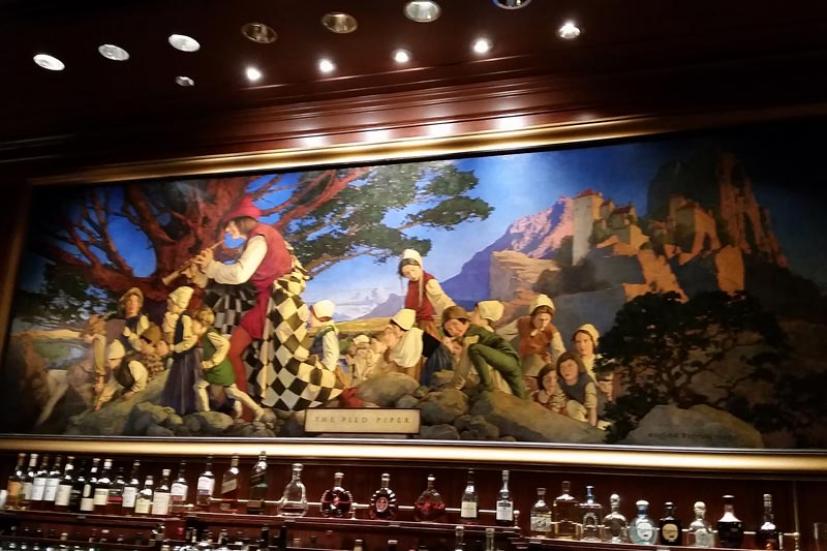 If You Go
A family staycation at the Palace Hotel is a wonderful way to spend the weekend. The Palace Hotel is located at 2 New Montgomery Street (at Market), San Francisco 94105. This summer, the hotel offers a variety of packages, including a 50th anniversary Summer of Love package.
To get there from Marin, head south on Highway 101 and cross the Golden Gate Bridge into San Francisco. Head south onto Doyle Drive and onto Lombard Street. Turn right on Van Ness Avenue and follow it to Broadway, where you'll turn left. Follow Broadway until you reach Columbus Avenue, and turn right. Columbus will turn into Montgomery Street. Follow Montgomery through the Financial District, and cross Market Street onto New Montgomery Street. The hotel parking garage is on Stevenson Street to your immediate right, or you can use the hotel's valet parking service at the main entrance.
Summer activites at the Palace Hotel take place through Labor Day. To learn more and make reservation, visit www.sfpalace.com or call (415) 512-1111.
Sign up for tips & news for Marin families!