Back to top
Take a Ride on the Wildflower Train at the Western Railway Museum
Take a train ride back in time this spring on the Western Railway Museum's Scenic Limited wildflower train! Located in rural Solano County between Suisuin City and Rio Vista, the Western Railway Museum is a rolling museum of Bay Area rail history, spotlighting vintage electric interurban trains and streetcars on its miles of track that roll through the picturesque Montezuma Hills. This area boasts numerous wildflowers each spring, and viewing them from a historic train is a great way to see them!
Wildflower trains run through the month of Apriul and depart the museum's passenger depot on Wednesdays, Saturdays, and Sundays at 11 am, 12:30 pm, and 2 pm. The leisurely 11-mile round-trip in a century-old railcar provides spectacular views of the surrounding countryside, Mt. Diablo, and Mt. Tamalpais.
Along the way you'll see wildflowers, which you can identify with a handy guide available on the train, birds and other wildlife, and herds of farm animals like cows and sheep. It really feels like riding back in time, although it's a little hard to escape the modern lines of the wind turbines from the adjacent Shiloh windfarm.
Along the way the train will pause while the conductors tell you about local history, railroad procedures, and what you're seeing out the windows. They're happy to answer any questions you have about the ride, too. At the half-way point the crew switches polarities on the train's electrical leads and you head back to the depot. For passengers in the parlor car (which we highly recommend), this provides an opportunity to sit on the outside platform of the railcar and get a great view.
When your ride is over, you can take another ride on a historic streetcar, see the exhibits in the visitor center, and tour the sheds to see the cars in the museum's collection, which includes old trams from San Francisco's Muni, the East Bay's Key System, and more.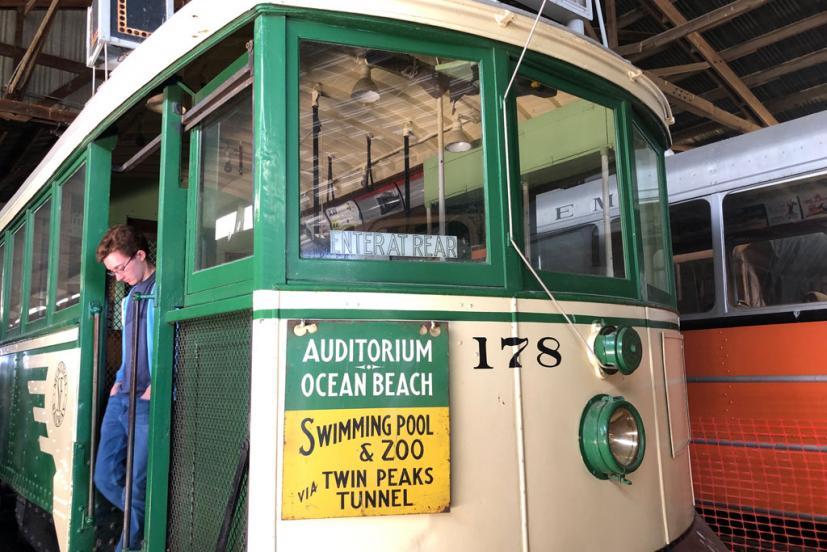 It's a fun, family-friendly outing that's only an hour's drive from Marin. While the wildflower trains only run during the spring, you can visit at any time of year to ride the rails. In October, the museum hosts a Pumpkin Patch Festival in a eucalyptus grove that's only reachable via a train ride. Learn more about what they have to offer at www.wrm.org.
If You Go
The Western Railway Museum is located at 5848 Highway 12, Suisuin City 94585. To get there from Marin, take Highway 101 to Highway 37 in Novato and head east to Vallejo, where you'll get onto Highway 80 east. Follow 80 until you get to the Highway 12 east exit in Fairfield and take Highway 12 all the way to the museum, which will be on your right.
On the way you'll pass the Jelly Belly factory in Fairfield—you could visit both and make a day of it while you're in the area.
The museum is open year-round on weekends from 10:30 am to 5 pm. During the summer, opening hours are expanded to Thursdays and Fridays from 10:30 to 5, too, and it may also be open during the week for special events like the wildflower train. During the Pumpkin Patch Festival in October the museum opens early at 9:30 am. Interurban train rides take place at 11 am, 12:30 pm, 2 pm and 3:30pm; streetcar rides depart very 30 minutes in between interurban rides.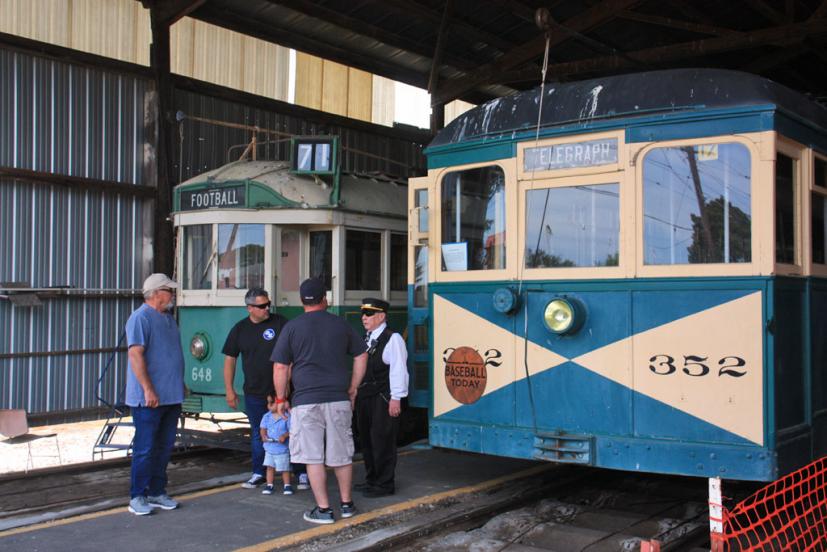 Admission is $10 for adults, $9 seniors 65+, and $7 for children 2–14; children under 2 are free. On regular days, admission includes unlimited train and streetcar rides.
The Scenic Limited wildflower train often sells out early, and rides are limited to your time slot. General admission gets you access to a standard passenger car, and you can get first-class tickets (17 adults, $16 seniors, $14 kids, and $7 members) which include a seat in the elegant parlor car and lemonde and cookies served during your ride.
The museum has a large shaded picnic area, so feel free to bring your lunch and spend the day. Food is also available at the museum's cafe.
For more info, visit www.wrm.org.
Sign up for tips & news for Marin families!