Back to top
Jelly Belly Factory Tour is a Sweet Treat
Who doesn't like Jelly Belly jelly beans? You probably knew that they come in practically every flavor imaginable, but did you know that they're made just up the road in the Solano County town of Fairfield? Did you know you can tour their factory for free? The Jelly Belly factory offers a fun, tasty, and informative tour daily that's a perfect outing for families and groups.
The Jelly Belly Visitor Center is open every day (except for New Year's Day, Easter, Thanksgiving, and Christmas) from 9 am to 5 pm, and self-guided tours of the facility operate daily from 9 am to 4 pm. No reservations are required—just show up at the factory at 1 Jelly Belly Lane in Fairfield.
The visitor center's new self-guided really cut down on the wait times for the previous guided tours, which could get really lengthy during weekends and school vacations.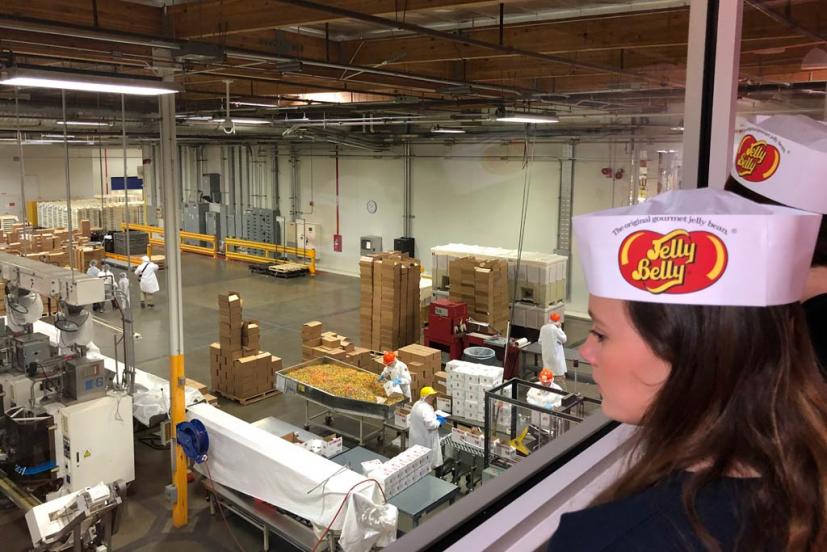 When it's your time to go, you'll be handed a paper Jelly Belly cap (the wearing of which is mandatory, unless you brought your own cap or hair net) and your will move upstairs to start the tour. On the tour you'll see just about every part of the plant, including the candy kitchen, the packing and shipping areas, and the place where they coat and polish the jelly beans as a final step in their manufacture.
My kids were amazed by all the giant bags of sugar stacked on the factory floor ("You mean they use all of that?!") as well as by the robots at work sorting and packing candy on the factory floor.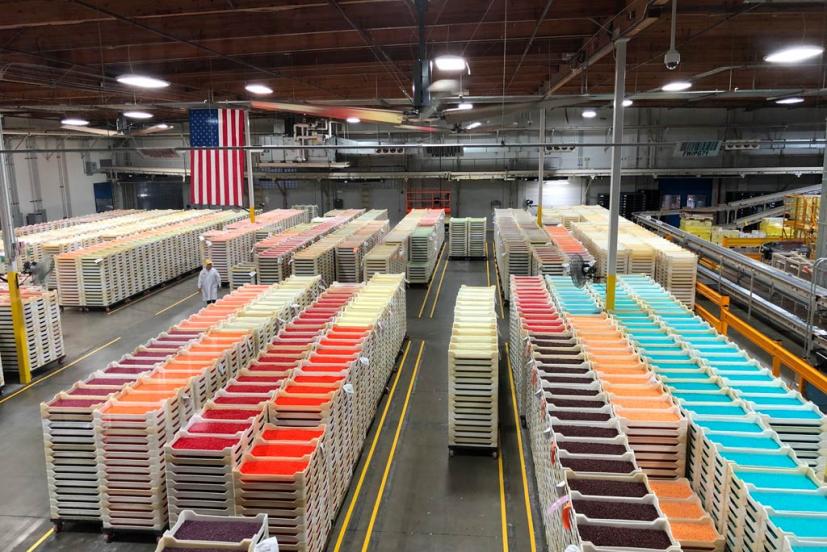 Along the tour route you'll find large video monitors that explain what you're seeing as jelly beans are being made. There are also a few interactive stations and games along the way that allow you to do things like sort jelly beans.
You'll also see some pretty amazing art made entirely from Jelly Belly jelly beans, including numerous portraits of Ronald Reagan (a noted Jelly Belly devotee), John Wayne, Abraham Lincoln, Amelia Earhart, Martin Luther King Jr., and other notables.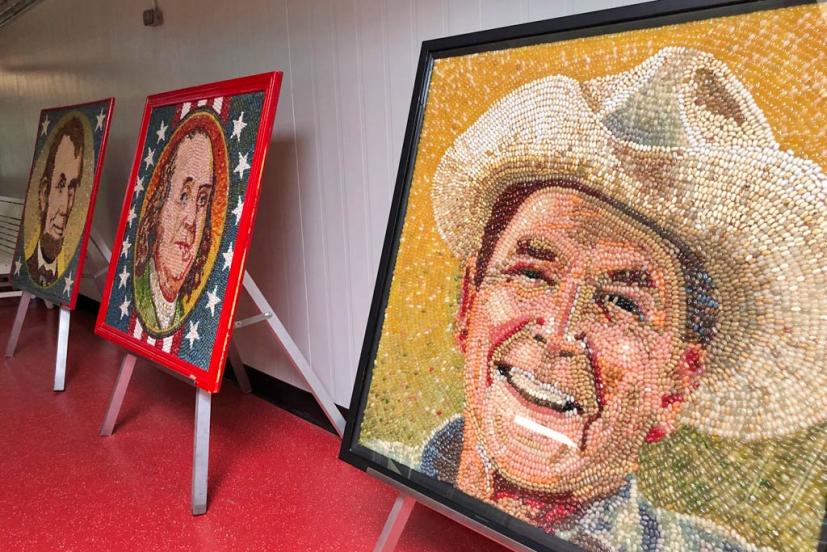 Note that on holidays and weekends the factory floor is quiet, as the workers have the day off. I highly recommend trying to visit during the week when the workers are on the floor and candy production is in full swing—it's much more interesting and exciting!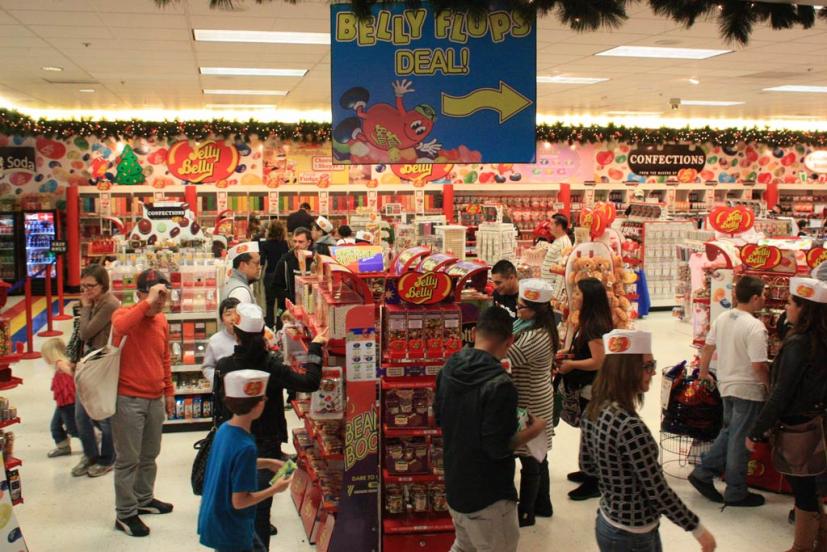 At the end of the tour everyone is given a free bag of jelly beans and a box of "BeanBoozled" game beans, which is a nice touch. There's also a sample bar on the premises where you can taste some of the most popular flavors of Jelly Belly. You can even—if you dare—sample the "BeanBoozled" flavors that look like popular Jelly Belly flavors but are in fact disgusting flavors like pencil shavings, barf, canned dog food, toothpaste, and worse. Needless to say, there's a sizeable gift shop selling just about every Jelly Belly product imaginable, as well as other candy creations made on site and various other souvenirs
If you're hungry, the factory has an on-site Jelly Belly Café, a cafeteria offering fare such as jelly bean-shaped burgers and pizzas, sandwiches, salads, and more. It's located at the rear of the visitor center. The food's nothing to write home about, but it's convenient and fast, and it's a life-saver when all of a sudden it's lunchtime and you've got cranky and hungry little kids in tow.
Jelly Belly's free tour is a must-do outing for anyone in the Bay Area. The staff is friendly and informative, the place is clean and inviting, and you get free candy. How can it get any better? Kids of course will be entranced by the whole experience. It's kind of like getting the golden ticket to Wonka's factory, only without all those naughty children to get in the way of the fun. (And no Oompa Loompas, either).
If You Go
To get there, take Highway 101 to Highway 37 east, then pick up Interstate 80 east in Vallejo. Follow I-80 to Fairfield, then take the Highway 12 exit. Follow Highway 12 for a short distance and take the Chadbourne Road exit. Turn right onto Chadbourne Road, then left onto Courage Drive, left again on North Watney Way, then left onto Jelly Belly Lane. The factory is located at 1 Jelly Belly Lane (you can't miss it).
The parking area for the Jelly Belly factory and visitor center is located at the end of the road. Right nearby is the Anheuser-Busch brewery, which offers tours of another kind, but maybe that's the subject for a different article… It's about a 45-minute drive from central Marin, and it's a handy stop on the way to or from the Sierra or the Sacramento area.
Tours are free. Photos and videos are permitted during the tour; no flash photography is allowed.
The Jelly Belly Factory is open daily from 9 am to 5 pm. It's closed New Year's Day, Easter Sunday, Thanksgiving Day, and Christmas Day. Tours run from opening until 4 pm. For more information on the Jelly Belly factory tour, visit www.jellybelly.com or call 1 (800) 9-JELLYBEAN.
Sign up for tips & news for Marin families!