Back to top
Take a Train Ride in Old Sacramento
If you want to take the kiddos for a ride on a real, full-sized steam train, head to Old Sacramento for the seasonal excursion train rides operated by the California State Railroad Museum. The 50-minute rides along the scenic Sacramento River are a fun adjunct to your visit to the museum or other sights in California's capital city. Experience the sights, sounds, and smells of a real train ride!
In 2023, rides take place beginning in March (they just started for the season this last week) and run through September, and are offered at 11:30 am, 1 pm, and 2:30 pm on Saturdays and Sundays and 11:30 am and 1 pm on Tuesdays and Thursdays. Starting in April, additional weekend departures take place at 10 am and 4 pm and first-class tickets will be available on Saturdays and Sundays. In May, the schedule changes to weekends at 10 am, 11:30 am, 1 pm, 2:30 pm, and 4 pm and Fridays at 11:30 am, 1 pm, and 2:30 pm.
Coach tickets allow you to ride in a 1930s passenger car or a circa-1917 open gondola along the old Sacramento Southern right-of-way, which used to be used to carry fruits and vegetables from farming communities into Sacramento. First-class tickets are for rides in elegant, an air-conditioned parlor cars, complete with refreshments. (This option is a popular one in the blistering Sacramento summer!)
Trains are drawn by the recently restored Granite Rock No. 10 steam engine or historic diesel locomotives from the museum's collection. Pick up or buy your tickets at the Central Pacific Passenger Depot in Old Sacramento (Tuesday and Thursday tickets are only available on-site) and then get on board at the adjacent freight depot at the indicated time. The conductor will even come by to punch your tickets! Volunteers are on hand to assist passengers with boarding and are on hand during the ride to answer any questions you may have.
Make sure you get a good view when the locomotive has to reverse direction and hitch up to the opposite end of the train. Also exciting is watching a dramatic "blow down" where the engineer uses steam pressure to evacuate impurities from the engine's boiler.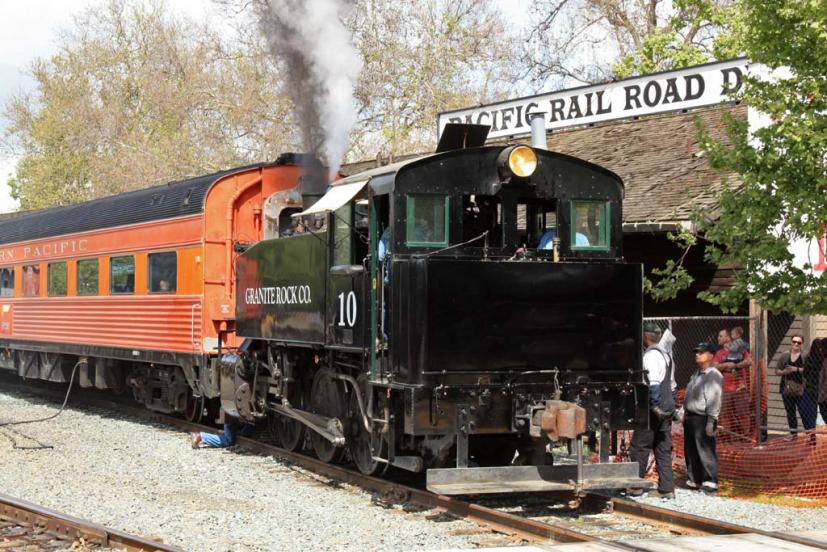 It's a fun outing for families, especially if you have train-crazy kids, and it's only about an hour or so away from Marin. It's also the closest place to the North Bay where you can go to ride on a real full-sized steam train. Pair it with a visit the the museum and you've got a perfect railroad-themed outing for all ages.
If You Go
The Central Pacific terminals are located between Front and "K" Streets in Old Sacramento. Excursion train coach tickets cost $15 for adults, $8 for youths 6 to 17, and are free for kids ages 5 and under and museum members. First-class tickets are $25 for adults, $18 for youth, and free for kids 5 and under. First-class tickets for California State Railroad Museum members are $12 for adults and $9 for youths. They take cash, checks, and credit cards. Tickets may be ordered online in advance, and are available on a first-come, first-served basis the day of.
If you plan on visiting the California State Railroad Museum, too, consider purchasing a membership. For $110, their Conductor family membership offers free admission for two adults and their children or grandchildren plus two additional guests, free excursion train rides, a museum store discount, special members-only events, advance notice for popular special events like the Polar Express train, and more. You also get free admission and train rides at the museum's sister institution, Railtown 1897 State Historic Park in the Gold Country town of Jamestown. You can buy a membership at the museum, at the will call counter at the train depot, or online.
To get to Old Sacramento, take US 101 to Highway 37 in Novato. Head east on Highway 37 through Vallejo, where you'll pickup I-80 east. Follow I-80 east toward Sacramento. Continue onto Highway 50 toward downtown Sacramento, then take the I-5 north exit. Exit at "J" Street, go two blocks to Fifth Street, then turn left and left again at "I" Street and follow the signs to "Old Sacramento/Railroad Museum."
Convenient Parking can be found at the Old Sacramento Garage at 2nd and "I" Streets adjacent to the museum, or at the Tower Bridge Garage at Front Street and Capitol Mall. Avoid parking in Old Sacramento itself, as the metered street parking is hard to come by and is only good for 90 minutes or so.
Sign up for tips & news for Marin families!