Back to top
'Tis the Season for Science at the California Academy of Sciences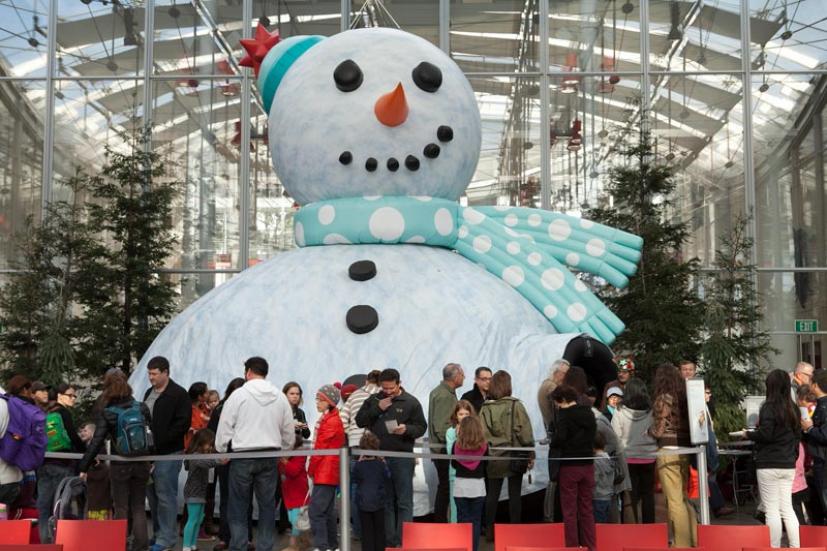 This winter season, take in some holiday cheer at San Francisco's California Academy of Sciences in Golden Gate Park. Through Sunday, January 6, 2019 you can take in not only classic Cal Academy sights like the giant T-Rex skeleton, aquarium, planetarium, rain forest, and African hall, but special winter-themed programming and attractions as well as part of its annual "'Tis the Season for Science" lineup.
Step into the museum's East Garden and hit the ice on their holiday ice rink, which offers 55-minute skating sessions for visitors this winter. Skating costs $10–$15 per person and includes skate rental.
While you're there, you'll also enjoy indoor snow flurries, live musical performances, a special holiday movies in the inflatable Snowman Theater, and more. You can also learn how arctic and antarctic animals survive in their snowy ecosystems.
Wander around on the main floor and you can also meet the real Claude and other denizens of swamp (including snapping turtles and catfish), see an 87-foot blue whale skeleton suspended from the ceiling, check out sharks and rays swimming in the shallow lagoon, and visit the rainforests of the world in a 90-foot diameter dome, play in the Early Explorers Cove toddler area, and watch the penguins being fed (daily at 10:30 am and 3:30 pm) at the end of the African Hall.
There's also the Morrison Planetarium featuring shows every 45 minutes to an hour. The show is suitable for children ages 7 and up (children under 3 not permitted), and tickets are distributed on a first-come, first-served basis. And don't miss the Earthquake exhibit with the Shake House that allows you to safely experience the tremors of the Loma Prieta and 1906 San Francisco earthquakes.
Downstairs, take in the famous Steinhart Aquarium, with its collection of aquatic creatures from across the globe. Exhibits include alligator gars, the Amazon basin, a 212,000-gallon Phillipine coral reef, the Northern California Coast, and more. Don't miss the hands-on discovery tidepool, where you can make friends with starfish, hermit crabs, and other residents of California's coast.
Save some time to ride the elevator to the observation deck on the building's Living Roof planted with native Calfornia species, too
If You Go
The Cal Academy is open Monday through Saturday from 9:30 am to 5 pm and Sunday from 11 am to 5 pm. They're offering extended hours to 6 pm from December 26 through January 1.
Tickets are $39.95 for adults; $34.95 for seniors 65+, students, and youth 12–17; $29.95 for children ages 4–11; and free for children 3 and under. You can buy your tickets online in advance. You can also check out a family pass, good for one adult and one youth, from the Marin County Free Library.
To get there, take 101 south across the Golden Gate Bridge, then take the 19th Avenue exit onto Park Presidio Boulevard. Follow Park Presidio to Cabrillo Street. Turn right on Cabrillo, right again on 14th Avenue, and then right again on Balboa Street and cross Park Presidio. (No left turns are allowed on Park Presidio. Turn right on 10th Avenue into the Music Concourse Parking Garage or right on 8th Avenue to drive into Golden Gate Park.
Parking, especially on weekends (John F. Kennedy Drive is closed to vehicular traffic every Sunday), can be a challenge. Street parking on John F. Kennedy and Martin Luther King, Jr. Drives is limited to 3 or 4 hours (make sure you check the signs). Golden Gate Park's Music Concourse garage is a good option, but it can fill up early on busy weekends. Alternate parking sites and more information can be found on the Academy's website.
For more information, visit www.calacademy.org or call (415) 379-8000.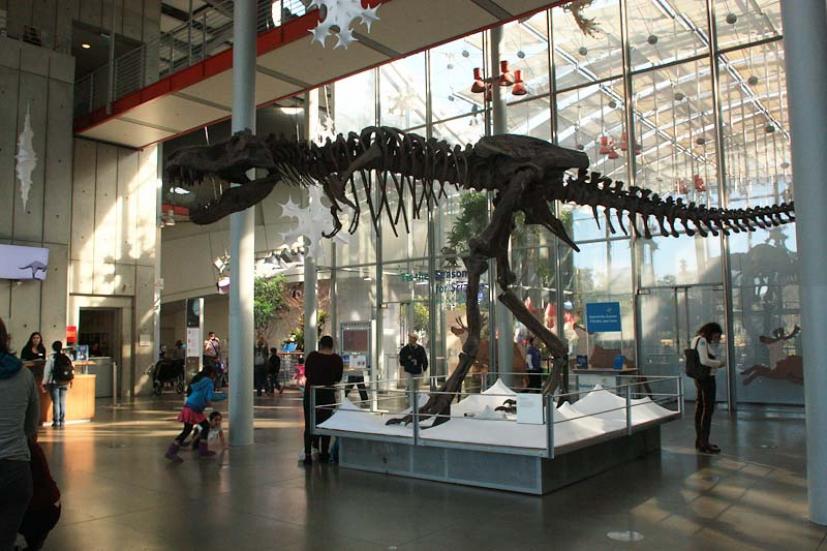 Photos: California Academy of Sciences
Sign up for tips & news for Marin families!