Back to top
'Tis the Season for Science at the California Academy of Sciences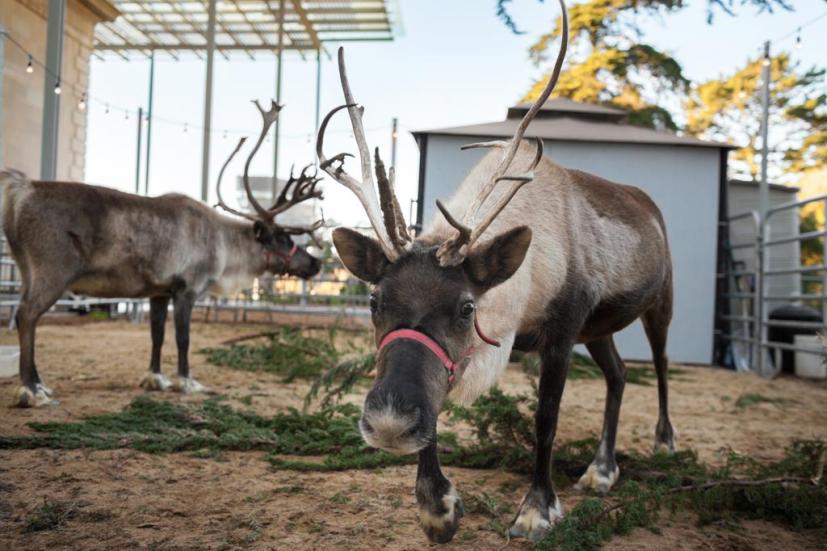 Make way for reindeer! Starting Friday, November 20, revel in the wintery atmosphere of 'Tis the Season for Science, an annual holiday tradition at the California Academy of Sciences in the heart of Golden Gate Park. Venture to the Academy's East Garden to meet two hoofed holiday visitors, Cookie and Peppermint, and learn how this antlered duo is uniquely equipped to migrate vast distances. Reindeer have remarkable adaptations—from hollow hairs for warmth to feet that act like snowshoes—that allow them to thrive in frigid environments.
While outside, delight in festive decorations and imagine you're in the Arctic as artificial snow falls overhead. For extra holiday cheer, enjoy cookies and hot cocoa available for purchase from the Academy Café or Terrace Restaurant. Join the Academy in this winter wonderland to celebrate the sights, sounds, and science of the season!. Highlights include:
A pair of live reindeer will take up residence in the museum's East Garden through January 3, 2021.
Outdoor snow flurries will fall twice an hour accompanied by holiday music.
Inspired by the northern lights, festive lighting will cast a warm, magical glow over the East Garden when the sun sets.
Hot cocoa and cookies will be available for purchase in the Academy's Café or Terrace Restaurant.
For fresh views of otherworldly landscapes, visit BigPicture in the Piazza, a spectacular showcase of 49 winning images from the Academy's annual nature, wildlife, and conservation photography competition.
To escape the winter chill, reserve your time (once you've arrived at the Academy) for a walk through the tropical Osher Rainforest, or tour the Steinhart Aquarium for a visit to the new Venom exhibit or the iconic Philippine Coral Reef.
Can't visit in person this winter? Connect through Academy @ Home and stay curious—all for free, all the time.
If You Go
The Cal Academy is open Monday through Saturday from 9:30 am to 5 pm and Sunday from 11 am to 5 pm. The Academy is open 365 days a year. Holiday hours are 10 am – 3 pm on November 26 (Thanksgiving Day) and 11 am – 5 pm on December 25 (Christmas Day). Ticket prices vary depending on day and projected attendance. Timed-entry tickets must be reserved in advance. Masks must be worn by all guests ages 3+, physical distancing is required at all times, and some exhibits, including the planetarium, are temporarily closed.
To get there, take 101 south across the Golden Gate Bridge, then take the 19th Avenue exit onto Park Presidio Boulevard. Follow Park Presidio to Cabrillo Street. Turn right on Cabrillo, right again on 14th Avenue, and then right again on Balboa Street and cross Park Presidio. (No left turns are allowed on Park Presidio. Turn right on 10th Avenue into the Music Concourse Parking Garage or right on 8th Avenue to drive into Golden Gate Park.
Parking, especially on weekends (John F. Kennedy Drive is closed to vehicular traffic every Sunday), can be a challenge. Street parking on John F. Kennedy and Martin Luther King, Jr. Drives is limited to 3 or 4 hours (make sure you check the signs). Golden Gate Park's Music Concourse garage is a good option, but it can fill up early on busy weekends. Alternate parking sites and more information can be found on the Academy's website.
For more information, visit www.calacademy.org or call (415) 379-8000.
Photo: California Academy of Sciences
Sign up for tips & news for Marin families!