Back to top
U-Cut Christmas Tree Farms in Petaluma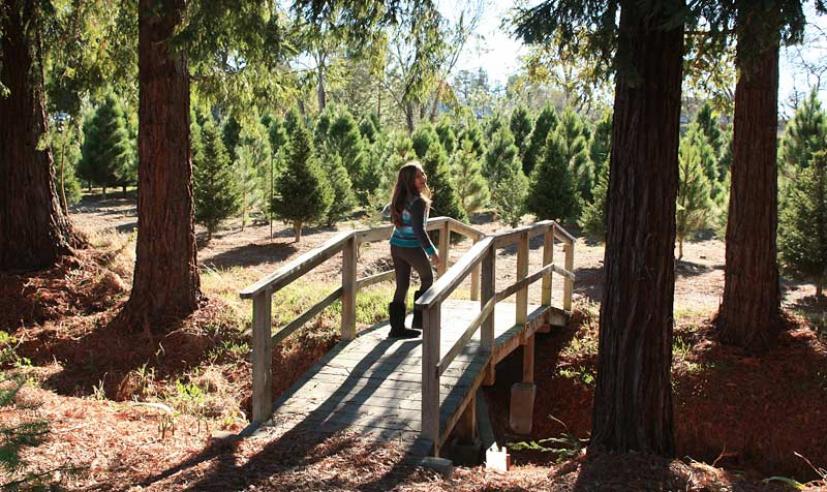 If you want to have the experience of choosing and cutting down your own Christmas tree, you're going to have to pack up the family truckster and head north on Highway 101 to visit our neighbors in Sonoma County. There, you'll find a selection of Christmas tree farms mostly concentrated in the rural areas of western Petaluma and Sebastopol.
We made our traditional weekend-after-Thanksgiving trip to the three Christmas tree farms located in Petaluma — Little Hills Christmas Tree Farm, Larsen's Christmas Tree Farm, and Pronzini Farms — to see what they had to offer this season. There's nothing that gets you in the holiday spirit more than visiting a tree farm. Did I mention that they're great places for holiday photo ops, too? You can also check out our rundown on the tree farms further north in Sebastopol.
Due to the ongoing COVID situation, some attractions and amenities may not be available again this year, although things are definitely more "normal" than they were in 2020.
Little Hills Christmas Tree Farm
Every holiday season we make a point of visiting Little Hills Christmas Tree Farm in Petaluma. One of the most picturesque tree farms in the area, Little Hills Christmas Tree Farm is fairly close to downtown Petaluma on Chapman Lane, off Western Avenue on the northwest side of town. As is to be expected on the day after Thanksgiving, Little Hills was busy and bustling. Parking is in a lot at the entrance to the farm and along the street. It offers a wide selection of mostly Monterey pines, with some cypresses and redwoods as well. Like most local tree farms, Little Hills also offers pre-cut Noble, Turkish, and Douglas firs.
There's also an animal corral with a number of farm animals you can visit, including some donkeys, llamas, alpacas, turkeys, and a pair of Old Spot pigs. This year, due to COVID, they do not have a snack bar or flocked trees, but the gift shop is back in business. Santa will not be available this year, too, but he should be back in 2022.
Little Hills Christmas Tree Farm is located at 961 Chapman Lane in Petaluma, and is open Tuesday–Friday from 10 am–5 pm and Saturday–Sunday from 9 am–5 pm. 
For more information call (707) 763-4678 or visit www.littlehillschristmastree.com. You can download and print a coupon for $3 off any tree from their website.
Larsen's Christmas Tree Farm
Larsen's Christmas Tree Farm is very close to downtown Petaluma, at 391 Marshall Avenue, between Skillman Lane and Magnolia Avenue. It's usually quite busy and bustling. Larsen's is a pretty big place, and everyone there seemed to be having a really good time. This family-run Christmas tree farm has been in business for over 50 years, so it's really a local institution!
Larsen's has an extensive selection of trees, and a charming spot with little bridges crossing a (currently dry) stream running through the property. The sales room offers Christmas tree stands and accessories, wreaths and garlands, free coffee and candy canes, and a bake sale that supports local youth groups. Larsen's also has a small gift shop offering ornaments and other holiday decor items.
Most of the cut-it-yourself trees at Larsen's were Monterey pines. They did have a few Leland cypress, redwoods, and Scotch pines growing, too, as well as a pretty large selection of pre-cut Noble, Turkish, and Douglas firs. As usual, we were really impressed by the selection and quality of u-cut trees at Larsen's this year.
Tree-shaking, netting, and drilling services were available. Larsen's Christmas Tree Farm is open on Friday, Saturday, and Sunday from 9 am to 5 pm. More information: (707) 762-6317 or their Facebook page.
Pronzini Ranch U-Cut Christmas Trees
On the other side of town you'll find Pronzini Ranch U-Cut Christmas Trees. If the name sounds familar, it's because it's run by the same family that operates the popular Christmas tree lots in San Rafael, Greenbrae, and elsewhere in the North Bay.
Located on the site of their popular Halloween pumpkin patch, Pronzini Farms offers u-cut Monterey pines and the same pre-cut trees, like noble and Douglas firs, that they offer in their tree lots. They also offer wreaths and garlands.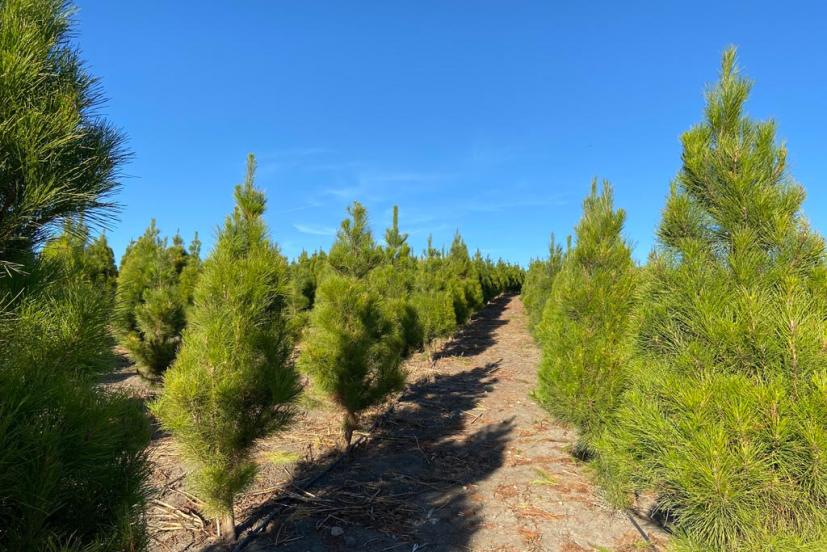 Their u-cut Monterey pines are really beatifully shaped and trimmed and look amazing, so if this is your preferred kind of Christmas tree you should definitely check it out!
Pronzini Ranch is located in East Petaluma at 3795 Adobe Road. They're open daily from 10 am–6 pm through December 24. More information: www.pronzinifarms.com or (707) 778-3871.
If You Go
To get to Little Hills Christmas Tree Farm 1, head north on Highway 101 and take the Washington Street exit into Petaluma. Head west over the freeway and follow Washington to Petaluma Boulevard. Turn left on Petaluma Boulevard and then right on Western Avenue. Follow Western Avenue to Chapman Lane, where you'll turn right. Chapman kind of sneaks up on you, so keep an eye out for the Little Hills signs. Follow Chapman to Little Hills which will be on your left.
To get to Larsen's, take 101 to the Penngrove exit. Head west over the freeway onto Petaluma Boulevard North, and follow it to Skillman Lane. Turn right on Skillman. To get to Larsen's Christmas Tree Farm, head west on Skillman, then turn left on Marshall Avenue. Follow Marshall south; Larsen's will be on your right. There are plenty of signs directing you to Larsen's from the moment you hit Petaluma Boulevard, so it's pretty easy to find.
To get to Pronzini Farms, take 101 to the 116 East exit and turn left onto Lakeville Highway. Follow Lakeville until you get to Frates Road, and turn left. Follow Frates until it becomes Old Adobe Road. Follow Old Adobe Road east; Pronzini Farms will be on your immediate left.
Sign up for tips & news for Marin families!