Back to top
U-Cut Christmas Tree Farms in Sebastopol
Take a train ride through the trees at Reindeer Ridge Christmas Tree Farm in Sebastopol.
It's time to think about getting that must-have of the holiday season—the Christmas tree. There are those practical people who merely unpack the artificial tree from its storage boxes, and assemble it in the living room, pre-wired, perfectly shaped and sized, and flame-resistant. Then there are those of us who have to have the real deal, despite any inconvenience.
For the hopeless holiday romantics among us, nothing beats the experience of going to a honest-to-goodness genuine Christmas tree farm, getting our hands dirty, and cutting a tree down ourselves. Of course it's a great family photo op and it's usually a lot of fun, too. Those annual trips to the Christmas tree farm remain some of my fondest childhood memories, and now it's a tradition with my own family
There aren't any Christmas tree farms in Marin County anymore, so to get the real Christmas tree farm experience you have to head north to rural Sonoma County. Most tree farms are clustered around Sebastopol and Petaluma.
As we do every year, we recently visited several Christmas tree farms located in the rolling hills southwest of Sebastopol: Garlock Christmas Tree Farm, Reindeer Ridge Christmas Tree Farm, Frosty Mountain Tree Farm, and Grandma Buddy's Christmas Trees. Christmas tree farming is definitely a family business — many of the farms are operated by branches of the same family.
Unless otherwise indicated, all farms accept cash, checks, and credit cards. Note that due to the ongoing COVID situation some amenities and attractions may be scaled back or on hold this year.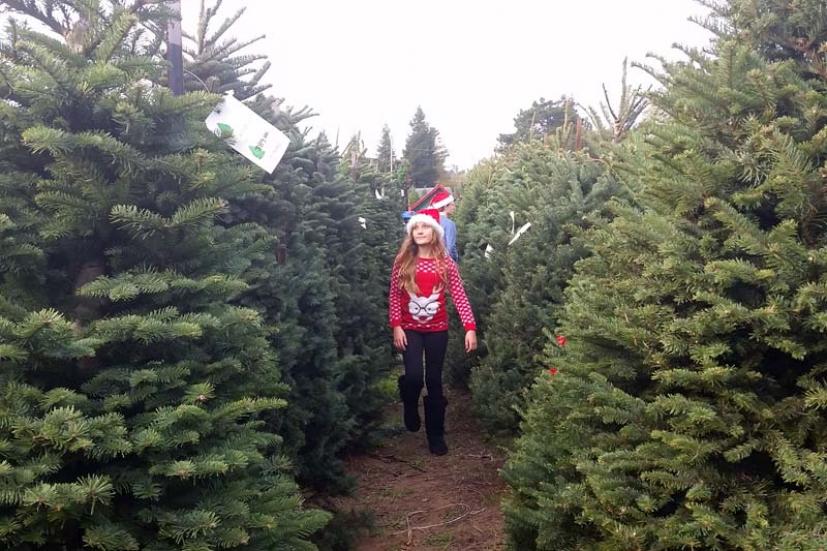 Garlock Christmas Tree Farm
Garlock Christmas tree farm is located at 2275 Bloomfield Road on ten acres of conifer-covered countryside, where they've been growing and selling Christmas trees for over half a century. They offer an assortment of tree varieties, including Douglas fir, white fir, Monterey pine, Scotch pine, sequoias, and pre-cut noble firs. Saws and carts are available, and for an nominal extra fee they'll shake your tree free of loose needles and any creepy-crawlies that may have taken up residence in it, bundle it for easier transport, and even install a stand. We often get our Christmas trees at Garlock's.
Like many area tree farms, they offer complimentary coffee and candy canes as well as free tractor-drawn wagon rides (weather permitting) around the farm. This year, they've expanded their gift shop into a larger space in their old tree shed, and it offers an larger selection of ornaments, decor items, Christmas tree accessories, and freshly made wreaths and garlands. At the snack food like popcorn, apple fritters, breakfast burritos, hot dogs, cookies, hot chocolate, and hot apple cider are available, as well as free coffee. There's a picnic area on the grounds, too, in case you'd like to bring your lunch and dine al fresco.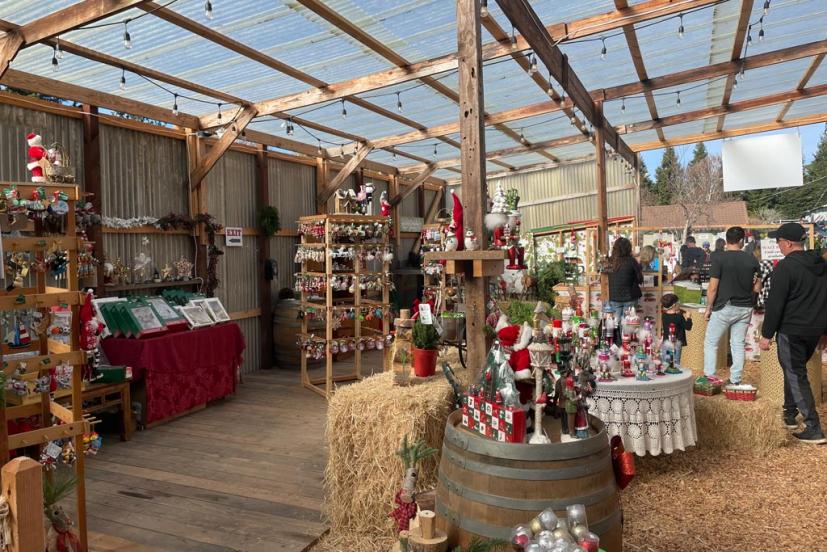 The service at this family-run farm is friendly and we found ourselves chatting with several generations of the family. If all that isn't enough, there's also a petting zoo and farm animals to visit. We also chatted with Santa himself, who makes an appearance on weekends in his space outside the gift shop, where kids can also write and mail letters to the big guy.
This year Garlock Tree Farm is open Tuesdays–Fridays from noon to 5 pm and Saturdays and Sundays from 9 am to 5 pm through Sunday, December 12. For more information, visit their website at garlocktreefarm.com or call (707) 823-4307. There's a printable coupon on the website for $3 off any pre-cut noble fir.
Reindeer Ridge Christmas Tree Farm
More or less around the corner from Garlock Tree Farm, at 3500 Mariola Road, you'll find Reindeer Ridge Christmas Tree Farm. Offering pretty much the same tree selection and services as the Garlock's, Reindeer Ridge has tractor-drawn hay rides, kiddie train rides, and a gift shop and snack bar in a large shed with a cozy wood-burning stove. Santa Claus was on hand to hand out candy canes and chat about Christmas lists with the kids.
The gift shop offered a wide variety of ornaments, crafts, wreaths, garlands, misteltoe, and Christmas decorations. The snack bar served up popcorn, hot cider, coffee, and baked goods, as well as hot dogs and bratwurst from the BBQ grill outside. You can also play foosball if you want.
Outdoor attractions include hay rides drawn by a vintage tractor, farm animals to visit, and a picnic area with an adjacent kids' playground with swing sets and a zip line. The views from Reindeer Ridge are pretty spectacular, too!
Reindeer Ridge Farm is open weekdays from 11 am to 5:30 pm and weekends 9 am to 5:30 pm; closed Wednesdays. Call (707) 829-1569 for information or visit www.reindeerridge.com.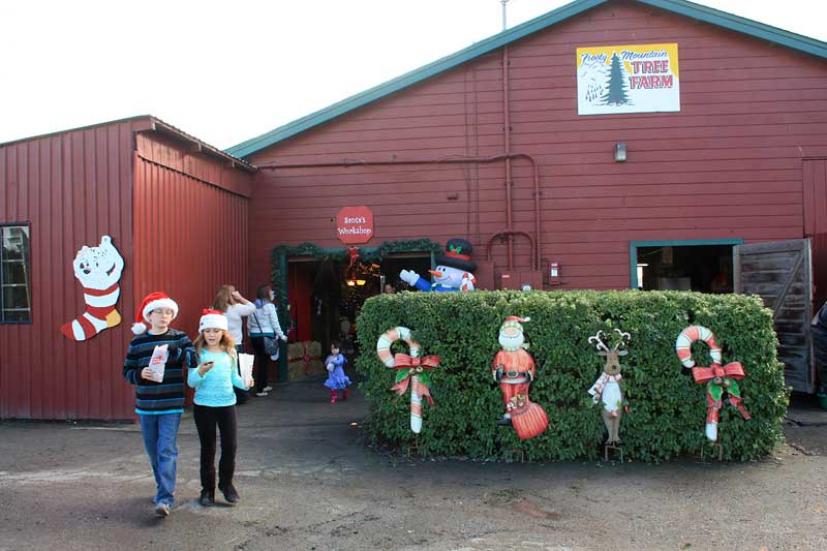 Frosty Mountain Tree Farm
Frosty Mountain Tree Farm, at 3600 Mariola Road, is directly adjacent to Reindeer Ridge Farm. It's literally just on the other side of the fence, and people were walking down the road from one farm to the other during our visit.
Frosty Mountain, like the other two farms we visited, offers a variety of trees including cut-your-own Douglas firs, Monterey pines, sequoia redwoods, and pre-cut noble firs from Oregon. They'll also shake your tree, bundle it with netting, and drill a hole for stand-mounting for free. Stands are sold on-site, too.
Free tractor-drawn hayrides are offered, and there are farm animals for children to visit, and a picnic area. In the big red barn, a former apple-packing shed, there's Santa's Workshop, a large gift shop selling ornaments, wreaths, garlands, and other holiday stuff, as well as Mrs. Claus's Kitchen, offering hot cider, popcorn, apple fritters, hot dogs, cookies, and other treats. Mrs. Claus often puts in an appearance but will not be there this year due to COVID.
Frosty Mountain Tree Farm is open weekdays from noon to 5 pm, and Saturday and Sunday from 9 am to 5 pm. Information: www.frostymountaintreefarm.com or (707) 829-2351. (Make sure you print the $3 off coupon from their website.)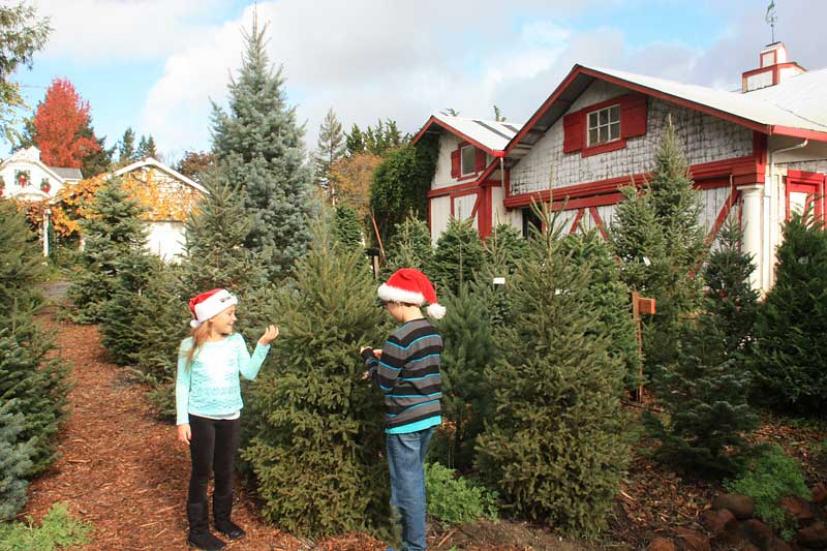 Grandma Buddy's Christmas Trees
Grandma Buddy's Christmas Trees is the northernmost Christmas tree farm in Sebastopol. They offer mostly choose-and-cut Douglas firs as well as a variety of pre-cut trees. While not as large as the tree farms to the south, the location at Buddy's is magical—there's a stream that meanders through the property, with numerous little bridges crossing it, an old whitewashed barn and a Victorian farmhouse. You truly feel like you're in an old-fashioned Christmas wonderland!
In the barn, you'll find a variety of different handcrafted wreaths, door swags, garlands, and other Christmas decor, as well as complimentary hot chocolate and candy canes and a glowing wood stove. There's also a neat Christmas Village model railroad layout that the kids loved to watch.
Grandma Buddy's Christmas Trees is located at 8575 Graton Road, just after you turn off from Highway 116. They're open daily through December 23 from 9 am to 5:30 pm. Information: www.grandmastrees.com or (707) 823-4547.
If You Go
From Marin, take 101 North to the Gravenstein Highway (116) exit and head west towards Sebastopol. To get to the farms in southern Sebastopol, turn left onto Bloomfield Road and follow it to where it intersects with Kennedy Road. To reach Reindeer Ridge and Frosty Mountain, head onto Kennedy Road and turn left onto Mariola Road. To get to Garlock Tree Farm, continue south on Bloomfield Road.
To reach Grandma Buddy's tree farm continue north on Highway 116 through downtown Sebastopol and follow it out of town.
Sign up for tips & news for Marin families!