Back to top
Wander Woods Opens at the California Academy of Sciences
The California Academy of Sciences' new outdoor playspace, Wander Woods, is now open! Situated beneath beautiful old-growth cypress trees overlooking Golden Gate Park, Wander Woods offers a variety of multi-sensory discovery and learning opportunities through areas dedicated to crawling, climbing, and other imaginative play activities.
Winding pathways take visitors on an exploration of the garden, revealing a hands-on area where you can build their own den from natural materials, a space for nature-driven creativity and honing fine motor skills, a log tunnel to crawl through, and a hillside nest and perch that provides an unexpected new view of the entire garden.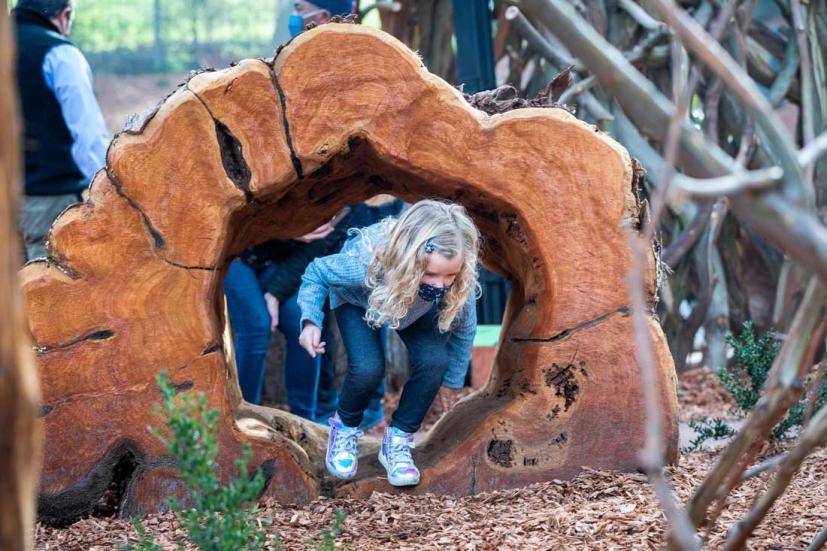 To create this new space, the Cal Academy partnered with renowned nature-based playspace designers and builders Bienenstock Natural Playgrounds. Constructed from locally-sourced materials like salvaged tree trunks, Wander Woods features a variety of stroller- and wheelchair-accessible playspaces that provide visitors an immersive way to explore the natural world.
From observing a bug crawl to balancing on a log, Wander Woods promotes inquiry-based activities that nurture collaboration and complex reasoning. Although Wander Woods is ideal for children up to 12 years of age, guests of all ages can reflect, recharge, and reawaken their connection to nature in the Academy's newest outdoor space.
In addition to self-directed outdoor play that stretches the body and opens the mind to creative thinking and problem-solving, Wander Woods will feature pop-up facilitated nature play activities and seasonal public programs.
If You Go
The Cal Academy is open Monday through Saturday from 9:30 am to 5 pm and Sunday from 11 am to 5 pm. The Academy is open 365 days a year. Ticket prices vary depending on day and projected attendance. Timed-entry tickets must be reserved in advance. All visitors ages 12+ must provide proof of full vaccination or a negative COVID-19 test taken within 72 hours of a scheduled visit in order to enter the museum. Guests ages 18+ must also provide photo ID.
To get there, take 101 south across the Golden Gate Bridge, then take the 19th Avenue exit onto Park Presidio Boulevard. Follow Park Presidio to Cabrillo Street. Turn right on Cabrillo, right again on 14th Avenue, and then right again on Balboa Street and cross Park Presidio. (No left turns are allowed on Park Presidio. Turn right on 10th Avenue into the Music Concourse Parking Garage or right on 8th Avenue to drive into Golden Gate Park.
Parking, especially on weekends (parts of John F. Kennedy Drive are closed to vehicular), can be a challenge. Street parking on John F. Kennedy and Martin Luther King, Jr. Drives is limited to 3 or 4 hours (make sure you check the signs). Golden Gate Park's Music Concourse garage is a good option, but it can fill up early on busy weekends. Alternate parking sites and more information can be found on the Academy's website.
For more information, visit www.calacademy.org or call (415) 379-8000.
Sign up for tips & news for Marin families!