Back to top
Active Indoor Birthday Parties for Fall and Winter in Marin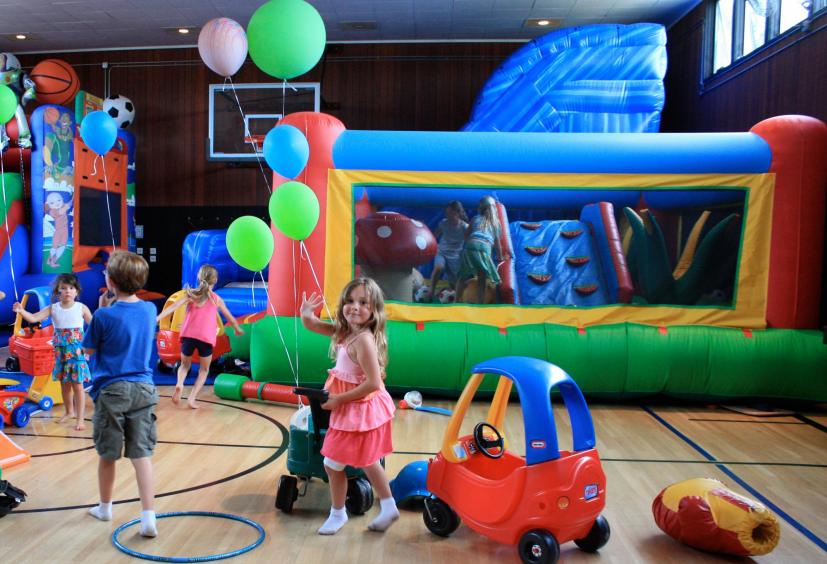 PlayLand Sausalito offers fun active birthday parties in the MLK Gym
After the wet weather starts up, planning a fall or winter birthday party can get a little challenging. Fortunately, there are plenty of venues throughout Marin that offer great options for active indoor birthday parties. From dancing and gymnastics to bounce-house fun, there's something for everyone. Here are some of Marin's most popular indoor active birthday party venues, plus a few futher afield that are worth the drive.
This indoor bounce house experience at the MLK Gym in Sausalito features bounce houses, a 40-by-20-foot sports arena, a 15-foot slide, and a toddler bounce zone. PlayLand offers birthday parties for up to 14 kids, complete with balloons and a private cake room. We've attended parties here and it's a blast! Other party options, including outdoor parties, are available, too. Find out more here.
The Mill Valley Community Center on Camino Alto is home to one of Marin County's only indoor pools. They offer Big Splash Pool Parties there for kids ages 7 and up, with swimming (including the slide) and use of the party room for two hours total. Mill Valley Recreation also offers a variety of different theme parties, including Amazing Magic, Belly Dancing, Karate Kickoff, and Sports Play. Call (415) 383-1370 for more info and availability. Find out more here.
Located in San Rafael, Marin's only bowling alley offers 40 lanes, automatic scoring, and plenty of bumper lanes for the little ones. On-site food is provided by Villa York Pizza and Grill, and they even have 24 beers on tap. In case that's enough, they have pool tables and an arcade, too. Several different birthday party packages are available; call (415) 456-4661 to book your lanes. Read more about bowling birthday parties.
Novato's Love2Dance is not only a great place for dance classes, but for active themed birthday parties as well! Themes for Love2Dance's two-hour parties include "Pretty Princess", "Hawaiian Hula", "Hollywood", and even "Disney's High School Musical", and include lots of dancing and games like the Hokey Pokey and musical chairs. Love2Dance provides all the decorations and suppiles, and you bring snacks, beverages, and the cake! Owner Tara brings tons of energy and enthusiasm to the party and is great with the kids. Find out more here.
San Rafael's GymWorld Gymnastics Center offers fun and active birthday parties for little gymnasts and their friends. Parties can be tailored to your child's needs and take place on Saturdays and Sundays. Birthday-themed tablecloths, napkins, plates, forks, and spoons provided—you bring the refreshments. Call (415) 482-8580 to reserve your party. Reservations must be made well in advance. Find out more here.
Kids can have a ball and burn off some energy at Cal-Star Gymnastics' active birthday parties. Parties at this popular Novato gymnastics studio can accommodate up to 30 children, and include time in the foam pit—with swinging ropes and a climbing wall—and trampoline, as well as free play time and a session on the mighty three-person spinning Hurricane Swing. After all that, there's time for cake. Cal-Star provides tables, chairs, and use of their refrigerator. Parties are for kids ages 1-1/2 and up (all activities are age-appropriate). Find out more here.
This Larkspur ballet school offers princess parties for ages 2 and up. Tutu School's Ballet Birthday Parties are the perfect way to help your little swan or Sugar Plum Fairy celebrate their special day! Each and every party includes a brief ballet class, a special birthday story featuring the guest of honor, a delicious cupcake picnic, and delightful party favors.
Birthday parties at the Cave in Corte Madera last 90 minutes and include gymnastics, parkour, or a combination of both. Parties are for ages 4 and up and consist of warm-ups, skill work, structured free play, and a celebration with cake/food. A kitchen is available for use, too. Find out more here.
San Anselmo's Dojo offers birthday parties with a dynamic combination of karate and games, for a fun, high-energy experience that's great for both young martial arts students and beginners. Dojo provides pizza and juice, and basic paper plates, napkins, and forks. Parties are for kids 3 and up. Find out more here.
Rebounderz indoor trampoline park in Rohnert Park has 74 eight-foot trampolines, an indoor playground, and six private party rooms that are perfect for kids' birthday parties and other celebrations. Each room has its own unique theme, including beach, pirate, fashion, sports, race car, and fairytale. Parties include an hour of jump time for everyone, exclusive use of a party room, a dedicated party host who handles setup, serving, and cleanup, pizzas, water, pre-loaded video game cards, plates, napkins, and utensils, and a T-shirt for the birthday child. Add-ons like ice cream, popcorn, soft drinks, and snacks are also available. Read about our visit to Rebounderz.
Santa Rosa's Snoopy's Home Ice offers ice skating party packages for up to 35 guests. Packages include exclusive access to the Peanuts party room, a customized ice cream cake from Cold Stone Creamery, bottomless pitchers of root beer and lemonade, pepperoni and cheese pizzas, and of course skating for everyone, as well as the assistance of a party host who will get everything ready for your party and clean up afterward. Call (707) 546-7147, ext. 503, Monday through Friday to reserve your party. Parties can take place during and after most public skating sessions; check their online party calendar for available times and dates. Read more about Snoopy's Home Ice.
Cal Skate roller rink in Rohnert Park is a popular place for birthday parties. Packages include skating, skate rentals, and 40 minutes in a party room, as well as other goodies like a special song request and a DJ announcement of the birthday child's name. Read more about Cal Skate.
Sign up for tips & news for Marin families!