Back to top
The Annual Festival of Fun Returns to San Anselmo This Weekend!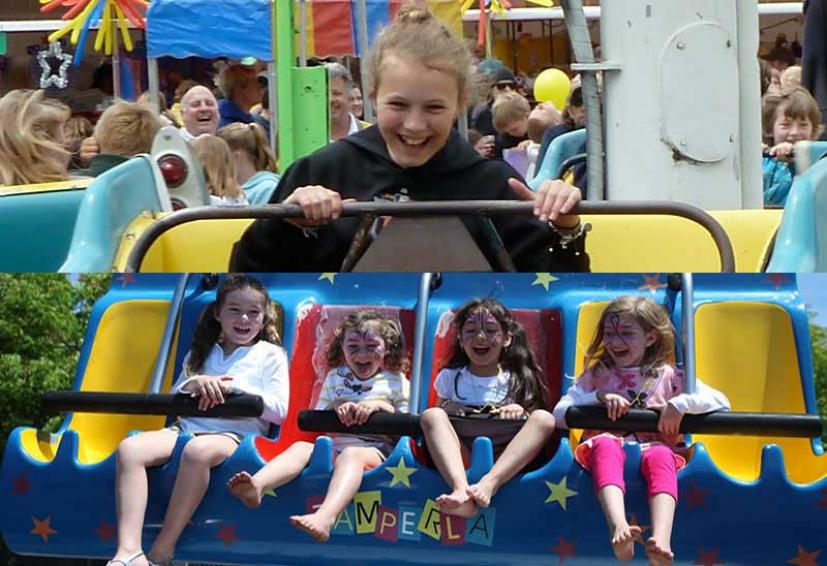 The annual Saint Anselm Festival of Fun returns on Saturday, May 20, from 10 am to 8 pm. This fun-filled day delights over 1,500 Marin and Ross Valley families with over 25 attractions, including vintage carnival rides, prize games (cake wheel, pick-a-pop, salami toss and more), jumpy houses and slides, the Panther Café, strolling entertainers, face painting, and more. Admission is free, and tickets are purchased for the rides and games.
The 2017 Festival of Fun includes new attractions like the 40-foot hexagonal Fiesta Balloon Ferris Wheel, with beautifully handcrafted gondola balloons, the popular and surprising inflatable Human Foosball. The menu at the Panther Café features new offerings including mac n' cheese, BBQ chicken sandwiches, Greek salad, curly fries, fine wines, and all-star local craft brews from the Lagunitas Brewing Company.
Enjoy strolling entertainers including Once-Upon-A-Song costumed fairytale characters (10:30 am to 1:30 pm); Seamore, the interactive, talking robot (11 am to 2 pm); the Bubble Buddy, who will make spectacular bubbles for the kids to chase, pop, and play in and provide tubs and wands for them to make their own (2 to 4 pm); and Buki the Clown, who will entertain with her balloon artistry starting at 4 pm and comedy and magic show at 5:30 pm.
Festival of Fun traditions return with the Giant Slide and Tea Cup rides, special Three Twins Ice Cream and Sugar Shack dessert stations, old-school prize games for all ages, and much more. Audience participation is encouraged at the old-fashioned pie eating contest starting at 3 pm.
For more information, call (415) 454-8867 or visit their website. Saint Anselm School is located at 40 Belle Avenue in San Anselmo.