Back to top
Berkeley's Claremont Hotel Is the Place for a Bay Area Family Getaway
Occasionally, we need to get away from it all, even if it's only for a long weekend and even if it's just a short distance from home, and Berkeley's iconic Claremont Hotel might very well be the perfect place for an easy family getaway. The Claremont, a historic landmark in the Berkeley Hills, feels far away from everything but it's less than an hour's drive from Marin or San Francisco.
This amazing 1915 architectural masterpiece is both elegant and laid back, and families will find plenty to do here including swimming, tennis, activities at the Kids' Club, and just relaxing and taking in the sweeping views of San Francisco, Marin, and the Bay. You can also enjoy some relaxing time in their amazing spa, which even includes free childcare. It's always a thrill to drive around a corner and see the shining white Claremont, which is reminiscent of grand palace or castle.

Photo: Claremont Club & Spa
The Claremont, known properly as the Claremont Club & Spa and now run by Fairmont Hotels & Resorts, occupies a hillside in a leafy, peaceful neighborhood that straddles the border between Berkeley and Oakland. I've always wanted to come here, as has my Cal alumn husband who frequently found himself passing by the hotel back in college but never had a chance to go inside. Needless to say, we jumped at the chance to take a short "staycation" overnight trip to the Claremont!
Upon arrival at the Claremont, you enter into the grand main lobby which, apart from artwork and decor, remains more or less unchanged from a century ago. Adjacent to the lobby is the lounge, which offers guests comfy seating with spectacular views of the Bay. The whole hotel has about 240 rooms spread out over nine floors, including a special suite in the Claremont's landmark tower that has access to the open area at the top of the tower itself. How much fun would it be to stay there?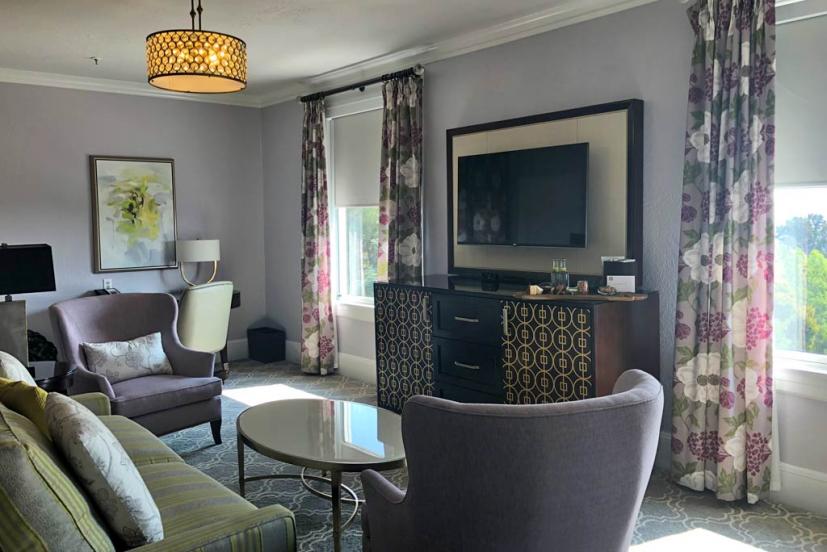 We stayed in two adjoining rooms, a single with sitting area for mom and dad and a spacious double for the kids. Rooms have big TVs equipped with Google Chromecast (remember your Netflix login!), Keurig coffeemakers with plenty of Peet's coffee, electric kettles, and the requisite mini-fridge as well as amenities like big plus white bathrobes and slippers. Did I mention that both rooms had incredible views (do you sense a theme here?).
Rooms also have free high-speed wi-fi and charging stations for your mobile devices and tablets. You can also check out board games and playing cards at the front desk to play in your room or in the lounge.
But there's more to do here than hang out in your room at the Claremont, of course. The resort is also home to the Club at the Claremont, a private club open to hotel guests and club members. The club features a 10,000 square-foot fitness center, a wide variety of daily fitness classes, tennis courts, and three fantastic swimming pools, including a kids' pool and a big whirlpool.
Even if you're not swimming it's a great place to hang out and relax on one of the many comfy chaise longues on the pool deck. Plenty of umbrellas provide shade and you can even grabe a bite to eat from the poolside Bay View Café, which offers snacks, drinks, and sandwiches with an emphasis on healthy fare. Other fun activities on the pool deck include games like table tennis and giant chess.
Nearby is the Kids' Club, the Claremont's children's activity center, which offers fun activities and events for kids of all ages, including daily childcare, camps, Friday night movies, and more. The Kids' Club features an outdoor play area and an indoor facility filled with games, arts and crafts supplies, and books.
Experienced and enthusiastic staff are on hand to ensure that everyone enjoys fun, educational, and age-appropriate activities. Best of all, all hotel guests get three hours of complimentary Kids' Club time, so you can drop the kiddos off while you enjoy a workout, spa treatment, or some "me time" at the resort.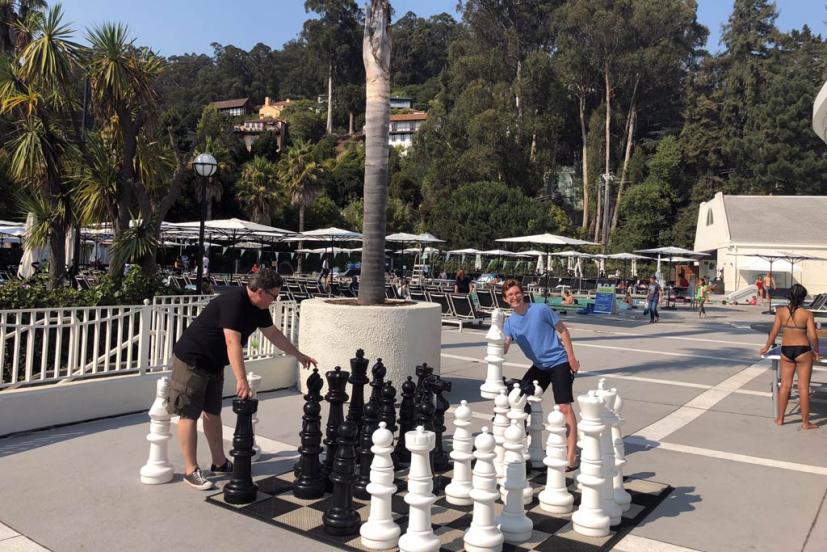 Right now they're in the middle of remodeling the Club, but everything is still open and available to guests. The new Club will open in early 2019 and from the looks of it will be fantastic.
While the kids are having a blast at the Kids' Club, you can escape to the Claremont's rejuvenating and relaxing spa. With 32 spa rooms, including two couple's suites, it's the perfect place to unwind and let your stress melt away. Choose from a wide range of spa treatments and massages, and enjoy spa amenities like a eucalyptus steam room, saline whirlpool, deluge shower, and complimentary juices and teas. It's a really beautiful and relaxing environment, and you feel calm and serene just entering the spa!
On our visit we dined at the Claremont's casual but classy Limewood restaurant, which has outstanding food, friendly and accommodating service, and, as you might guess, amazing Bay Area views. Everyone really enjoyed their meals at Limewood, which emphasizes fresh, locally-sourced ingredients. They offer a kids' menu with sophisticated takes on the usual children's menu fare, including burgers, chicken fingers, and grilled cheese sandwiches.
We had such a great time here that we didn't want to leave. There's something about the Claremont that just makes you feel at home. To learn more about the Claremont and book your own East Bay family getaway, visit www.fairmont.com/claremont-berkeley or call 1 (888) 560-4455.
If You Go
The Claremont Club & Spa is located at 41 Tunnel Road in Berkeley 94705. To get there from Marin, take 101 to 580 in San Rafael and cross the Richmond–San Rafael Bridge to the East Bay. Follow 580 onto Interstate 80, then take the Ashby Avenue exit and head east on Ashby Avenue. Follow Ashby, which will become Tunnel Road after you cross Domingo Avenue. Continue up Tunnel past the Berkeley Tennis Club; the Claremont entrance will be on your left.
The Claremont's close proximity to the UC Berkeley campus means there's a lot of Cal activity going on at the hotel. Our visit coincided with freshman move-in day and to celebrate the hotel's pastry chefs made a Cal golden bear sculpture out of chocolate that was on display in the lobby, along with plenty of blue and gold balloons. Many Cal alumni and fans stay at the Claremont on home football game weekends and walk from the hotel to Memorial Stadium, which is approximately a mile away. How fun would that be? You can even buy Cal gear, like T-shirts and sweatshirts, in the hotel's gift shop.
The Claremont is currently offering specials including a Stay & Savor Package that includes parking, a $25 daily resort credit and three hours of complimentary child care. The Claremont's Friday night kids' movie night, for ages 3 and up from 6 to 9 pm, costs $25 and includes dinner and popcorn.
The Spa offers a 50-minute Brightening Facial for $175, which will instantly brighten and refine your skin's texture using a powerful blend of illuminating botanicals and a unique cooling masque. All 50-minute spa treatments come with up to 3 hours of complimentary childcare, too.
 
Upcoming family-friendly events at the Claremont:
Thanksgiving
November 22, 2018
Traditional Thanksgiving Brunch – Includes bottomless Mimosas & Bloody Mary Bar
$169 adults, $139 non-alcoholic, $99 children
Holiday Tea
Saturdays, November 24–December 29, 2018
First day of Holiday Tea (November 24)  Includes a complimentary glass of Moët & Chandon champagne and a giveaway for children.
$109 adults, $69 children
Christmas Day "Whoville" Brunch
December 25, 2018
Includes bottomless Mimosas & Bloody Mary Bar. Children's buffet served inside a gingerbread house!
$169 adults, $139 non-alcoholic, $99 children
The Thanksgiving and Christmas Day brunches will feature children's entertainment like balloon artists and face painting!
Disclosure: The Claremont hosted us during our stay.
Sign up for tips & news for Marin families!