Back to top
Celebrate Slide Ranch's 50th Anniversary with a Virtual Benefit!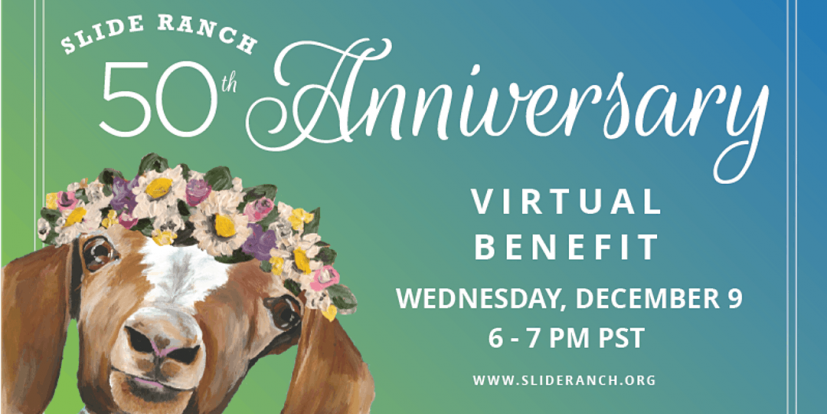 Slide Ranch is celebrating its 50th anniversary! This Marin institution has been a favorite destination for educational programs, camps, and fun family events for countless Bay Area families, all in a spectacular setting overlooking the Pacific Ocean.
You can help celebrate this milestone anniversary and help raise funds for Slide Ranch at its virtual 50th anniversary benefit event, which takes place Wednesday, December 9, 2020 from 6 to 7 pm.
This virtual event will celebrate three generations of students, educators, families, and community leaders who have experienced Slide Ranch's programs and contributed to its mission for the past 50 years, and present Slide's vision for its next 50 years. The event will feature many friends of Slide Ranch, including Bob Weir, who will share some of his memories of the early days of Slide Ranch with the Grateful Dead; Michael Franti; Jack Johnson; and oceanographer Juliette Finzi Hart.
Sponsorship packages start at $50 and include goodies like a special handmade goat milk soap gift and a 50th anniversary, limited edition, commemorative enamel pin. See all the sponsorship packages here. You can also attend for free or on a pay-what-you-can basis. Get your tickets online!
Sign up for tips & news for Marin families!