Back to top
Celebrate Your Child's Name with Name Stories Art Print!
What's in a name? Quite a lot, actually! Name Stories is a Marin County-based business that offers personalized art prints that celebrate our names. Each print features a detailed account of the name's etymology, meaning, history, and more. Name Stories art prints also feature descriptive words at the bottom which reflect the spirit and energy of your name's "destiny number" according to numerology.
When Name Stories offered to my daughter Lexie a print for review purposes, we were really excited. We took a look at examples, chose the colors and the framing options online, placed our order, and approximately two weeks later we received it on our doorstep. It really exceeded our expectations! It arrived in sturdy custom packaging to avoid damage in transit and it was beautifully framed with hanging hardware already installed.
It looks fantastic on her bedroom wall, and it's a keepsake that she can treasure forever. We loved reading through the Name Story together to learn all about her name origin, history, and meaning. Did you know that the name "Alexandra" was a rare name in the English-speaking world until the future King Edward VII married Alexandra of Denmark in 1863?
There over 4,000 names available, so Name Stories prints are perfect for holiday, birthday, baby shower, or new baby gifts. You have a huge variety of colors and framing options to choose from, so they'll look fantastic in any room in your home. They're made in the USA, too!
Use discount code MM10 for 10% off between now and October 15, 2021. Order your Name Story online at namestories.com.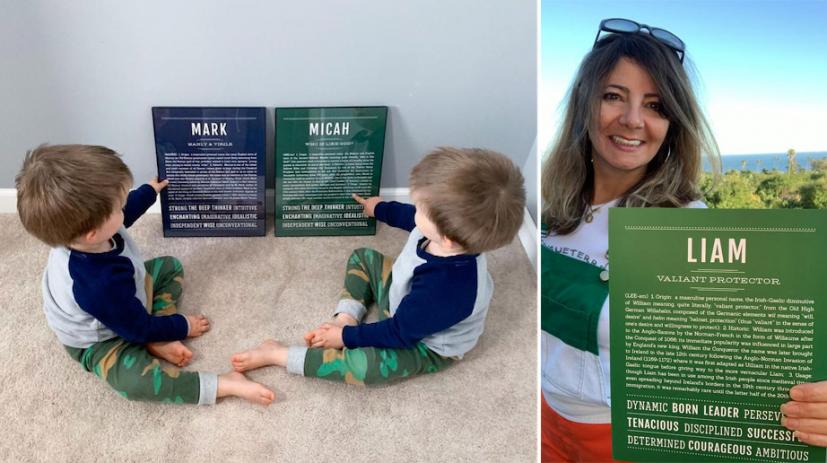 Name Stories was founded in Corte Madera in 2015 by San Francisco native and UC Berkeley graduate Julie Hackett, who's been fascinated with names since she was a child. She's a "name nerd extraordinaire" and strives to find the beauty and true meaning behind every name.
Sign up for tips & news for Marin families!