Back to top
Christmas in Marinwood: The Nisja Bear House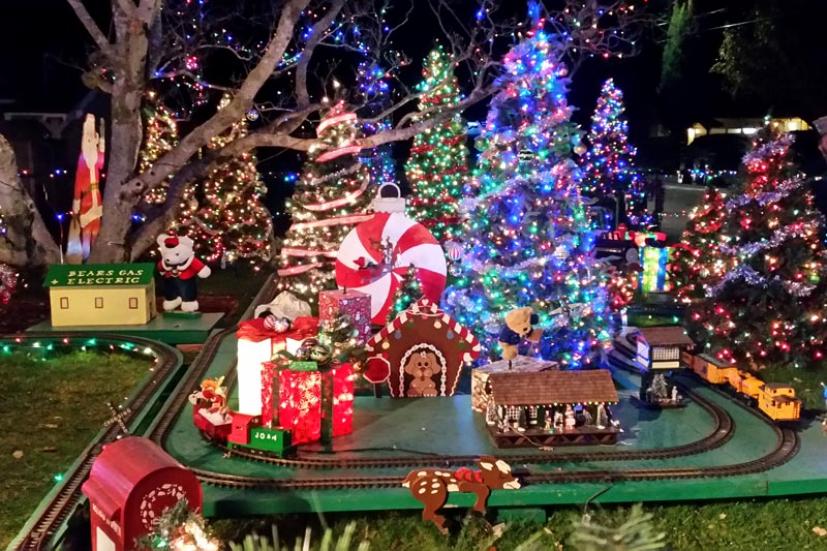 Marin is home to many communities that really go above and beyond the call of duty when getting into the holiday spirit, and of all the places in the county I think Marinwood, the neighborhood sandwiched between Novato and San Rafael, has the most decorated holiday houses per capita!
It's only natural then that one of our all-time favorite Christmas houses happens to be located in Marinwood: the Nisja Bear house, which has been delighting Marin and Bay Area families for well over three decades. Every year there's something new to look at, and plenty of old favorites to visit again. The 2017 holiday season will be the last one for the Bear House in Marin, so make sure you experience it while you can!
We make it a point to visit the Bear House a few times every season, since it's always fun to see and there's so much going on there that sometimes you need multiple viewings just to take it all in. The kids, naturally, can never get enough, and they've been coming here since they were babies. For those of you who haven't yet seen the Bear House, it's definitely worth the trip from anywhere in Marin, or anywhere in the Bay Area for that matter.
The Bear House is a Christmas fantasy land set up in a front yard, with an emphasis (as its name implies) on teddy bears and model trains. Bears of all sorts play roles in the numerous lighted displays, and several model railway layouts with large-scale trains wind their way around countless lighted Christmas trees, decorations, and, of course, bears. Don't miss this year's new addition of snowflakes that light up in time to Christmas music, and make sure you look for Santa's landing strip on the roof.
Our favorite is the bear that blows bubbles from a little lighted house. You'll find him on the lawn near the front door. If you're really, really lucky, you'll be there when Roy Nisja turns on the snow machine over by the garage! Rumor has it that Santa Claus will pay a visit to the Bear House on Saturday, December 16, at around 7 pm.
Mr. Nisja and his son created this amazing display decades ago, and it's grown over the years to be more and more elaborate. Every year three generations of the family—father, son, and grandson—get to work in September putting everything up for the holiday season.
We spent some time chatting with Mr. Nisja about the house and how it's grown over the years to be a tradition for so many families. My kids have literally visited the Bear House all of their lives. This holiday tradition isn't disappearing for good, however—if you find yourselves in Gardnerville, Nevada, next December, you might see a familiar holiday display. (Gardnerville is just on the other side of the Sierra from Lake Tahoe.)
Thank you, Nisja family, for all the amazing holiday memories! Christmas definitely won't be the same without you.
The Bear House is located at 383 Quietwood Drive, between Las Gallinas Avenue and Miller Creek Road, in Marinwood. Hours are weekdays from 6 to 9 pm and weekends from 6 to 10 pm, through December 31.
You can make a whole evening of holiday houses in Marinwood with the Bear House, Linda's Snow Village around the corner on Miller Creek Road, and the Mickey Mouse House (2017 is their last season, too!) up the road on Blackstone Drive, all of which are well worth a visit this Christmas season.
Today's Events
Wednesday, March 21, 2018