Back to top
All Aboard! Tickets for The Polar Express Train Ride on Sale Soon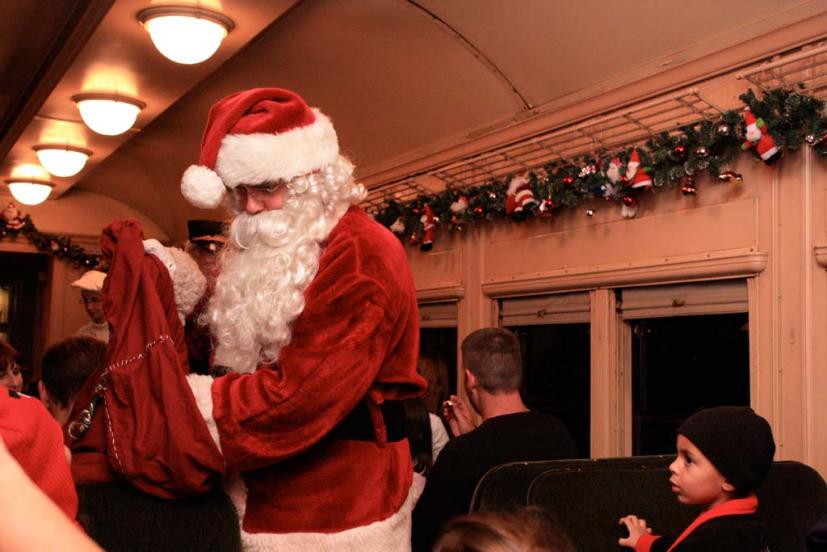 Get ready to believe! Tickets for the California State Railroad Museum's annual holiday Polar Express train rides go on sale to members only on September 24–26, 2019 and to the general public on Tuesday, October 1, 2019. The Railroad Museum's sister organization, Railtown 1897 State Historic Park in the Gold Country will also be holding Polar Express train rides again this holiday season.
Members of the Californa State Railroad Museum and Railtown 1897 are eligible to participate in member advance ticket sales. In order to reserve member tickets, your membership must be active or renewed as of Thursday, September 5, 2019. Being a CSRM member greatly increases your chances of getting Polar Express tickets, which usually sell out within minutes when they go on sale to the general public. Tickets are available online only.
We highly recommend their "Conductor" family membership ($90), which offers free admission to the museum for two adults and their children or grandchildren plus two additional guests, free excursion train rides, a museum store discount, special members-only events, and more. You also get free admission to the Railtown 1897.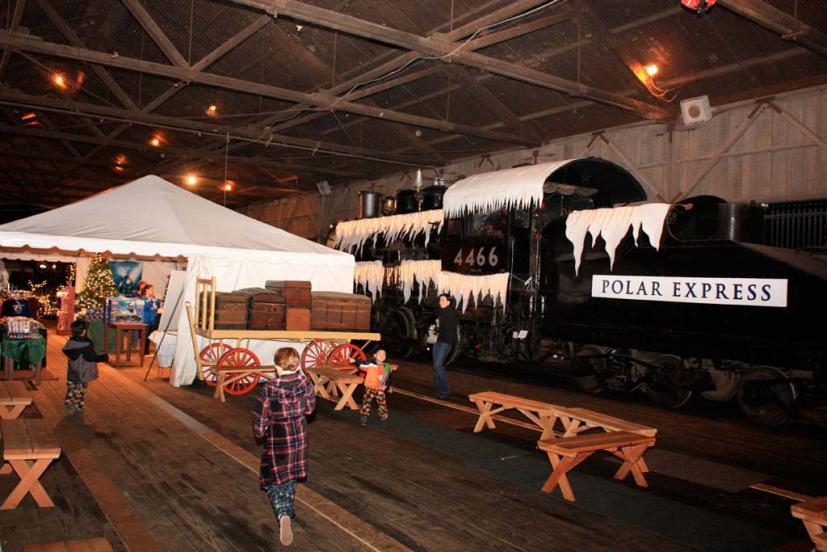 Climb on board a train pulled by a historic streamlined diesel locomotive from the museum's collection and read along with Chris Van Allsburg's classic holiday story as you and your family make your round-trip journey to the North Pole. Meet Santa Claus, the Train Conductor, and the ghostly Hobo. Sing Christmas carols, drink hot-hot-hot chocolate, and eat cookies—served by dancing waiters, of course. Each child attending receives a special gift of a silver sleighbell, and children (and adults, for that matter) are encouraged to wear their pajamas.
Ride in the coach cars ($45–$50 per person), first-class El Dorado Observation Car ($65–$70 per person), or reserve a table for four in the first class Audubon Dining Car ($260–280). New in 2019 is the Sleigh Ride Car, a converted open-air car that offers a fantastic view of your trip to the North Pole; tables of four cost $160–$180.
All tickets are subject to a service fee of $5 per ticket ($20 for dining car table reservation). Children under 2 years of age are free and must be seated on an adult's lap. Tickets must be picked up at will call on the day of your scheduled train ride. Tickets also include free admission to the museum. 
Polar Express train rides take place Friday, Saturday and Sunday, November 24–26 and Wednesdays through Sundays, November 29 through December 21. Trains depart the Central Pacific Passenger Station in Old Town Sacramento at 3:30, 5, 6:30, and 8 pm. After the train ride, visit the Eagle Theater and have your children's pictures taken with Santa, visit the gift shop, and enjoy the sights and sounds of the season.
We've ridden on the Polar Express and it's a truly magical experience! It's an extremely well done event, and a unique holiday treat that the whole family can enjoy. It's definitely worth the trip to Sacramento this holiday season.
For more information visit www.californiarailroad.museum or call (916) 445-8270. Tickets may only be ordered online.
The Polar Express at Railtown 1897
If you can't get tickets to the Polar Express in Sacramento, don't worry! Due to the popularity of the Sacramento event, the CSRM's sister organization Railtown 1897 State Historic Park now holds Polar Express train rides in the Gold Country town of Jamestown in Tuolumne County. Polar Express rides take place Friday and Saturday, November 29 and 30, and Friday, Saturday, and Sunday, through December 22. Departure times will be at 4:30, 6, and 7:30 pm.
Ticket sales for the Railtown 1897 Polar Express go on sale to Railtown 1897 and CRSM members on October 8–10, 2019 and to the general public on October 11. Tickets sales on each day begin at 9 am. Tickets cost $50 per person for coach and $70 per person for first class seating. Children under 2 are free and must be seated on an adult's lap. A $10 per ticket service fee will apply at checkout. As with the California State Railroad Museum, you must be an active member of Railtown 1897 or the CSRM by September 5, 2019 to take advantage of member advance ticket sales, and tickets are only sold online.
Tickets include admission to Railtown 1897, where you can shop and enjoy live entertainment as you wait for your train. You'll also get to go into the roundhouse, where you can meet Santa and get your photo taken with him. For more information, visit www.railtown1897.org, call the Polar Express Jamestown Hotline at (209) 984-3407. You can also follow their Facebook page for updates.
While it's further away than Sacramento (Jamestown is about a three-hour drive from the Bay Area), Railtown 1897 is a fantastic and fun destination for train lovers of all ages. You can read all about our visit to Railtown here. Make a fun family getaway weekend of it and visit nearby Columbia State Historic Park, which will be holding Miner's Christmas living history events and other holiday happenings throughout December.
Sign up for tips & news for Marin families!