Back to top
Explore California History at the Gold Country's Columbia State Historic Park
One of our favorite destinations for a quick family getaway is California's Gold Country in the Sierra Foothills. It's a relatively short three-hour drive from the Bay Area, and there are plenty of things for families to do. You can visit historic mining towns, pan for gold, explore caves, go wine tasting (for mom and dad, of course), take a ride on a 19th-century steam train, hike, fish, and more.
The highlight of our visits to the Gold Country always Columbia State Historic Park in the Tuolumne County town of Columbia. In fact, much of Columbia is the park itself. While most of the small Mother Lode towns along Highway 49 are filled with California history, Columbia takes this to an extreme—its downtown has been preserved to represent its mid 19th-century heyday, and in fact it's the best preserved Gold Rush town in California.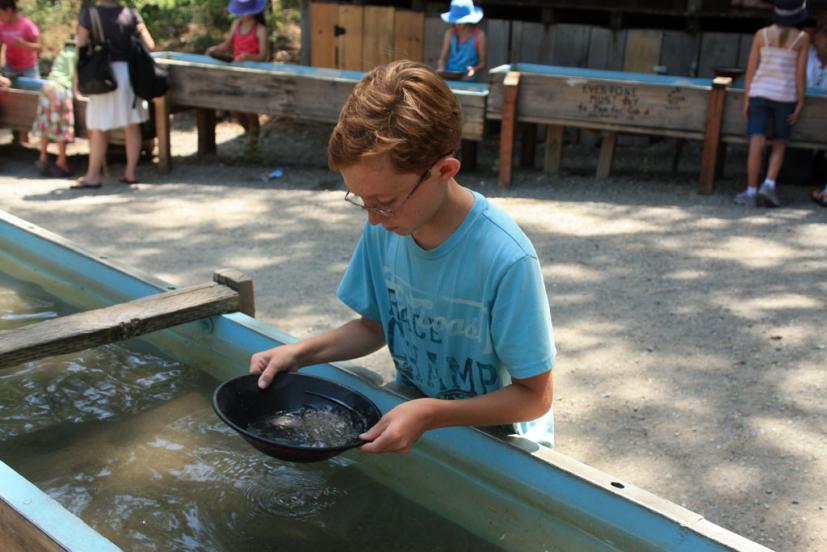 Columbia is kind of like California's answer to Colonial Williamsburg, but on a smaller scale. It's a fantastic place for families with children since there's a lot to do and see. The downtown state park part of Columbia is also closed to vehicular traffic for much of the year (stagecoaches excepted), so it's safe and families literally have the run of the place.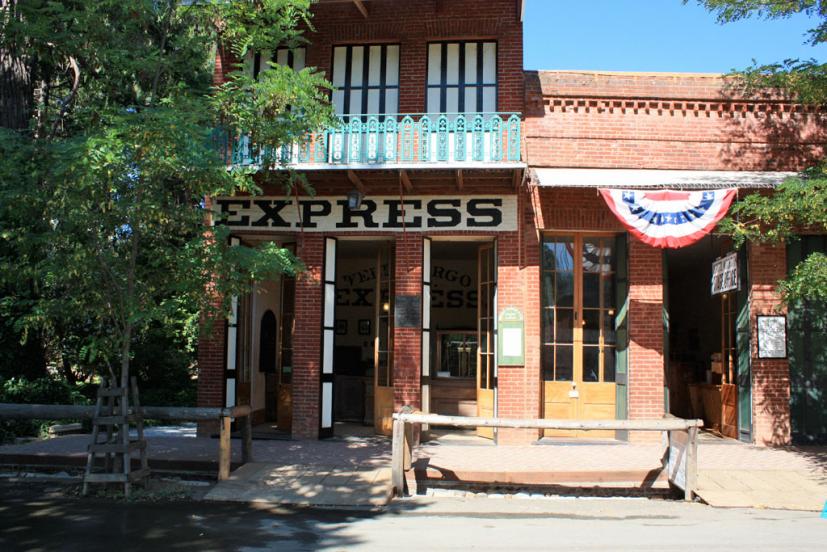 Columbia, founded in 1850 as "Hildreth's Diggings," is so authentic that it's been used as the backdrop for numerous Hollywood westerns, including the classic 1952 High Noon. The downtown streets are lined with classic brick buildings with iron shutters, a typical kind of architectural style here in the Mother Lode, one that many towns turned to after fire kept burning down the wooden structures! The buildings in Columbia house a small museum and historical displays, including two fire houses, the Wells Fargo Express office, a Chinese shop, and an assay office.
What makes Columbia unique is that a number of the shops are occupied by actual businesses that cater to visitors to the park. Stroll along Main Street and you'll find, among other things, saloons, two authentic 19th-century hotels, a working blacksmith shop selling ornamental iron items, a book store, gift shops, a fabric and clothing store, an ice cream parlor, a theater, and an old-timey photography studio.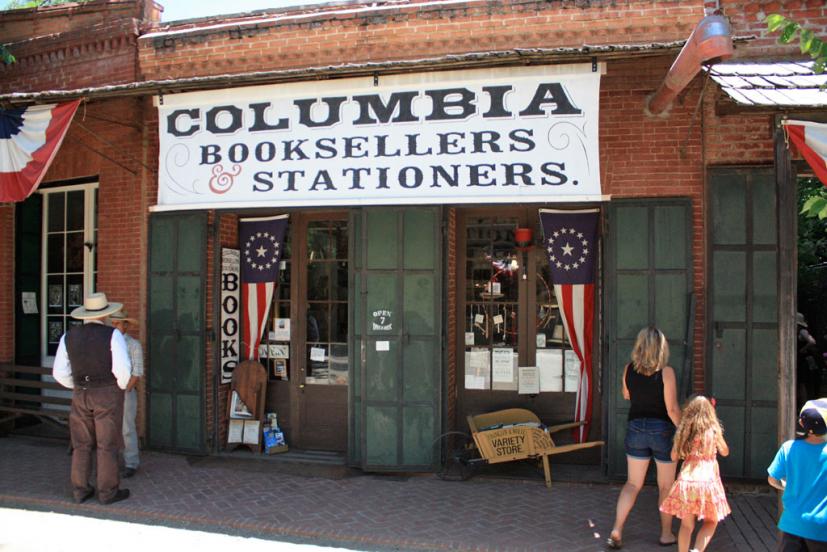 A must-see (and must-taste) highlight in town is Nelson's Columbia Candy Kitchen, a candy shop that's been crafting old fashioned sweets since the 19th century. Watch the candy makers at work as they create confections using original old-fashioned kettles and equipment, and then pick out a treat in the shop.
You can also ride a real stagecoach through town. Buy tickets at the stage office next to the Wells Fargo office, then take your seat—you can even ride shotgun! (Watch out for the masked bandit lurking somewhere on the route). Other activities include panning for gold (our kids did it and were thrilled to actually found a few flakes), candle-dipping, and live music.
Make sure you check out the Columbia museum and visitor center, too. You can view an interesting selection of Gold Rush-era artifacts and photographs, and there's even an area where the kids can dress up in period clothing. Hour-long walking tours of the town meet outside the museum. They're free, and they're really worthwhile, providing insight into the unique history of the town.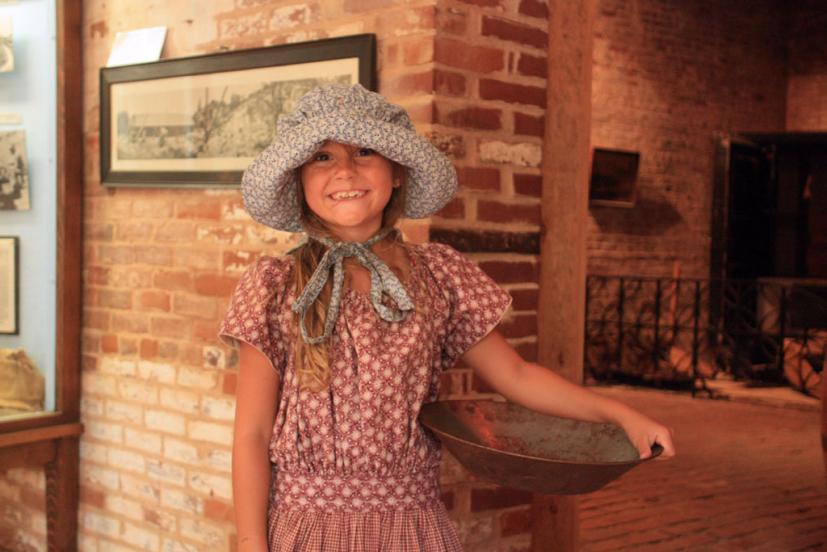 Don't miss the opportunity to visit the old 1860s Columbia Schoolhouse, located just outside of downtown up a hill. You can walk there on a well marked trail, or drive and park in the small lot next to the school. Adjacent to the school grounds is the Columbia Cemetery, which is worth a stroll to see the resting places of many of the town's Gold Rush era inhabitants. It's quiet and peaceful and kind of a nice change from the bustling downtown.
Special Events in Columbia
If you want a really special experience, try to time your visit to coincide with one of Columbia's many special events. Gold Rush Days, held from 1–4 pm of the second Saturday of every month, feature costumed docents staffing a variety of different venues in the town, including the firehouse, the schoolhouse, the Wells Fargo office, and the ten-pin bowling saloon. Play 19th-century children's games, ring the bell on an 1859 hand-pumped fire engine, and more!
Over the last weekend of May you'll find Columbia Diggins 1852, the yearly recreation of the tent town from Columbia's 1850s mining camp heyday. The recreated tent town is historically accurate and extremely authentic, and you even have to exchange your 21st-century money for brass "eagle" coins if you want to purchase anything in the town. The town is populated by docents and re-enactors in period dress going about their day-to-day lives in the 1850s. Buy food and drink, gamble, watch a musical performance, bowl, help mine for gold, and more. It's one of the few things here that you have to pay admission for ($5 adults, $1 children under 14), and it's well worth it.
Other great happenings include the Glorious 4th of July Celebration, with a colorful parade, old-fashioned games, and entertainment; street dances; a fiddle and "bango" contest; ghost tours; Halloween and Christmas events and more. Check out the Columbia schedule of events for dates, times, and details.
Food and Dining in Columbia
We enjoy taking a break at the family-friendly Jack Douglass Saloon, originally established in 1857 and still offering beer, locally made sarsaparilla and wild cherry soda, and food to thirsty and hungry visitors. The clientele is a mix of locals drinking beer and chatting at the bar and visiting families eating lunch and drinking sarsaparilla. You even got refills if you bought a snack to munch on, too. They don't offer gourmet fare, but you can fill up on inexpensive hot dogs, sandwiches, nachos, and chili.
We also like Brown's Coffee House and Sweets Saloon (originally Haag and Heynemann's San Francisco Lager Beer Saloon from 1855), which offers coffee drinks, shave ice, ice cream, snacks, and lunch fare like sandwiches and tamales. Other choices include the St. Charles Saloon, Bart's Black Skillet, the Hungry Prospector hot dog cart, and the City Hotel Restaurant and What Cheer Saloon. There are plenty of picnic tables scattered throughout Columbia, so packing a picnic lunch is an option as well.
If You Go
To get to Columbia, take Highway 101 to 580 in San Rafael and cross the Richmond Bridge. Follow 580 through the East Bay and over the Altamont Pass, then hook up with I-5 North and Highway 120 outside of Tracy. Take Highway 120/108 through Oakdale to Highway 49 and Jamestown and Sonora. Follow Highway 49 through Sonora, then turn right on Parrott's Ferry Road; Columbia State Historic Park will be on your right. There's plenty of free parking at the park.
The park is open every day, and hours on for Columbia businesses vary. The museum is open daily from 10 am to 4 pm (closed Thanksgiving and Christmas). Visit parks.ca.gov for more information.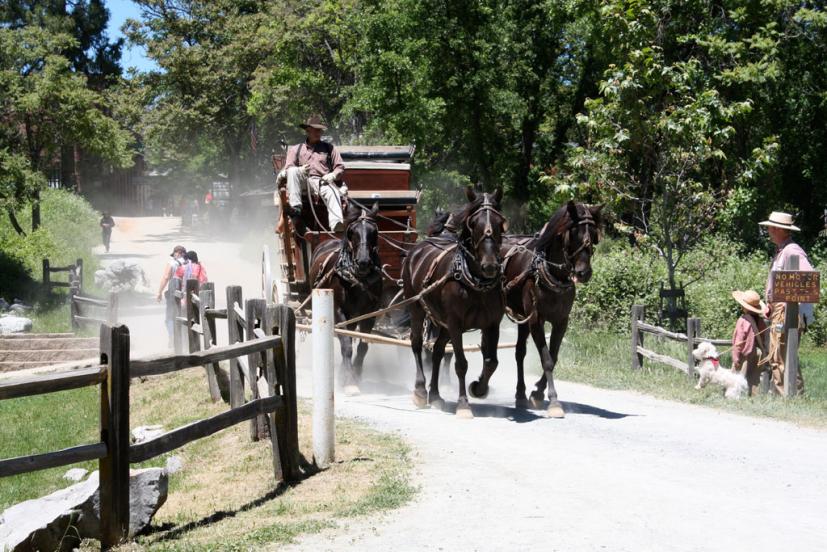 Expect the drive to take three hours or so, longer if you stop for a meal and at one of the numerous fruit stands you'll find on the way. They're convenient for bathroom breaks and also picking up some healthy snacks to munch on during the drive. We like Denise's Farmer's Market outside Ripon, a family run stand that offers fantastic fruit and snacks, including a huge variety of homemade corn nuts.
The Sierra Foothills can be extremely hot during the summer, so make sure you bring plenty of drinking water, hats, and sunscreen. The temperature often drops in the evening, so a sweatshirt or light jacket is a must, too.
We usually stay at the Gunn House Hotel in nearby Sonora, which is about a 10-minute drive from Columbia. It's sort of a mashup between a B&B and a motel located in an 1851 adobe, the oldest building in Sonora. It offers a pool, a fantastic breakfast with homemade coffee cakes and breads, waffles, and an egg casserole, and it's a bargain, to boot.
Another option is to book a room at one of Columbia's historic hotels: the City Hotel and the Fallon Hotel. Both are authentically decorated with period furnishings for a real step-into-the-past experience, and are even rumored to be haunted. You can also rent cottages—perfect for a large family or groups—at various locations around the town.
Sign up for tips & news for Marin families!