Back to top
Planes, Air Museums, and Aviation Fun in the San Francisco Bay Area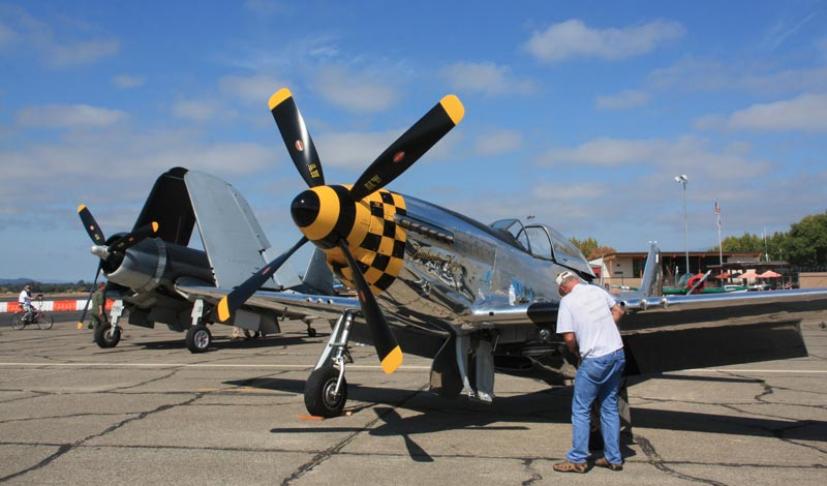 If your kids are obsessed with planes and flying machines, then take a family outing to one of these San Francisco Bay Area air museums, airshows, and other aviation destinations. Some of these places even include the opportunity to climb aboard and sit behind the controls of real historic aircraft, while others offer the chance to watch planes and helicopters in action in the air. There's something for all ages!
Please keep in mind that hours and admission details can change, so check museum websites or call before you go.
The annual Wings Over the Wine Country Air Show comes to Santa Rosa's Sonoma County Airport every September. Presented by the Pacific Coast Air Museum, this aerial extravaganza features historic warbirds, performances by the Canadian Forces Snowbirds and the US Airforce Wings of Blue skydivers, a chance to visit the museum's aircraft, and more. It's fun and exciting, and it takes place this year on September 28 and 29. Tickets range from $10 to $25, and children age 10 and under are admitted free! Location: Sonoma County Airport, 2200 Airport Boulevard, Santa Rosa 95403

Photo: Hamilton Field History Museum
Novato's Hamilton neighborhood was once the site of Hamilton Air Force Base, and still contains many historic structures from the its beginnings as an army airfield back in the 1930s. The Hamilton Field History Museum is housed in the old base fire station and displays memorabilia, aircraft models, and a World War II-era Link Trainer. Open Wednesdays, Thursdays, and Saturdays from noon to 4 pm. Admission is free. Location: 555 Hangar Avenue, Novato 94949.
 
This air museum at Charles M. Schulz-Sonoma County Airport in Santa Rosa offers visitors the opportunity to climb aboard historic aircraft at its monthly Open Cockpit Weekends, as well as exhibits and fun educational activities. They also produce the annual Wings Over Wine Country air show. The museum is open Wednesday through Sunday from 10 am to 4 pm. Location: One Air Museum Way, Santa Rosa 95403 
Sonoma Valley Airport (also known as Schellville Airport) is home to countless vintage aircraft, including Stearman biplanes and P-40 and P-51 warbirds. The airport holds Display Days on the second weekend of each month where owners open their hangar doors and show off their aircraft. This is an active airport, so make sure you follow safety precautions when you're there. Location: 23980 Arnold Drive, Sonoma 95476
This decommissioned aircraft carrier is now a museum in the East Bay city of Alameda, and features a collection of 15 historic aircraft, as well as exhibits related to the Apollo space missions in the 1960s and '70s. You can also ride in a flight simulator, take a guided tour, or even stay overnight on the ship! Open daily from 10 am to 5 pm (gates close at 4 pm). Admission is $20 for adults, $15 for seniors, military and students, $10 for youth, and free for children 6 and under. Location: 707 West Hornet Avenue, Pier 3, Alameda 95401

Photo: Visit Oakland
Explore the history of West Coast aviation at this museum located at Oakland International Airport's historic North Field. See a variety of aircraft, including the Short Solent flying boat featured in the classic movie Raiders of the Lost Ark (you can take a tour of the Solent on Sundays), board aircraft on open cockpit days, and "learn to fly" in the museum's interactive play area. Open Wednesday through Sunday from 10 am to 4 pm. Admission is $15 for adults, $12 for seniors 55+, $10 for military, students, and teens, $8 for children 6 to 12, and free for children under 5. Admission to the Learn to Fly interactive play area is free. Location: 8252 Earhart Road, Oakland 94621

Photo: SFO
San Francisco International Airport's Louis A. Turpen Aviation Museum and Library is housed in a replica of a 1930s passenger terminal and focuses on the history of commercial aviation, especially in the West Coast and the Pacific. The collection includes aircraft models, photographs, and airline memorabilia. Open daily from 10 anm to 4:30 pm. Admission is free. Location: Near International Terminal A at San Francisco International Airport.
The Hiller Aviation Museum showcases aircraft as diverse as 19th-century gliders, daredevil pilot Lincoln Beachey's Little Looper, and a number of the Hiller helicopters created by museum founder Stanley Hiller, Jr. Other attractions include flight simulators, an Imagination Playground, the Invention Lab, and even the opportunity to fly a drone. Admission: $18 adults, $11 seniors 65+ and youth 5 to 17, and free for children 4 and under. Some attractions, like flight simulators and drone flying, cost extra. Location: 601 Skyway Road, San Carlos 94070

Photo: Moffett Field Historical Society
This museum at Moffett Field in the South Bay includes a wide array of exhibits, including real aircraft cockpits that kids can climb into and "fly". Admission is $8 for adults, $5 for seniors and disabled persons, $3 for youth 13 to 17, and free for children 12 and under and active military. Location: Severyons Avenue, Building 126, Moffett Field 94035
Sign up for tips & news for Marin families!