Back to top
Circus Vargas Returns to Petaluma with SteamCirque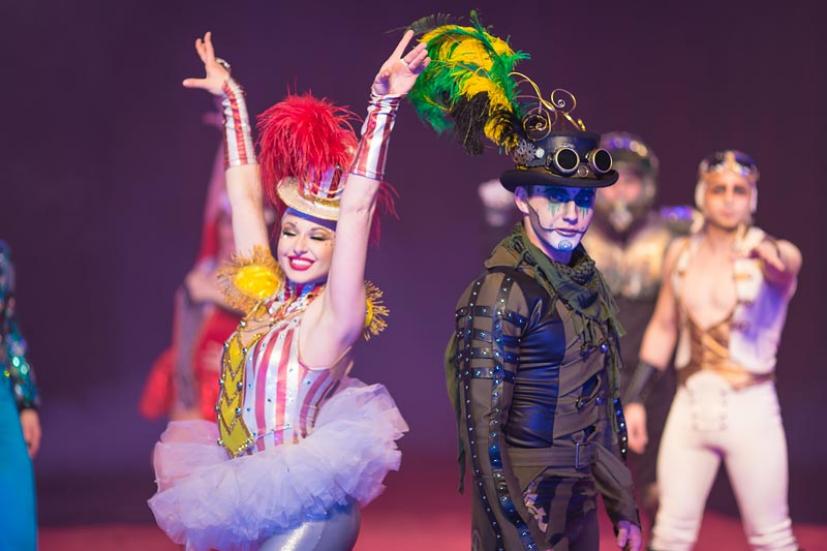 Marin Mommies presents a sponsored article from Circus Vargas.
Circus Vargas returns to the North Bay with its latest and greatest show: SteamCirque! This animal-free, traveling circus—the biggest in the USA—pitches its big top at the Sonoma Marin Fairgrounds in Petaluma from September 14 to 18. Shows take place at various times throughout the day, with matinees on Saturdays and Sundays.
Goggles, gears, and gadgets set the stage for Circus Vargas' 2017 retro-futuristic production. Come on a journey of fantastic proportions where children of all ages will marvel at the wacky and wonderful cast of characters that come alive in this exciting, steampunk, science-fiction, fantasy-inspired circus odyssey!
Arrive 45 minutes early for an entertaining, interactive pre-show celebration, where kids can create their own magic under the big top, learning circus skills such as juggling, balancing and more! Meet and mingle with the entire cast after each performance and pose for pics or selfies with your favorite cast members. It will be an unforgettable experience!
SteamCirque features an all-new story where an eccentric group of adventure seekers stumbles upon a traveling circus in an imaginary Victorian city, far, far away. SteamCirque's peculiar protagonist—part magician-part inventor—attempts to industrialize the circus by incorporating his steam-powered mechanical contraptions into the ordinary, typical circus rigging, filling the big top with new, imaginative acrobatic apparatus for the artists to perform their acts. It becomes a test of wills, the steampunkers versus the circus folk—who will win? You'll have to come and see to find out!!
Ticket prices range from $22 to $72 for adults and $17 to $67 for children 2 to 10, seniors 60+, and military. Children under 2 are admitted free. Order tickets online, in person at the circus box office (opens one day before opening night), or by phone at (800) GOT-FUN1.
Find out more about Circus Vargas at www.circusvargas.com.
Win Tickets to Circus Vargas and SteamCirque!
We're giving away passes to SteamCirque! To enter to win one of two family packs of 4 (four) bleacher-seat tickets, send an email with "SteamCirque Petaluma" as the subject line to contests@marinmommies.com by midnight on Friday, September 8, 2017. We'll choose two winners at random. Read our complete giveaway rules here.
Today's Events
Friday, February 23, 2018