Back to top
Explore the Giants at Armstrong Redwoods State Natural Reserve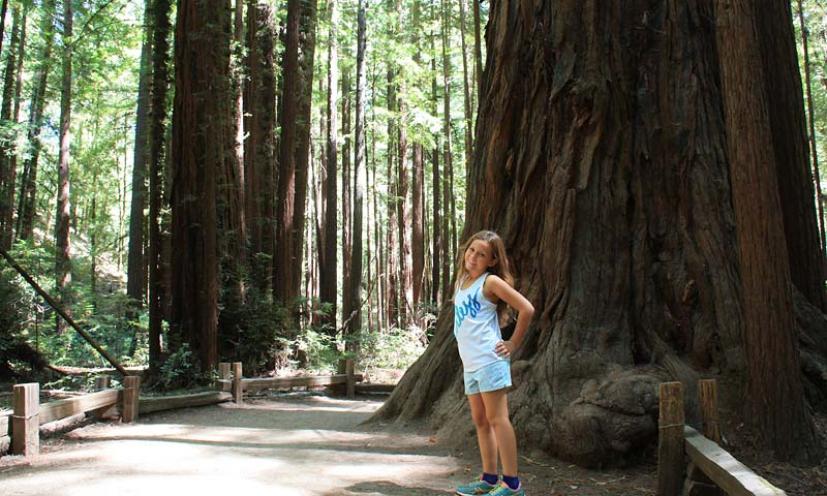 When people say coast redwoods, Marin's Muir Woods usually comes to mind, but the Bay Area boasts plenty of other great places to go see these towering trees, but without the tourist crowds and parking hassles at Marin's popular redwood hotspot. Armstrong Redwoods State Natural Reserve, located just outside of the Russian River town of Guerneville, has plenty of majestic old-growth redwoods, as well as easy hiking trails, picnic areas, and a small nature center. It's definitely worth taking a mini road trip through Sebastopol up to the river!
Armstrong Redwoods was set aside as a nature preserve in the 1870s by logging baron Colonel James Armstrong. Several miles of trails wind through the park, offering opportunities for a wide range of hikes. The Pioneer and Discovery trails are short trails that are ideal for hikes with kids, and they're both navigable with a sturdy stroller.
Park in the parking lot at the entrance to the park—it's free to park here and walk or bike into the park, but if you are so inclined you can drive into the park and park the car further up for an entry fee of $8 per vehicle ($7 for seniors).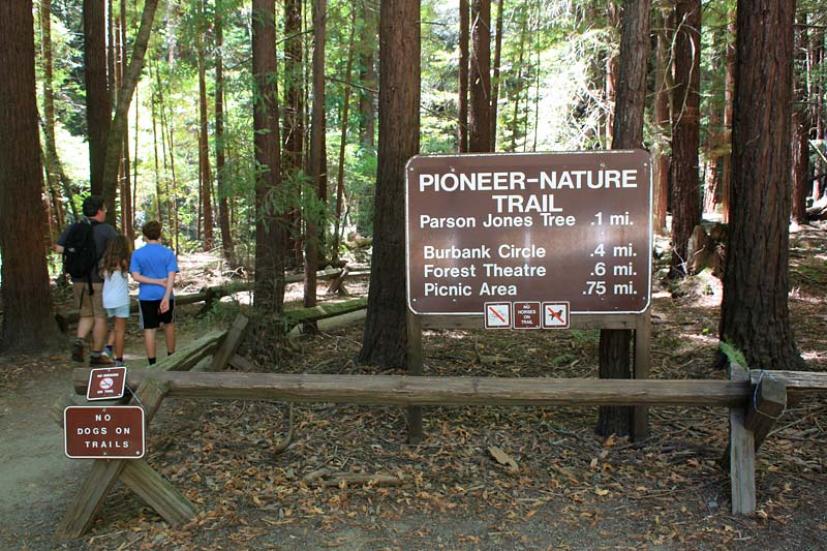 At the main free parking lot there are restroom facilities, a ranger station, and a visitor/nature center and gift shop. The nature center was small but interesting, with a touching table that included plant and rock specimens, honeycomb, animal track casts, feathers, and other specimens in little clear plastic cases with built-in magnifiers in the lids. The little gift shop has a variety of stuff for sale, including books, puzzles, toys, walking sticks, bottled water, posters, and postcards.
We took the Pioneer Trail to the Armstrong Trail and then looped back down via the Discovery Trail. The Discovery trail is accessible and even included "tree hugging platforms" along the way (really!). The whole trip is a little over a mile and a quarter.
The kids were captivated by the sheer size of the ancient redwoods. The tallest tree in the park, the Parson Jones Tree, is 310 feet tall, and the Colonel Armstrong Tree, the oldest tree in the park, is estimated to be 1,400 years old. It's really like being in another world. If you're into more strenuous hikes, there are plenty of opportunities further into the park. You can also camp at the adjacent Austin Creek State Recreation Area.
The visitor center is open from 11 am to 3 pm daily, and the park is open from 8 am to "one hour after official sunset," whenever that ends up being. For more information, visit www.parks.ca.gov.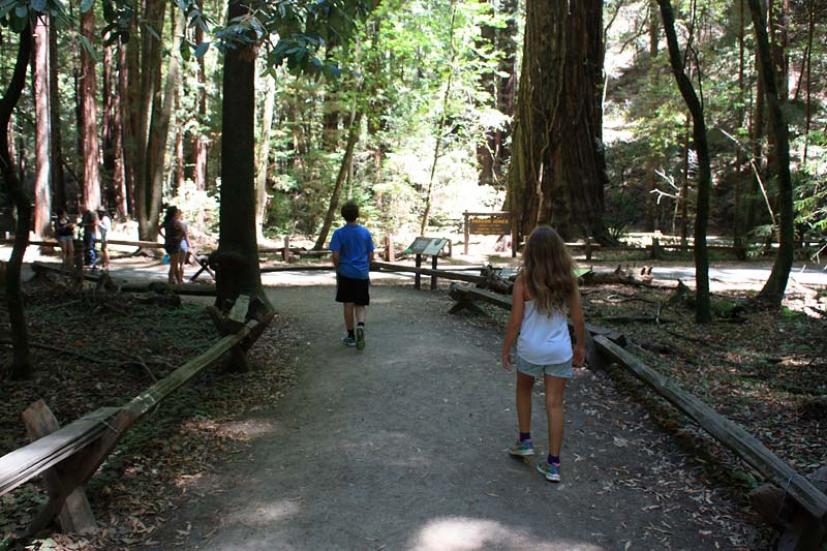 If You Go
This is technically a rain forest, so it can be damp and a little dark in the grove. Sturdy shoes that you don't mind getting a little dirty are a must, and dress in layers. Bottled water is available at the gift shop and drinking fountains are located along the trail. There are picnic facilities near the parking area and about 3/4 mile inside the park. Food can be purchased in the town of Guerneville, but not in the park itself.
To get there, head north on 101 into Sonoma County. You can either split off onto Hwy 116 west in Cotati or continue north on 101 through Santa Rosa. If you go the first route take Hwy 116 (Gravenstein Highway) through Sebastopol and Forestville to Guerneville. Go over the Russian River and take a left onto River Road into Guerneville, then turn right onto Armstrong Woods Road. Follow Armstrong Woods Road to the park.
If you go through Santa Rosa, take 101 north through Santa Rosa. Take the River Road/Mark West Springs Road exit and head west on River Road to Guerneville. Once in Guerneville, make a right turn onto Armstrong Woods Road as above.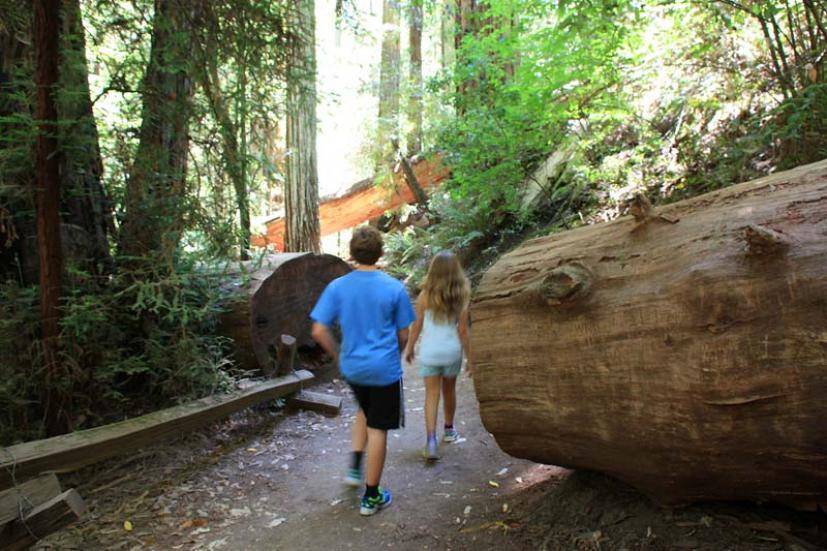 The parking lot can fill up on busy weekends, but there are plenty of places to park along Armstrong Woods Road near the park entrance. Parking is free, but there's an entrance fee of $8 ($7 for seniors) if you'd like to drive into the park.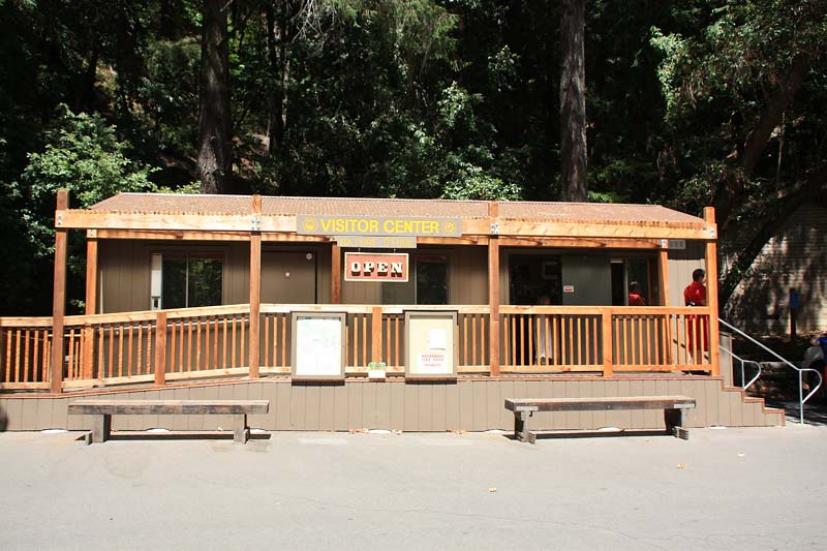 Sign up for tips & news for Marin families!