Back to top
Explore Spectacular Slide Ranch in Muir Beach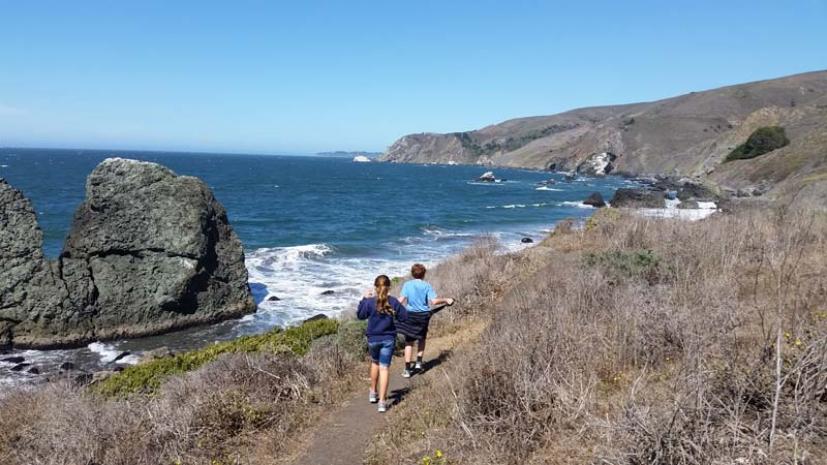 Muir Beach's Slide Ranch is one of Marin's favorite family destinations for educational programs, camps, and more. But did you know you can visit the ranch's spectacular grounds any time you like? Since Slide Ranch is located within the Golden Gate National Recreation Area, it's open to the public every day, with no admission fee.
It's truly an amazing place, with sweeping views of the Pacific Ocean, hiking trails, tidepools, a farm to explore, and one of the most amazing picnic areas we've ever encountered. It's a great place to visit even if there are no programs going on. Pack up the kids and a picnic and make a day of it!
Located on what was once a dairy farm overlooking the ocean, Slide Ranch has been open as an educational non-profit since 1970. The ranch's mission is to connect children to nature, which it accomplishes through its family programs and events and school field trips. My kids had a day off of school yesterday, so we decided to head out to Muir Beach and visit the ranch for a day of hiking and tidepooling. 
If you haven't been to Slide Ranch before, just follow the signs that are located right off the parking area. There's even an info board with a map that will show you where to go. Slide Ranch staff members are usually on hand to answer questions, too.
My kids were excited to visit the beach and the tidepools, so we headed in that direction after paying a visit to the goats and sheep at the Goat Barn. The main farm road loops through the ranch and past the organic garden, chicken coop, beehives, and farm buildings. We took the road past the yurt to the South Beach Trail, which we followed down to the beach. South Beach Trail is short—about a ten-minute walk to the beach—and is ideal for a family hike.
If the tide is out (check tide tables online at the NOAA website) you can explore the tidepools along the rocky beach. Make sure everyone wears sturdy shoes, since rocks can get slippery. We searched for sea life like crabs and starfish, and then headed back to the picnic area next to the yurt to eat lunch.
This picnic area has to be one of the most spectacular places to eat lunch ever! The views are amazing and there are plenty of picnic tables, as well as nearby restrooms and drinking water.
Afterward, we spent some time exploring the ranch and visiting the animals and gardens. You're welcome to visit anywhere you like, but the animal enclosure are off-limits unless there's a staff member on hand to let you in and accompany you.
Next time we visit, we'll check out some of the other hiking trails, like the Dome Trail, which leads to the ranch's group campsite, and the North Beach trail, a more challenging route that leads down to the beach.
We had a great time visiting Slide Ranch! Special thanks to Slide Ranch staff member Emily Haber for taking the time to show us around. For more information on Slide Ranch visit www.slideranch,org or call (415) 381-6155.
If You Go
Slide Ranch is located at 2025 Shoreline Highway in Muir Beach (94965). It's open every day from dawn to dusk. To get there, take Highway 101 to the Highway 1/Stinson Beach exit in Mill Valley. Follow Highway 1 through Tam Valley, over Mt. Tamalpais, and through the community of Muir Beach to Slide Ranch.
Wear sturdy shoes and dress in layered clothing, since coastal weather can be unpredictable. Restrooms and drinking water (bring water bottles to fill) are available at the ranch. If you're visiting with little ones who can't hike yet, a bring a backpack baby carrier, since the trails here are unsuitable for strollers.
Today's Events
Sunday, February 25, 2018