Back to top
Fall Family Fairs & Festivals in the Bay Area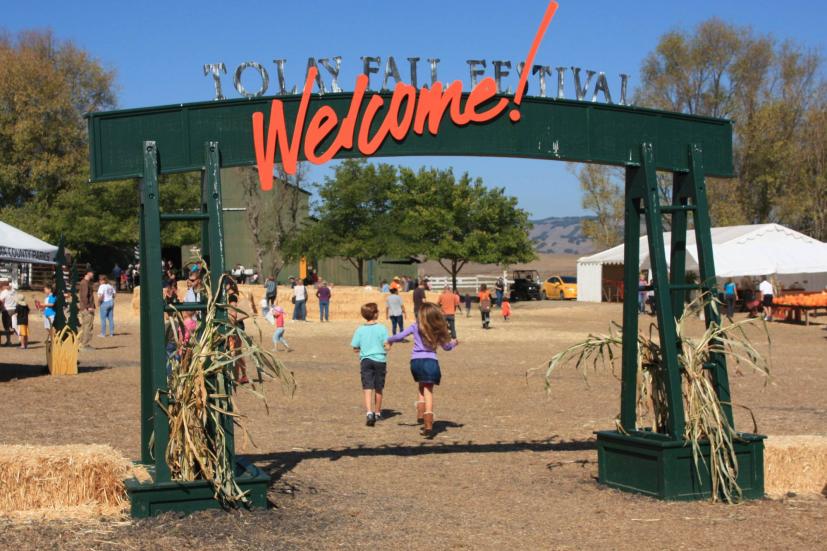 Fall is one of our favorite times of year, and there's so much family fun to be found in Marin and beyond. Find a family-friendly fall festival, fair or Oktoberfest to celebrate the season. We'll keep updating our list of events for Marin and beyond as we find more this fall. If you have an event you'd like to see added to the list, please contact us.
Blackie's Hay Day
Blackie's Pasture, Tiburon
Saturday, September 28, 10 am–4 pm
Bring the entire family for an old-fashioned fall festival. Enjoy a petting zoo, jumpy houses, carival gaems, tot town, gold mining, live entertainment, bake off, pizza & food trucks, beer and wine tents and more. This is a benefit for the childrens and teen programs for the Belvedere Tiburon Library. Tickets: $15 admission, children under 2 are free. Activitity tickets $1 each, unlimited bracelet $50 per person. Event details
Tam Valley Oktoberfest
Mill Valley
Saturday, September 21, 3–9 pm
Enjoy German music, beer, and food, as well as free family rides and games, including a fun house and a cornhole tourney. Ticket prices are $20 per adult and $10 for kids 1-13 years old. Ticket price includes entry to the fest, the fun house and all the jump houses. Pre-sale tickets available at the TCSD office at 305 Bell Lane. Event website.
San Anselmo Country Fair Day and Parade
San Anselmo Avenue
Sunday, September 30, 8 am–3 pm
This popular community festival showcases our town with a parade, live music, children's activities and street booths populated with San Anselmo-based schools, community groups, artisans and shopkeepers. Enjoy a pancake breakfast at the Downtown fire station, community booths and kids entertainment, a parade down San Anselmo Avenue, food and music, and the 2nd annual, "Cedarsville" in Imagination Park, which will feature a free ferris wheel and giant slide, plus a variety of fun activities including collaborative art projects, a farm stand, and more. Event details
Halloween Harvest Festival
Resort at Squaw Creek, Squaw Valley
Friday–Sunday, October 5–7 & 12–14

Bring the entire family to the annual Harvest Fest celebration! Taking place on October 5-7 and 12-14 this year the event will also be paired with Halloween themed happenings. Celebrate the changing of the seasons with events like our apple bobbing contest, fishing derby, face painting, pumpkin decorating, and more. Event details

Halloween Harvest Festival
Marinwood
Friday, October 12, 5–7 pm
Come to Marinwood for its annual Halloween Harvest Festival for children 12 and under. Activities include carnival games, pumpkin carving and decorating, face painting, trick-or-treat bag decorating, caramel apples, and a bounce house. Tickets: $12 advance or $15 at the door for kids ages 2 to 12; adults free. Food available for purchase. Event website
Weekend Along Farm Trails
Various Farms, Sonoma County
Saturday & Sunday, October 13–14, various times
Meet your farmers & vintners, shop from delicious farmstands, see how cheese is made, pick pumpkins, meet farm animals, learn about beekeeping, sample delicious food & libations and discover some of Sonoma County's best kept secrets! Register for this free event here.
Half Moon Bay Art & Pumpkin Festival
Historic Main Street, Half Moon Bay
Saturday & Sunday, October 13–14, 9 am–5 pm
The World Pumpkin Capital of Half Moon Bay celebrates its bountiful fall harvest and autumn splendor with a special display of enormous, heavyweight champion pumpkins, three stages of entertainment, non-stop live music, the Great Pumpkin Parade, a haunted house, harvest-inspired crafts, homestyle foods, photos with the grand champion mega-gourd, contests, pumpkin carving, and more. Admission is free. Event website
Fort Ross-Seaview Harvest Festival
Fort Ross State Historic Park, Jenner
Saturday, October 13, 10 am–5 pm
Harvest is the time to enjoy autumn's fresh air with friends and family, acknowledging all that the seasons provide us. Harvest Festival starts out with a morning of apple picking in the orchard, where we'll gently harvest fruit from these historic trees while enjoying Eastern European singing with Kedry. Next are the windmill turning and Russian bell ringing.The celebration then moves to the historic Fort Ross compound where we'll enjoy the old-world charm of the 19th-century Russian settlement. Admission: $20 per car. Event details
Tolay Fall Festival
Tolay Lake Regional Park
Lakeville Highway at Cannon Lane, Petaluma
Saturday & Sunday, October 13–14 & 20–21, 11 am–5 pm
The Tolay Fall Festival takes place over two long weekends in October at the site of the old Cardoza Ranch off Lakeville Highway. In addition to pumpkins, attractions and activities include a Native American village, the Nighttime Creatures Barn with Creepy Crawly Critters Room, nature hikes, a straw maze, a hands-on children's area and kiddie corral, and hay rides. Admission: $5 adults, $3 children 12 and under. Parking $7. Event website
Biketoberfest
Fair Anselm Plaza, Fairfax
Saturday, October 13, 11 am–5 pm
Biketoberfest is a free celebration of bikes, music, food and family fun – and a stellar brewfest! This fun-filled celebration is for everyone, including commuters, roadies, mountain bikers, BMXers, fixies, cargo-carriers, e-bikers, touring aficionados and even the bike-curious! Location: 765 Center Boulevard, Fairfax. Event website
Tahoe Donner Fall Festival
Northwood Clubhouse. Tahoe Donner
Saturday, October 13, 11 am–5 pm
The Tahoe Donner Fall Festival is one of our biggest events of the year! There's something for everyone, from arts and craft vendors, the annual doggie dip, seasonal beer offerings, pumpkin patch, a carnival area for kids with arts, crafts, games and food, and much more! Admission charge applies. Read about our visit here. Event website
Harvest Festival/Music in the Park
Cedar Rose Park, Berkeley
Saturday, October 13, 11 am–4 pm
This free event will celebrate the harvest season with foods grown, harvested, and prepared, live music and a Kids Zone. Location: 1300 Rose Street, Berkeley. Event website
Oktoberfest Corte Madera
Old Corte Madera Square
Saturday, October 13, noon–5 pm
Enjoy craft brews, local wines, food, and live music at this 24th annual event. Kids' activities include games, races, a bounce house, face painting, crafts, and coloring. Tasting admission $30, non-tasting $10; kids under 12 free with adult admission. Event website
Cotati Oktoberfest
La Plaza Park, Downtown Cotati
Saturday, October 13, noon–6 pm
Bring the family to the 12th Annual Cotati Oktoberfest. Free admission, dancing, Authentic German Food, Authentic German Music, Wiener Dog Race, Yodeling Contests, costume contest and more... Location: La Plaza Park in downtown Cotati, Old Redwood Hwy. & W. Sierra Ave. Event details.
Harvest Festival
Slide Ranch, Muir Beach
Saturday, October 20, 10 am–4 pm
A mini version of the Slide Ranch beloved fall festival celebration event! Join us for a fun filled day of your favorite Slide Ranch classics like milking our goats, feeding our chickens, cooking, eating, exploring and playing - all with the added fun of some special activities to top off this exciting day - but without the crowds of the larger event from past years. Fee: $30 per person; children 35 months and under are free. Event website
2nd Annual Harvest Festival + Pumpkin Patch
Cornerstone Sonoma
Saturday & Sunday, October 20–21, 10 am–4 pm
Bring the family to the 2nd Annual Harvest Festival + Pumpkin Patch. There will be live music by The Bloodstones from 12 pm-3 pm both days, food, beer, hay bale pyramid and maze, kids arts, crafts, face painting, games, and lots of pumpkins. Succulent pumpkin centerpiece workshop (on Saturday, 10/20). Location: 23570 Arnold Drive, Sonoma. Event details.
Goblin Jamboree Fundraiser
Bay Area Discovery Museum
Saturday and Sunday, October 20–21, 10 am–4 pm
Bring the whole family in costume to explore all the fun at the Bay Area Discovery Museum's Goblin Jamboree Family Fundraiser. Experience the museum as it's transformed into a spooktacular Halloween wonderland complete with Witches and Wizards school, pony rides, petting zoo, kid-sized hay maze, live entertainment, and more. Admission: $17.95 general, $14.95 members, free for children under 6 months. Event website
Oktoberfest
Greek Orthodox Church, Novato
Saturday, October 20, 5:30–9:30 pm
This traditional October celebration features live polka music and dance lessons, and a dinner of traditional Oktoberfest fare like brats, sauerkraut, potato salad, and more. And it wouldn't be Oktoberfest without pretzels and beer, served up at the Rotary's no-host bar. Tickets: $50 each. Event website
Pumpkins on Pikes
Tara Firma Farm, Petaluma
Saturday, October 20 & 27, 2–10 pm
Come on out to the farm for Halloween fun with pumpkin carving, live music, dancing, BBQ ($10 per plate), and more. Put your jack-o-lantern on a pike in the corn field and at sundown it will be lit along with all the others! Admission is $20 or $15 for farm members and includes a pumpkin. Children 6 and under are admitted free. Event website
Boo at the Zoo
Oakland Zoo
Saturday & Sunday, October 27 & 28, 10 am–3 pm
Stroll the Zoo in costume and collect yummy treats. Ride the spooky boo train and join the dance party. Plus, get your face painted, make treats for the animals, and see how the animals at Oakland Zoo celebrate Halloween. Kids in costumes receive a free ride ticket. Zoo admission applies. Event details.
Halloween Family Farm Day
Slide Ranch, Muir Beach
Saturday, October 27, 10 am–2 pm
The ranch will host special tricks and treats during Slide Ranch's Halloween Family Farm Day. Activities may include making costumes with recycled materials, face painting, taking a spooky tour of the Slide Ranch garden, investigating worm compost, and cooking up some tasty treats in the outdoor kitchen. Visitors will get a chance to practice trick or treating around the ranch. Costumes are welcome and encouraged! Tickets: $35 per person, children 35 months and under are free. Purchase tickets and event details here.
2018 Boo Fest
Corte Madera Community Center
Saturday, October 27, 3:30–6:30 pm
Bring the family to the Corte Madera Larkspur Mother's Club 2018 Boo Fest (open to the public). Enjoy Tricks & Treats (including two bounce houses), magic show, pizza, wine and beer. Cost: CMLMC Members $30/family (RSVP by 10/19) or $40/family at the door. Non-member families: $40/family (RSVP by 10/19) or $50/family at the door. All-inclusive event cost per family, including pizza, adult beverages and children's entertainment! Bring cash to pay at door upon arrival. Location: 498 Tamalpais Drive, Corte Madera. Event details.
Halloween Faire
Strawberry Recreation District 
Sunday, October 28, 11 am–12:30 pm
Come in costume to celebrate All Hallows Eve with other wizards, witches, fairies, astronauts, and cartoon characters. Play carnival games, bounce in the jump house, enjoy the candy and prize hunt and costume parade! Fee: $8 per child; no charge for adults. Event website
Children's Faire
Marin Waldorf School, San Rafael
Sunday, November 10, 10 am–4 pm
Are you looking for an amazing event to enjoy with the whole family? Marin Waldorf's annual Children's Faire is one of the most treasured events in Marin County. Admission is free—all are welcome! Come enjoy magical games, crafts, puppet shows, unique vendors and organic food. Event details
Give Thanks to Food Family Farm Day
Slide Ranch, Muir Beach
Saturday, November 17, 10 am–2 pm
Family Farm Days are exciting four-hour programs, 10am-2pm, featuring a wide variety of activities related to the day's theme. Discover Slide Ranch's feathered, furry and wooly friends with your whole family. Tickets: $35 per person, children 35 months and under free. Purchase tickets and event details here.
Sign up for tips & news for Marin families!