Back to top
Family Snow Sports Adventure at Tahoe Donner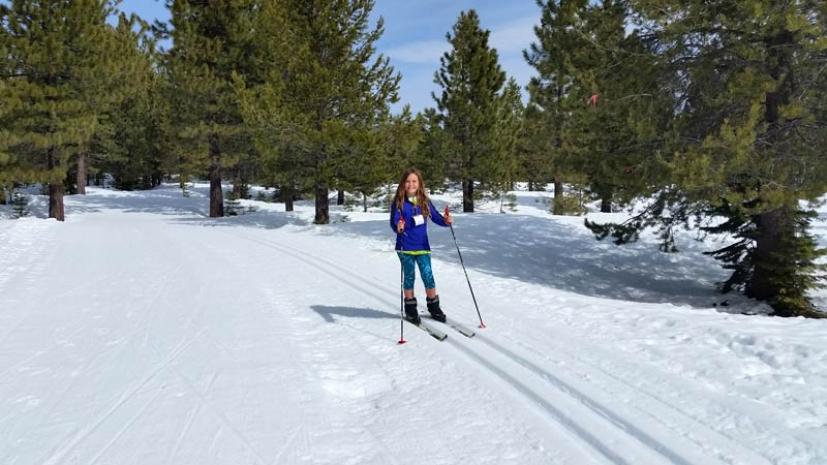 While spring seems to be here in full force, there's still plenty of snow this season up in the mountains. In fact, they're expected to get another dusting of snow up in the Lake Tahoe area today. This means that there's still time to pack up the family and head to the Sierra for some fun in the snow. We recently visited the new Alder Creek Adventure Center at Tahoe Donner and had a blast trying out the wide variety of snow sports activities available there. It's an amazing destination for some active family adventures!
The spectacular new Alder Creek Adventure Center opened back in November, and serves as the headquarters for cross country skiing at Tahoe Donner. There you'll find over 100 kilometers of groomed cross country ski trails, a lovely lodge building with a lounge, restaurant, locker rooms, shop, rental center, and patio, and the opportunity to try out some other fun snow sports besides cross country skiing. It's a beautiful location and a great place to try out some snow sports activities away from the fast pace of Tahoe's downhill ski resorts.
Cross Country Skiing
The main activity at the Alder Creek Adventure Center is cross country skiing. I grew up downhill skiing in Tahoe and had never tried cross country before, but once I put on my boots and skis I felt right at home on the snow. My daughter, who had one downhill ski lesson a few years ago, also picked it up right away. It was hard to get her to stop skiing once she got going! We both had a really great time, and I think this is my new winter sport of choice.
Cross country skiing is one of the best aerobic exercises you can do, too, so it's a fun and healthy activity for the whole family. We even saw a few families skiing with "chariots," which are kind of a cross between a jogging stroller and a sled that lets you take your little one out on the trails with you. Quite a few toddlers and preschoolers were there learning to ski themselves, too.
Like most ski areas, trails are marked according to skill level, and Tahoe Donner has many miles of trails for beginning skiiers. The Meadow learning area is surrounded by a short flat loop trail that's perfect for getting used to your skis. Once you're confident in your skills, you can take off and hit the nearby trails, which meander through the woods and over streams. Trails are beautifully groomed, packed, clearly marked, and picturesque.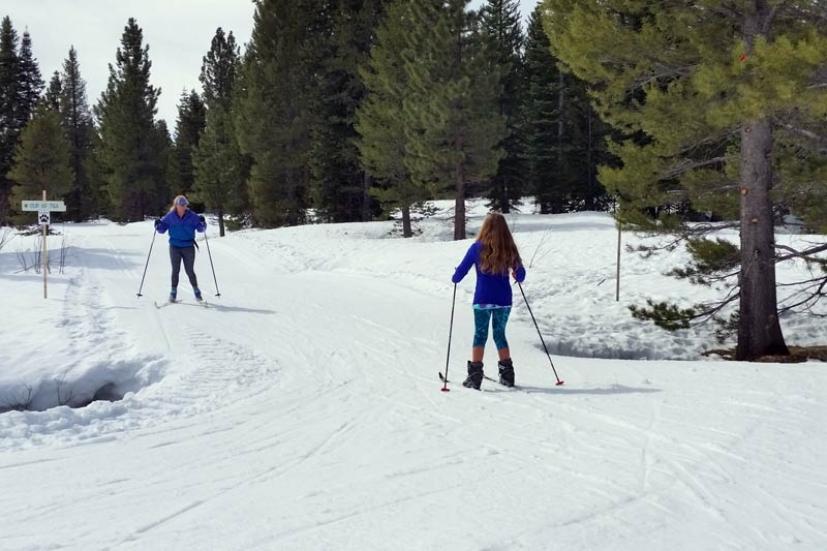 The Tahoe Donner cross country area is considered one of the best in North America, and I can really see why. While it's bustling and energetic, it doesn't have that crowded feeling that some ski resorts do, and everyone we encountered—both staff and fellow skiers—was friendly and always willing to lend a hand to kids and beginners. Ski lessons from Tahoe Donner's professional instructors and coaches are available for all ages, too.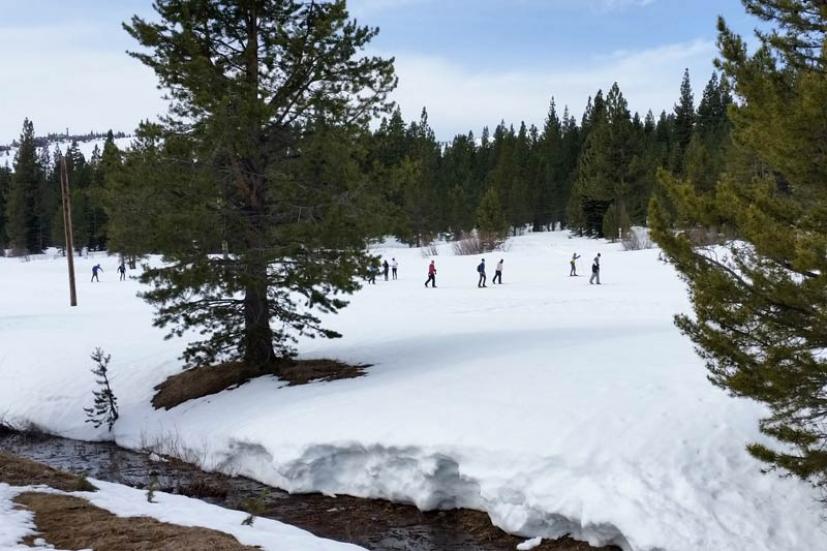 Snow Shoes & Fat Bikes
The Alder Creek Adventure Center offers other snow sports activities besides cross country skiing. Snowshoeing is also a popular activity here, and it's one the whole family can participate in. Don't have snow shoes? Don't worry, they have them available for rent. My son and husband tried out snowshoeing while my daughter and I skied, and were fitted out with snowshoes, poles, and even waterproof winter boots.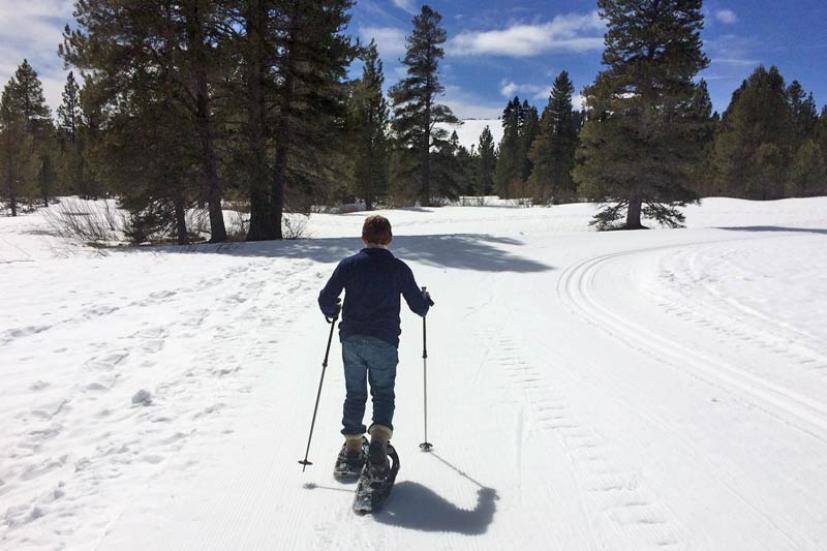 Snowshoers with a trail pass can use any of Tahoe Donner's cross country ski trails (just stay to the side out of the ski tracks), and they'll also find 7.5 kilometers of dedicated trails just for snowshoeing. It's easy, fun, and great exercise, and a perfect snow sports activity if you don't want to deal with skiing's learning curve. To get started, all you have to do is get used to walking on snowshoes, and then away you go! It does take more effort than walking or hiking, but of course it's much easier than trudging through the snow in your shoes.
We also had the opportunity to take a trail ride on Fat Bikes at Alder Creek. "What's a fat bike?" is what most people ask when I mention this to them. A Fat Bike is a lightweight mountain bike equipped with oversize wheels and wide, low-pressure tires that allow them to roll easily over snow, sand, and other soft surfaces. They're perfect for cruising along the trails under the trees. Riding takes a bit more effort than on a normal mountain bike, but the fact that you're on the snow makes it a lot of fun and really rewarding!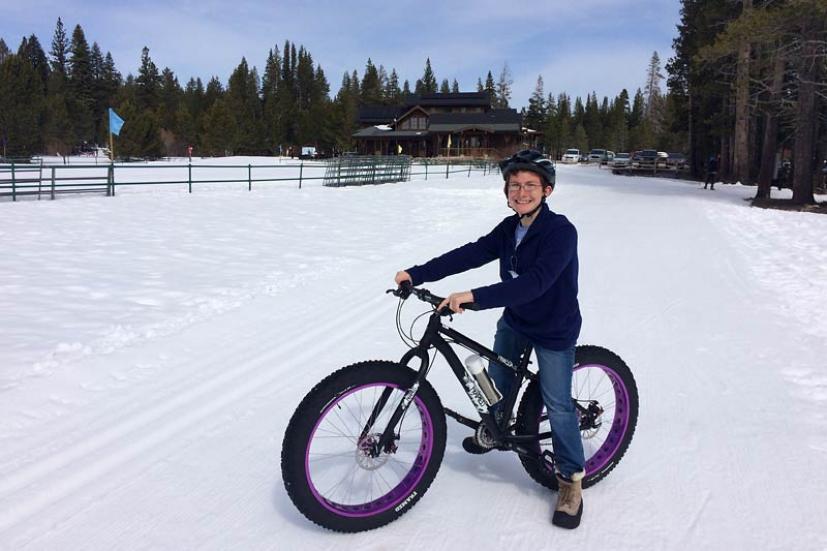 Fat Bikes are allowed on the cross country center's multi-use trails, which you'll share with skiiers, snowshoers, and dog-walkers. They're allowed up to 11 am only; later in the day the snow gets too soft to ride them without leaving ruts in the trails. You can rent Fat Bikes at the Alder Creek Adventure Center or get a trail pass and ride your own if you have one.
Alder Creek Adventure Center
Another thing we all really loved about our visit was getting to hang out in the Alder Creek Adventure Center itself! This amazing new facility is built in the classic Sierra style, with plenty of rustic wood and stone details. Inside, you'll find everything you need for a day out on the trails, including locker rooms, a fully-equipped rental facility, a bar and lounge, a restaurant, a shop selling outdoor gear and clothing, restrooms, a special club room, and more.
We really enjoyed our lunch at the Alder Creek Cafe, which offers a variety of delicious and healthy homemade, made-to-order food, as well as grab-and-go items, all made with fresh locally-sourced ingredients. My grilled turkey melt with roasted red peppers was outstanding, and my husband had a bison burger that he said was quite tasty. While not listed on the menu, you can get plain grilled cheese sandwiches and cheese quesadillas for the kids, too. Made-to-order food is available at the cafe from 11 am to 4 pm.
The adjacent lounge offers a happy hour from Thursdays through Sundays from 4 to 7 pm with drinks and small plates. With a big welcoming stone fireplace and tall windows overlooking the ski area, it's a great spot to relax after a day on the trails. There's even a selection of classic board games to borrow.
Alder Creek Adventure Center isn't only about cross country, though! It's open year-round for shopping, dining, entertainment, and activities, and is home to two summer venues: Tahoe Donner Bikeworks for guided bike tours, bike rentals (including Fat Bikes), bike repairs, and kids' bike camps; and Tahoe Donner Equestrian Center for horseback riding, guided horseback tours, family BBQ nights, adult events such as Cowgirls and Cocktails, pony rides, and equestrian camp. We're looking forward to coming back to check it out what it has to offer this summer. Learn more about Alder Creek Adventure Center and cross country at Tahoe Donner at www.tahoedonner.com.
Where to Stay
If you plan on staying overnight or for a few days, you'll find no shortage of places to stay in the Truckee area. We stayed nearby at the Donner Lake Village resort, located right beside beautiful Donner Lake. This laid back hotel offers a wide range of accommodations ranging from one-room "lodgettes" to two-bedroom townhouses.
We stayed in a newly remodeled and spotlessly clean one-bedroom unit overlooking the lake. We loved the amazing views from our rooms and deck, and our unit had a well equipped kitchen, making it ideal for longer family stays.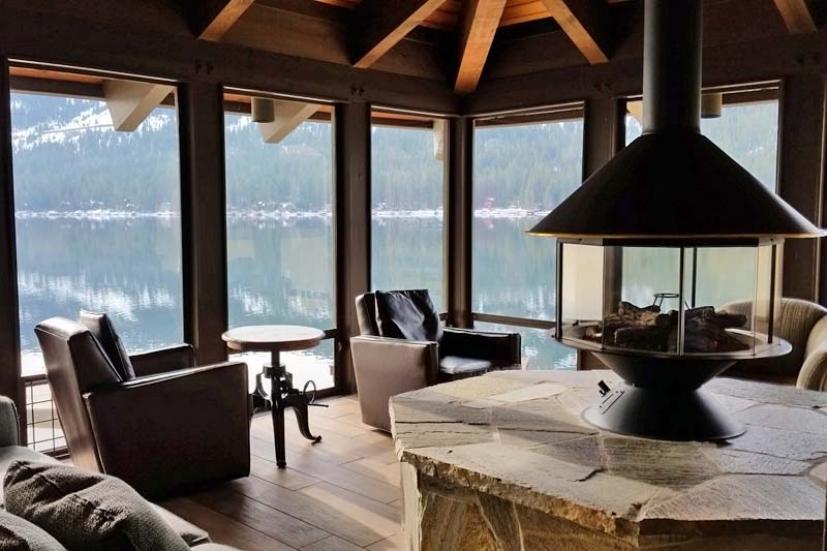 We also really liked the cool retro fireplace lounge overlooking the lake that was right down the hall from our unit. It's the perfect place to relax, warm up, and take in the amazing views. Donner Lake Village also has its own docks where you can rent kayaks, paddle boats, and other watercraft during the summer months. We're already making plans to come back after school gets out!
Donner Lake Village is located at 15695 Donner Pass Road in Truckee. You can make reservations by calling (855) 979-0402 or on their website, www.donnerlakevillage.com. We've also stayed at the Hampton Inn & Suites just south of downtown Truckee. You can read about our stay there here. Both hotels are about a 15-minute drive to Alder Creek Adventure Center at Tahoe Donner.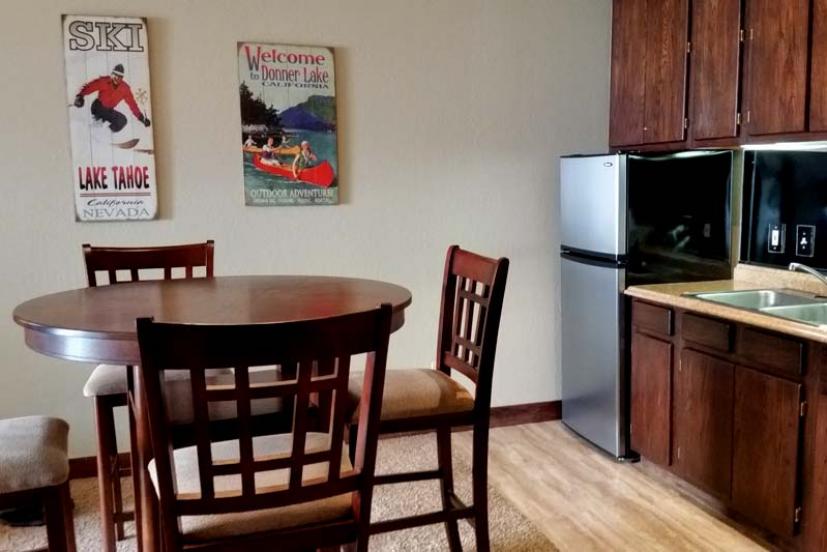 If You Go
Tahoe Donner is just outside the town of Truckee, about a three-hour drive east of Marin County and the San Francisco Bay Area. The Alder Creek Adventure Center is located at 15275 Alder Creek Road, Truckee, 96161. To get there, take Highway 101 to Highway 37 in Novato and head east through Vallejo to Interstate 80. Follow I-80 all the way to Truckee. Take the Donner Pass Road exit (exit 184) and head east on Donner Pass Road. Turn left on Northwoods Road and follow it until you get to Fjord Road, where you'll turn right. Turn left onto Alder Creek Road and follow it to the Alder Creek Adventure Center, which will be on your left.
Drive times may vary due to traffic in the Solano County and the Central Valley. If there's any hint that snow might be on the way, make sure you have tire chains in your trunk.
The Alder Creek Adventure Center has just about everything you'll need for cross country skiing and snow sports fun. Trail passes are valid from 8:30 am to 5 pm and cost $30 for adults, $22 for juniors 13–17 and seniors 60–69, and $12 for children 7–12 and "super seniors" age 70+. Kids 6 and under ski for free. Discounted rates are available for afteroon-only passes, consecutive-day passes, and Tahoe Donner members.
All-day equipment rentals for skiing or snowshoeing cost $25 for adults 13+ and $15 for children 12 and under. Fat Bike rental costs $16 per hour; a limited number of Fat Bikes are available, so make sure to reserve them early if you want to ride. All-day rental for Chariot sleds costs $26 for single sleds or $36 for double sleds.
Disclosure: Tahoe Donner and Donner Lake Village hosted us during our stay.
Sign up for tips & news for Marin families!